With the New Zealand National Government's single-minded focus on solving Auckland's housing crisis by boosting supply failing dismally, and with an election due on 23 September, Prime Minister Bill English has resorted to spin. From Interest.co.nz:
A steadier route to a later peak for Auckland house building might bring benefits both for the construction industry and first home buyers, Prime Minister Bill English says.

Responding to the latest MBIE National Construction Pipeline Report, English, like Building and Construction Minister Nick Smith on Sunday, trumpeted projections for nationwide house building over the next few years.

But, as David Hargreaves wrote on Monday, the figures for Auckland on their own look rather demoralising, seeing as we're told the city needs 14,000 new homes built a year to keep up with population growth, and that MBIE has previously said the city's shortfall might not be closed until 2030.

The 2017 pipeline report indicates building will continue to increase in Auckland, but that the expected peak in house building will now be 2019/2020 rather than 2017, which on current consent projections could come in below last year.

Speaking at his post-Cabinet press conference, English said the Auckland figures on their own shouldn't be considered disappointing, despite the expectation that building activity won't peak until later.

"This is the industry making its own projections about what houses are going to be built and they show a pattern of a higher peak a bit later, and building spread across the country," he said.

He tried to argue this was good news for first home buyers. "What they need is more houses on the ground faster, and the construction pipeline shows that"…

Wouldn't it have been better news if the peak was coming sooner? "Well, it's, probably the industry's running about as fast as it can, as they point out themselves," English said. "The rate of increase has been pretty impressive for the last four or five years. And the projections confirm that that's going to continue, but on a broader basis than just Auckland."

"So, it's not surprising. In the long run it's probably not a bad thing – that you get not quite so sharp a peak and a longer, flatter profile of continuous work," English said.
You can't make this stuff up.
For years, the National Government refused to implement measures to restrict demand, ramped-up immigration, and instead promised to solve the housing shortage by building more homes. Now, without blinking an eye, the Prime Minister is claiming that it's better for first home buyers (FHBs) if this happens later. Go figure.
Sadly for FHBs, the housing shortfall continues to worsen, and will likely continue to do so under current settings.
According to Statistics New Zealand's latest dwelling consents report, just 10,100 dwelling consents were issued in Auckland in the year to June, with a downward trend clearly evident: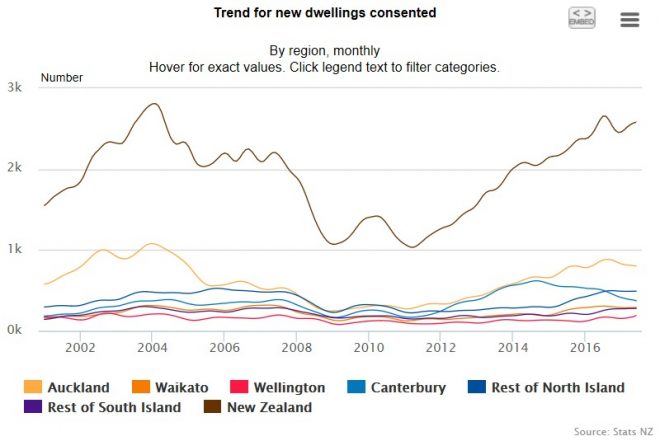 Meanwhile, Auckland received 35,772 net migrants over the past year, around half of New Zealand's total: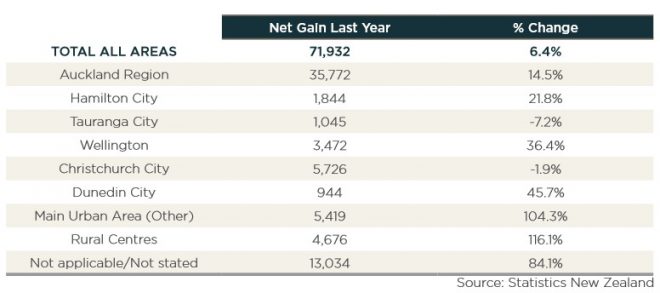 Whereas total Auckland population growth was 44,500, again around half of New Zealand's total: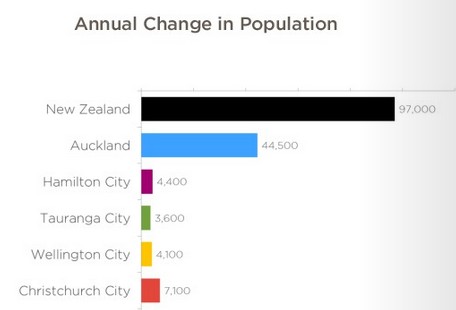 The situation is probably even worse than suggested above, with CoreLogic last week estimating that "while Auckland consents increased by almost 10,000 in the past year, the housing stock increased by less than 6000 dwellings". Moreover, "less than half the number of new homes that Auckland needed last year were actually built", and "the housing gap is bigger than is being talked about".
Even the projections contained in the MBIE's National Construction Pipeline Report suggest that Auckland's housing shortage will worsen, with dwelling consents (not actual additions) projected to reach an all-time high of 13,332 homes in 2017 and to stay at those levels until 2022: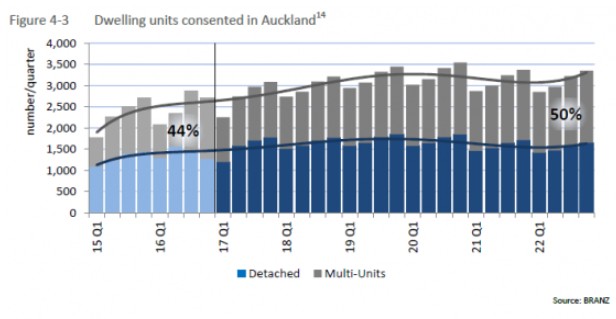 Bear in mind that recent population projections from Statistics New Zealand also estimated that Auckland's population will rise between 56% (medium growth scenario) and 75% (high growth scenario) between 2013 and 2043: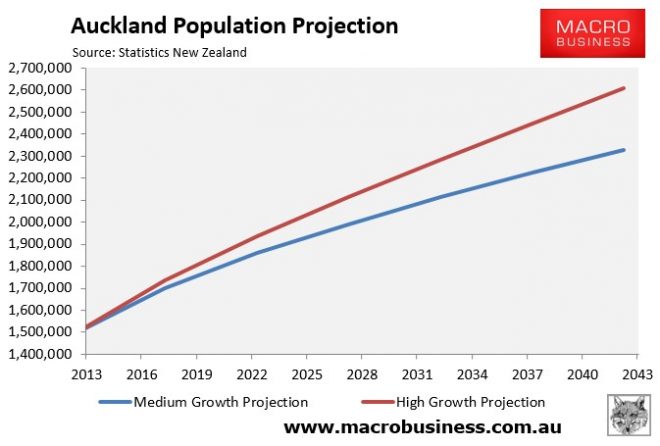 Driven by mass immigration:
Auckland will continue to be New Zealand's fastest growing region. Among regions, Auckland is projected to receive over half New Zealand's net migration, and account for over half the country's growth in the period to 2043…
With at least 14,000 new homes needing to be built (not consented) in the city each year – more than double the current build rate – Blind Freddy can see that the housing situation in Auckland continues to worsen as dwelling supply falls well short of rapid immigration-fueled population growth.