The RBNZ has released its monthly credit aggregates data, which showed New Zealand household borrowing continuing to retrace sharply from September's cyclical high, recording annual growth of 7.6% in June: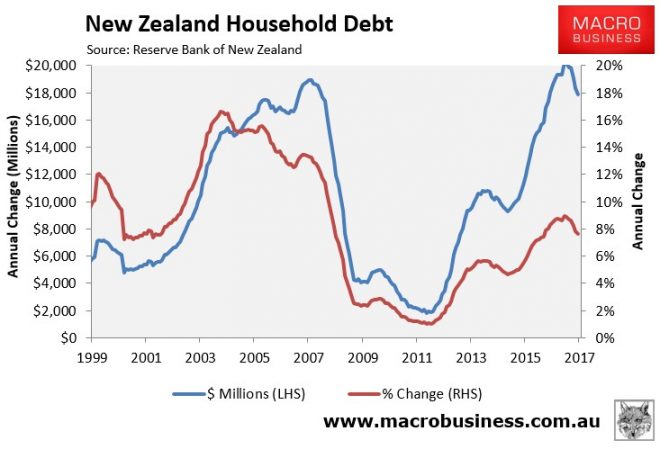 Most of New Zealand's household debt is driven by mortgages, which has also retraced sharply to to 7.7% in the year to June 2017: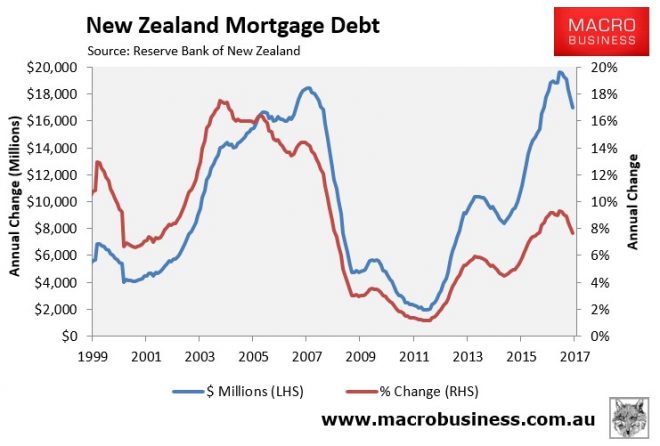 The cooling in mortgage growth coincides with separate RBNZ data, reported last month, showing that property investor lending has cooled materially since the RBNZ implemented new loan-to-value ratio restrictions targeting investors, which officially came into effect on 1 October 2016, although banks began informally applying the rules since they were first announced in mid-July 2016.
In particular, the value of investor mortgages taken out in June 2017 was down by 50% versus June 2016, whereas the number of mortgages was down 43%. In the hotspot of Auckland, the value of investor mortgages was down 43% year-on-year, whereas outside of Auckland investor mortgages were down 65%.