The AFR has run a piece today exploring the "battle" taking place between Lucy Turnbull – the chair of the Greater Sydney Commission (GSC) – and North Shore residents over Sydney's future population growth and planning:
Lucy Turnbull wants to fix Australia's biggest city…

Appointed the first chief commissioner of the newly formed Greater Sydney Commission two years ago, Turnbull has one of the most important planning jobs in the nation: cajole dozens of autonomous councils into implementing the commission's 20-year plan to make Sydney a better-designed city.

One of her greatest challenges will be convincing the prosperous suburbs along a new $20 billion train line that will run from central Sydney through Chatswood to Hornsby to accept tens of thousands more residents on their currently peaceful streets.

"Sydney has the potential to be the capital of the southern hemisphere – if we get the planning right," she said in a speech last year…

Planning advocates and business groups, who are watching closely, wonder "does Sydney's planning czar have the guts to upset the north shore?"..

So far Turnbull has shown little appetite to challenge vested interests, and it is unclear if she has the skill or will to outmanoeuvre the political interests blocking development in some of Sydney's most desirable suburbs.

…"high-octane nimbyism" by residents has seized up construction of housing in the area, says Tim Williams, the chief executive of lobby group Committee for Sydney…

"We are putting homes where there are no transport links or jobs and not putting them in places with the best rail connectivity in Sydney, possibly Australia," he says. "This is perverse, anti-social and economically damaging"…

Residents are horrified at the prospect at more densely populated suburbs, and say their roads, schools and other urban necessities aren't ready for an influx of people. "Get your infrastructure in place first before you develop the population," says Richard Quinn, the mayor of Hunter's Hill. "I can tell you there won't be 30 storeys [apartment buildings] built here"…

Almost everyone agrees Sydney is a city with too much traffic, not enough housing and weak public transport.
There's is a quick and easy way for Lucy Turnbull to safeguard Sydney's future livability, and it won't cost a cent in additional new infrastructure: tap her husband on the shoulder and demand that the federal government slash Australia's mass immigration program.
It is this mass immigration program that drove the 845,000 (20%) increase in Sydney's population in the 12 years to 2016: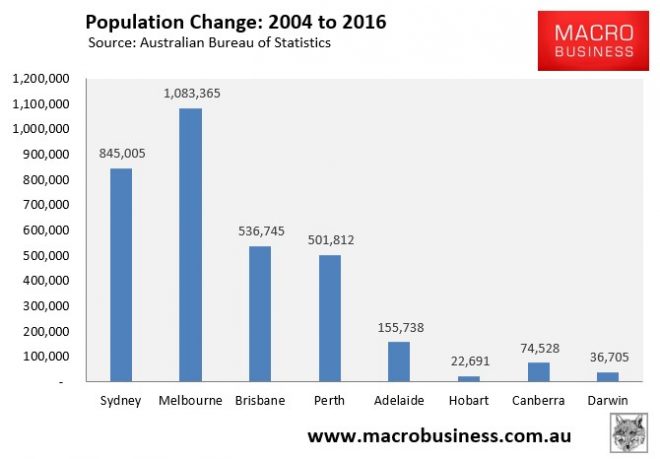 And it is Australia's mass immigration program that is primarily responsible for the 87,000 people per year projected increase in Sydney's population to 6.4 million over the next 20-years – effectively adding another Perth to the city's population: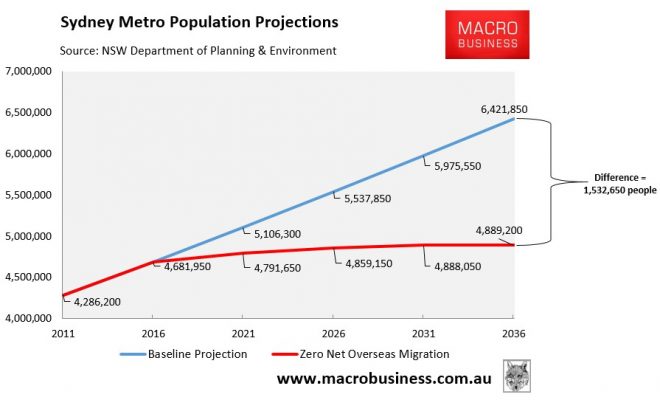 You can see from the State Government's own projections above that Sydney's population would grow by 1.53 million fewer people over the next 20-years with zero net overseas migration. That's the equivalent of nearly four Canberras that would not need to be built across the city, along with all the extra cars choking-up Sydney's roads, as well as extra people cramming public transport.
Mass immigration is the driver of Sydney's population explosion. So slashing immigration must be part of the solution to ameliorating population pressures.
Of course, elites like Lucy and Malcolm Turnbull don't care, because the bulk of the overcrowding is not projected to occur in wealthy locations like Woollahra, but in the city's West – home to Sydney's working class 'riff raff':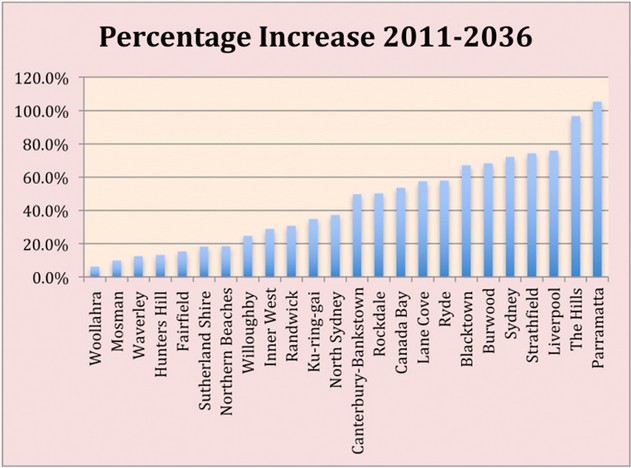 This is why it is time for Sydney's working classes to rise up against the deliberate mass immigration that is adding to competition in the labour market, driving-up housing costs, and lowering overall livability, all for the benefit of the wealthy elite.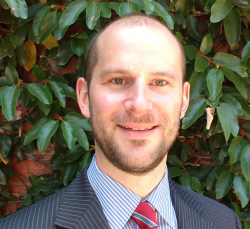 Latest posts by Unconventional Economist
(see all)