Following Friday's release by the ABS of revised population data, which showed that Melbourne's population had grown by an insane 127,175 (2.7%) in 2016: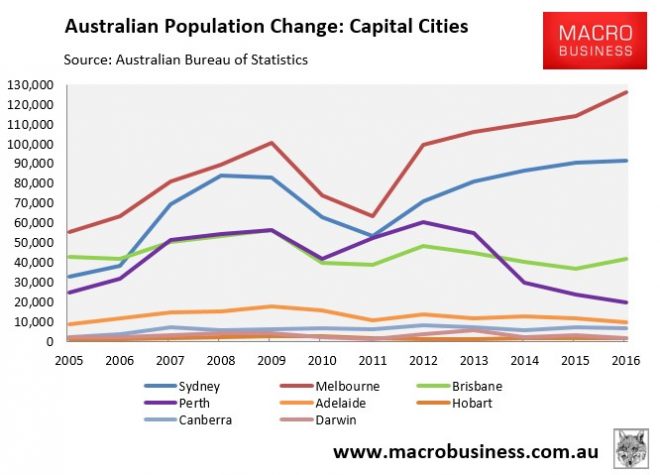 And by nearly 1.1 million (30%) in the 12 years to 2016: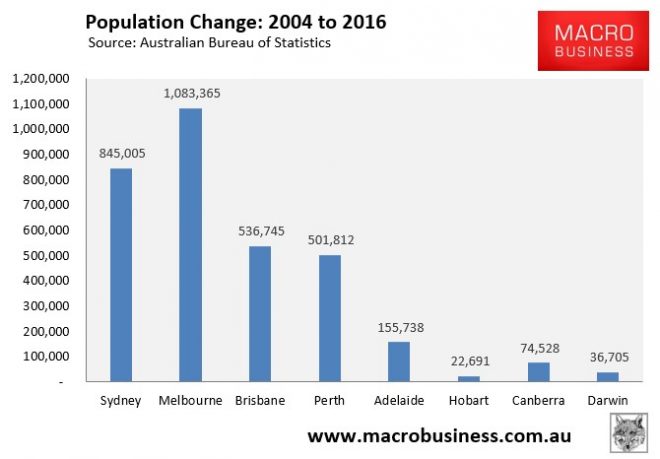 As well as the state Liberal Party's warning of a congestion crisis and calling for a broad population debate.
The Age's editorial responded with the following drivel yesterday [my emphasis]:
Melbourne is facing a decade of disruption. The $11 billion Metro rail tunnel project is transforming the inner city into a long-term construction site. While this will cause considerable inconvenience for many Melburnians, the creation of such transformative infrastructure is crucial to the wellbeing of all of us in a metropolis whose population is expanding by 300 a day – more than 100,000 a year.

The pivotal question is not whether the belated surge in rail investment is going to be too much to bear, but whether it will be enough. Slashing immigration would be a dreadful error – punitive, stopgap and robbing us of the benefits of migration. But we should be doing more than playing catch-up; we should be thinking bigger and planning far more urban and regional transport investment. Multiple train line upgrades and extensions are needed.

Rapid population growth has benefited the city, the state and the nation. But a failure by successive Victorian and federal governments to adequately plan and to invest in public transport has created Melbourne's most pressing and profound problem: congestion. It costs billions annually in lost productivity and takes an untold toll on the mental and physical wellbeing of commuters, some of whom are spending several hours a day in gridlock. It is the biggest brake on the city's economy, and has statewide implications, because Melbourne currently produces 100 per cent of the state's economic growth – there is none in rural and regional Victoria…
So normalising Australia's immigration intake back to historical norms – i.e. less than 100,000 people a year from 200,000 currently – would somehow be "punitive" and "stopgap"? How so?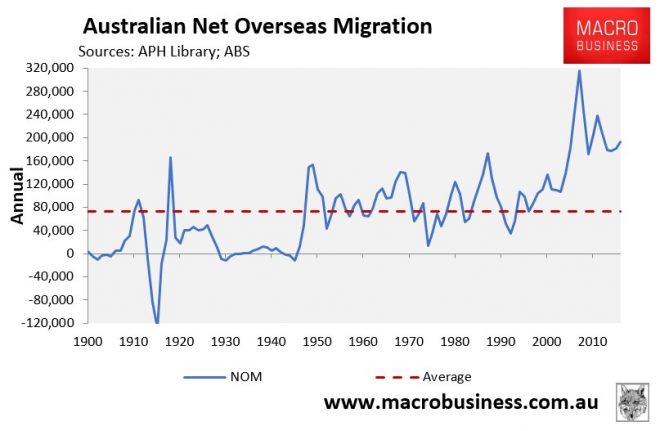 As for "robbing us of the benefits of migration" what exactly are the benefits of "rapid population growth" to ordinary citizens? All 12 years of hyper growth has delivered to the residents of Melbourne (and Sydney) is traffic gridlock, crush-loaded public transport and schools, as well as more expensive (and smaller) housing. How are these "benefits"?
It's not like Melbournian's material living standards have been improving either "by rapid population growth".
Victorian GSP has barely risen since the GFC: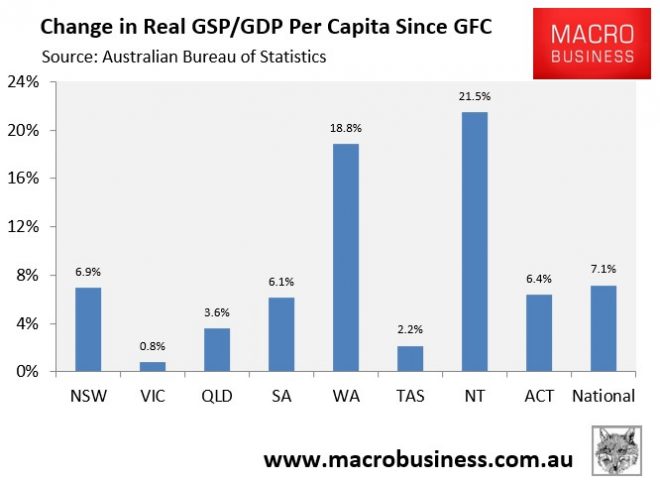 Real per capita state final demand has flatlined: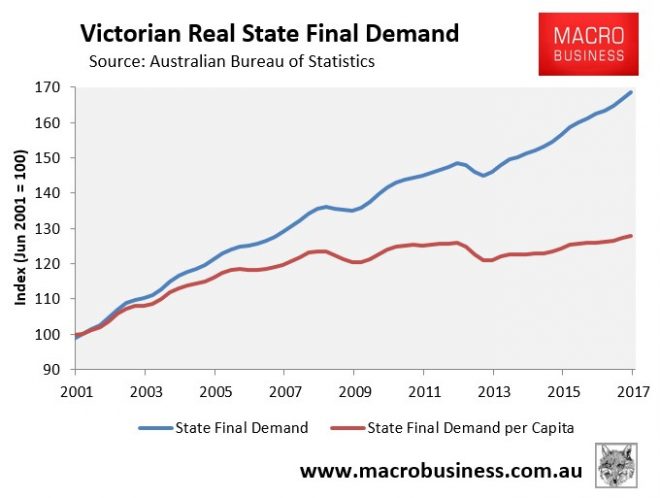 And real per capita wages & salaries have actually fallen by 5.2% over the past decade: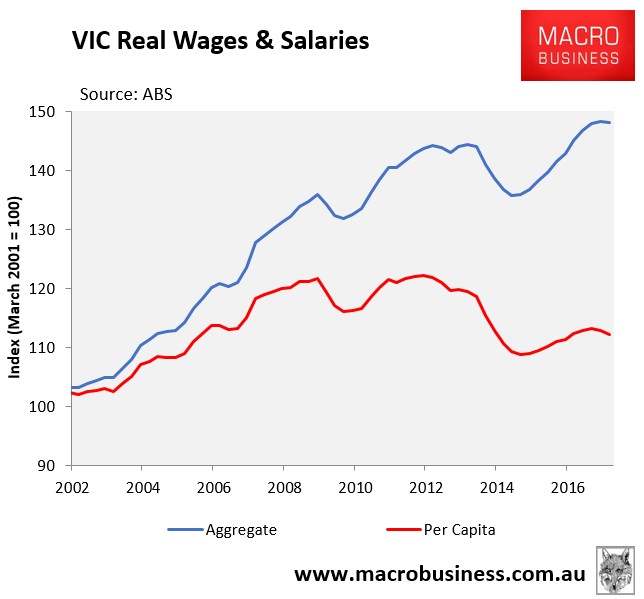 Meanwhile, Victoria's trade deficit has exploded as the 30% expansion of Melbourne's population has dramatically lifted imports (think flat screen TVs, imported cars, etc), without increasing exports: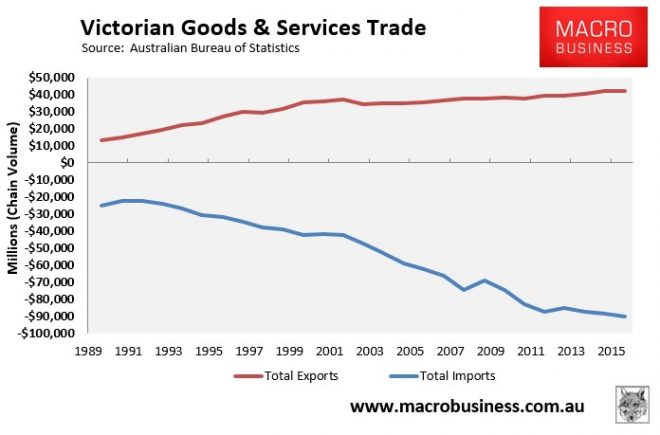 With Melbourne's population officially projected to grow by an insane 97,000 people a year (1,850 people a week) for the next 35-years, adding 3.4 million people to the city's population (equivalent to 2.5 Adelaide's):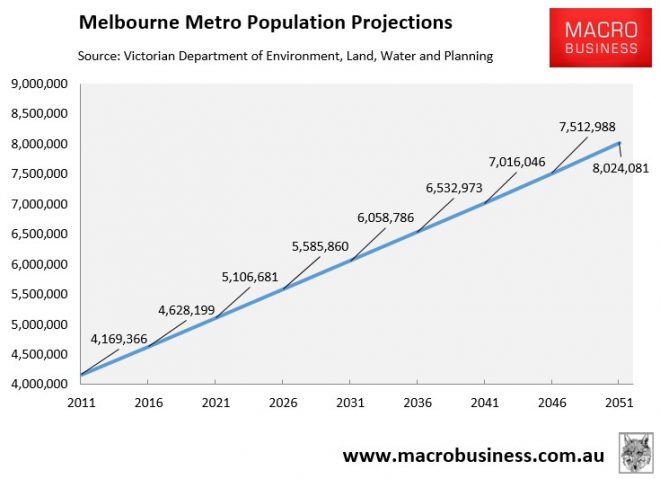 With this growth to come primarily from mass immigration: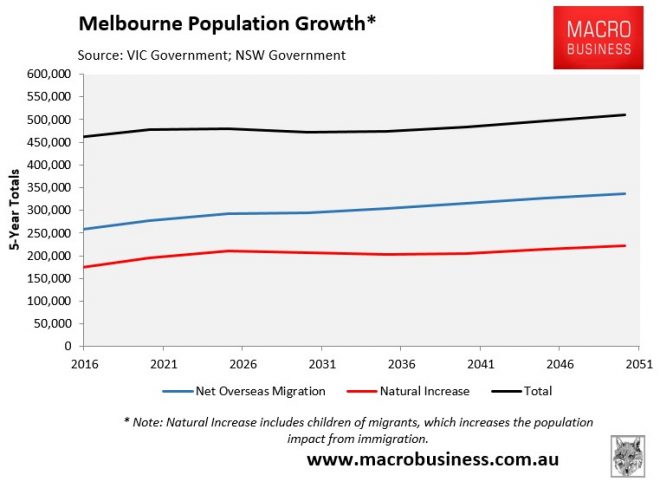 It is patently obvious that normalising Australia's immigration program is paramount if Melbourne's living standards are to be maintained.
Thankfully, The Age's Editorial was treated with derision from most readers. Below are some highlights: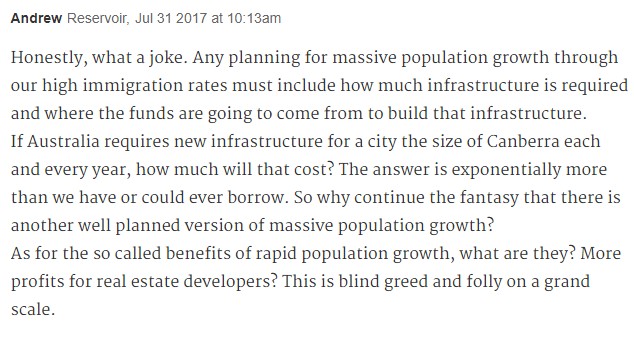 Blind Freddy – but not the propagandists at Fairfax – can see there is a problem, and that the solution is obvious.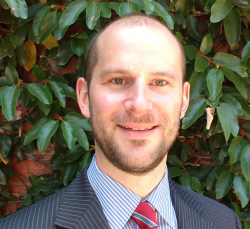 Latest posts by Unconventional Economist
(see all)