Yesterday in Parliament, New Zealand Prime Minister, Bill English, batted away suggestions that Auckland's housing shortage was getting worse:
English trumpeted a growing supply of new houses. The PM brushed off a question about a 40,000 shortfall by saying the government didn't accept the figure.

But he did accept there had been problems. Auckland Council had underestimated just how successful the city would become, English said. If current build rates were sustained, then any shortfalls should be overcome within a few years, meaning more New Zealanders would be able to afford a first home.
Then later in the day, CoreLogic contradicted the Prime Minister claiming Auckland's housing shortage "is bigger than is being talked about":
Less than half the number of new homes that Auckland needed last year were actually built, according to property data company CoreLogic.

"Our analysis looked behind the building consents data to reveal what's really going on and the picture isn't particularly pretty," CoreLogic's Head of Research Nick Goodall said.

CoreLogic's Property Market & Economic Update Report for July/August found that population projections for Auckland suggested 13,500 new homes need to be built in the city each year, but less than 6000 were built last year.

"The housing gap is bigger than is being talked about," Goodall said.

The report found that building consents were trending down in Auckland and were flat across the rest of the country.

"The trend in Auckland is particularly troubling in light of the need to massively increase house building in Auckland for the next few decades to meet projected population growth," it said.

"Our own analysis has shown that while Auckland consents increased by almost 10,000 in the past year, the housing stock increased by less than 6000 dwellings.
Indeed, CoreLogic's latest Property Market & Economic Update Report showed that Auckland received 35,772 net migrants over the past year, around half of New Zealand's total: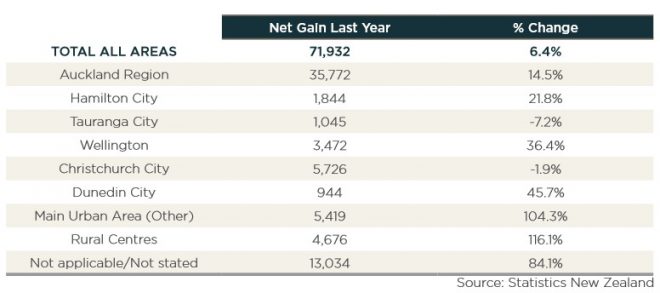 Whereas total Auckland population growth was 44,500, again around half of New Zealand's total: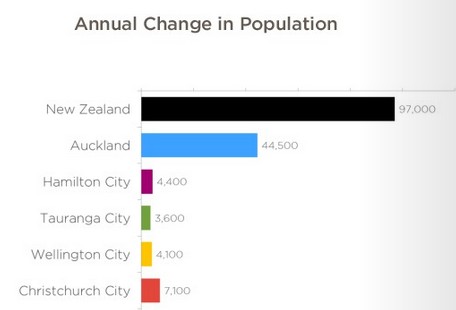 And yet, Statistics New Zealand's registered only 10,100 dwelling consents in the year to June, with a downward trend clearly evident: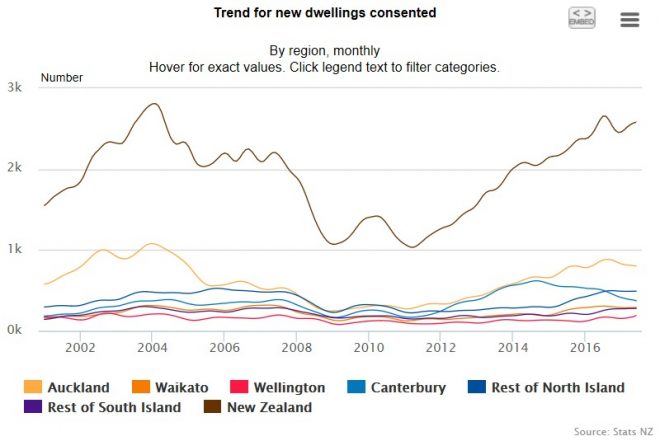 Recent population projections from Statistics New Zealand also estimated that Auckland's population will rise between 56% (medium growth scenario) and 75% (high growth scenario) between 2013 and 2043: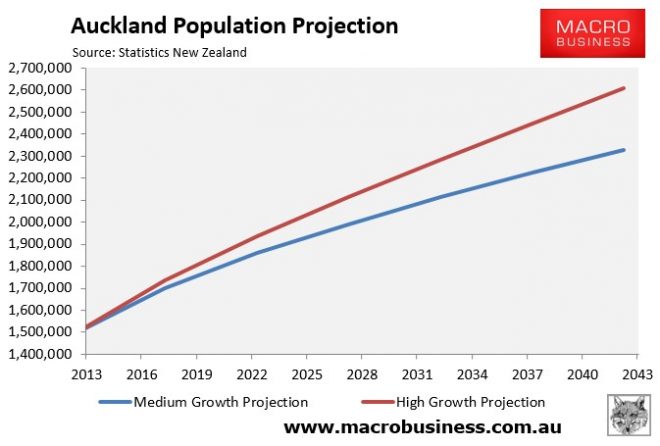 Driven by mass immigration:
Auckland will continue to be New Zealand's fastest growing region. Among regions, Auckland is projected to receive over half New Zealand's net migration, and account for over half the country's growth in the period to 2043…
Blind Freddy – but clearly not the National Government – can see that the housing situation in Auckland continues to worsen as dwelling supply falls well short of rapid immigration-fueled population growth.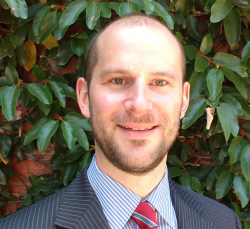 Latest posts by Unconventional Economist
(see all)