Via Reuters:
China's key short-term money rates leapt to their highest in nearly five months on Wednesday, as the central bank drained funds for a third day, keeping up the pressure on financial institutions to scale back more speculative forms of financing.

Similar bouts of tightness in June and July had raised fears of a cash crunch that led to the People's Bank of China (PBOC) pumping money into the markets to keep rates under control.

The volume-weighted average rate of the benchmark 14-day repo traded in the interbank market rose 2 basis points to 4.4476 percent, the highest since March 31.

The benchmark rate has jumped around 90 basis points in the past two weeks. The 7-day repo rate has also risen this week.

Wednesday was the third day the PBOC refrained from injecting net funds into markets via its open market operations.

The PBOC has drained a net 100 billion yuan ($15.01 billion) so far this week through reverse bond repurchase agreements, according to Reuters calculations.

Some traders said cash conditions have been tight for a week.

Seasonal factors including corporate tax payments weighed on liquidity last week, and month-end cash demand started to emerge, adding to the pressure, they said.

"The market will continue to monitor how the PBOC operates in open market operations in the run-up to the end of the month," said a Shanghai-based trader, adding conditions were likely to remain tight next week.

…"We believe a number of factors will keep interbank liquidity fairly tight into the next macroprudential assessment (MPA) at the end of September," economists at Nomura said in a report, citing a large amount of Negotiable Certificates of Deposit (NCDs) maturing this month and next as well as the low excess reserve ratio of commercial banks.

Li Qilin, chief macro researcher at Lianxun Securities, said the PBOC was very likely to "rescue the market" by lending more medium-term lending facility loans, together with net injection through reverse repos, as what the central bank did in June.

David Qu, markets economist at ANZ Bank in Shanghai, also expects the authorities to inject some funds to avoid hurting the market too much.

"I will let you live but won't let you live too comfortably, and certainly won't let you use the money to do bad things," Qu said, speaking in the first person voice of the central bank.

Chinese authorities have been keen to force deleveraging this year – especially lending between banks – to reduce speculative activity and risks to the financial system.
SHIBOR up: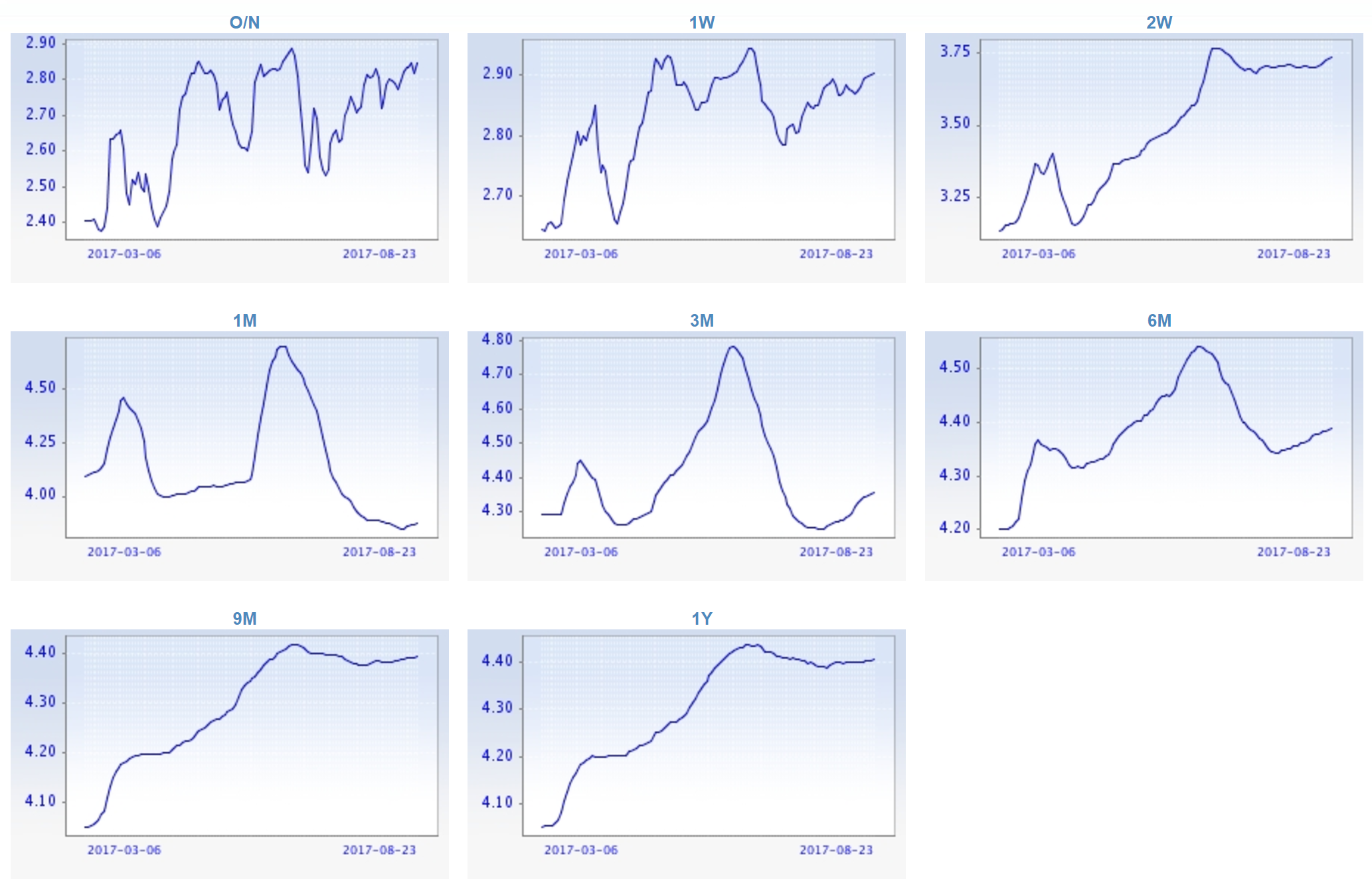 Repo up: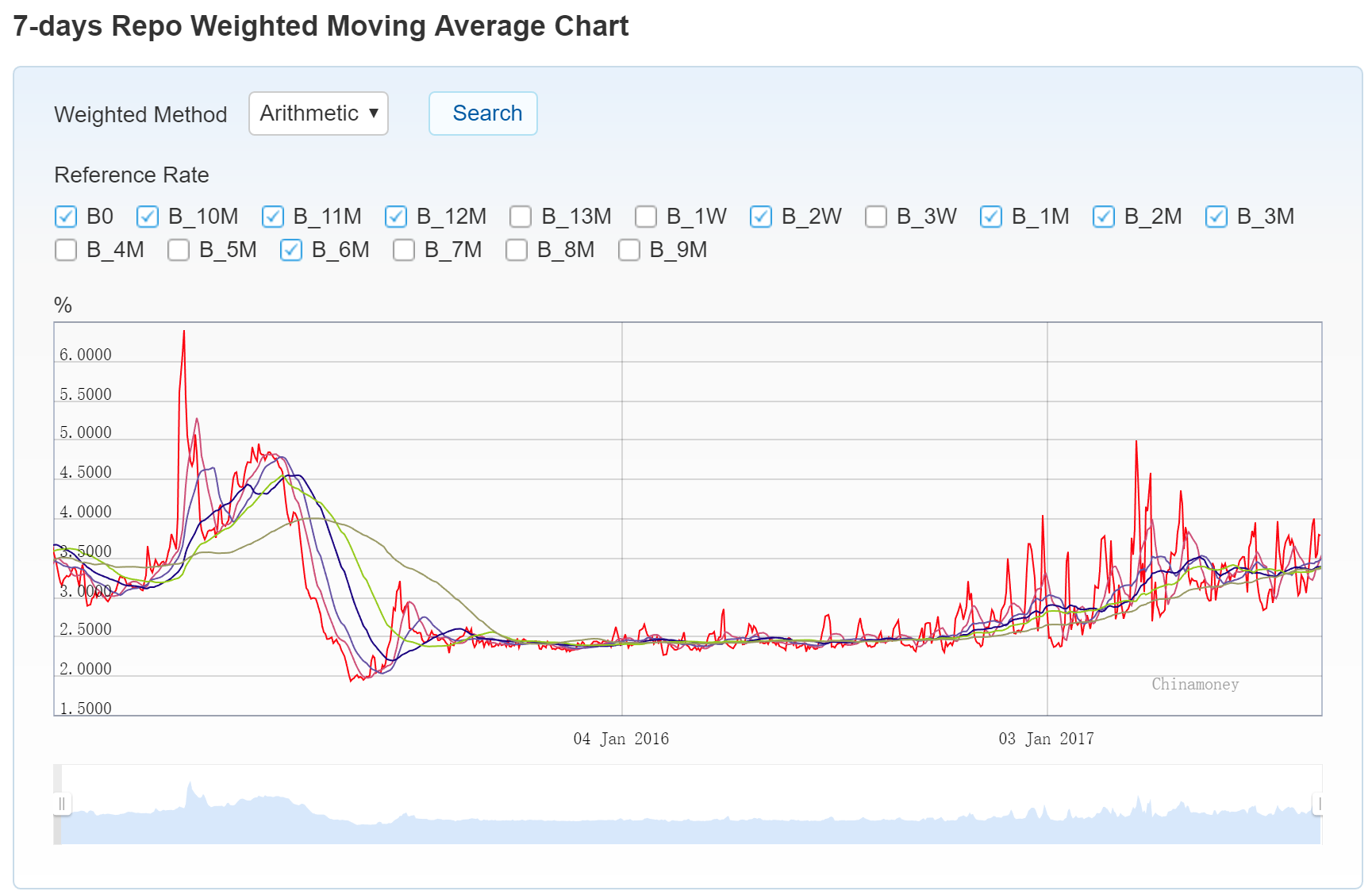 Bond yields up: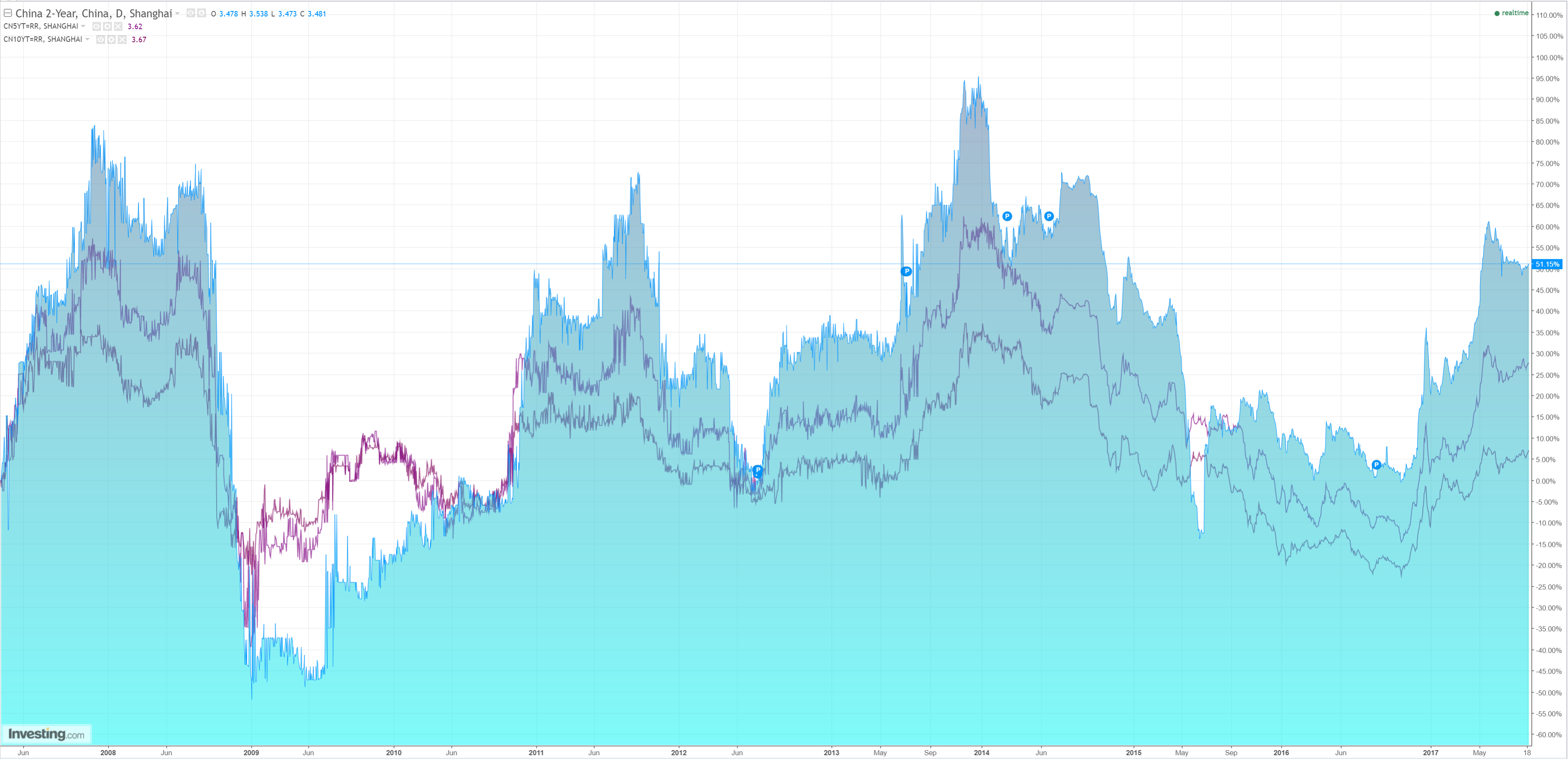 Probably just keeping things reined rather than tightening further but we shall see.