Earlier this week, Statistics New Zealand released its population estimates for the June quarter of 2016, which recorded an unprecedented population increase of 100,400 (2.1%) in the year to June, driven by a record high 72,300 net migration: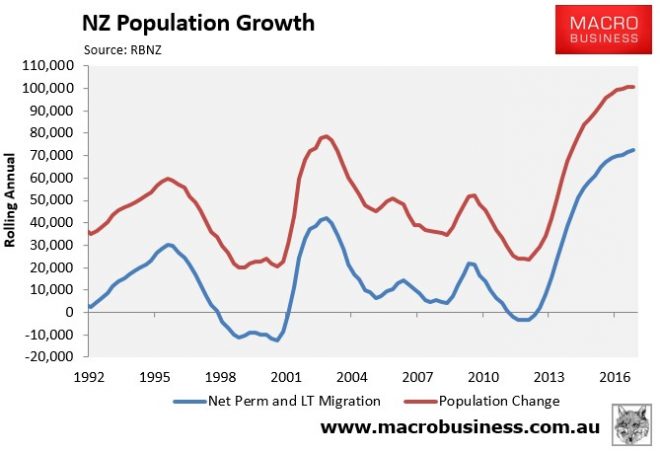 Today, Economics forecaster and consultancy Infometrics has produced new research suggesting that the 'real' level of net migration into New Zealand might be understated by as much as 8,000 per year. They have also called for New Zealand's net migration to be cut to between 10,500 and 16,600 over the next decade (h/t Interest.co.nz).
Below are some key extracts from this report:
Our findings are rather alarming. We may be underestimating net migration by an additional 4,000-8,000 people per annum, implying net migration of closer to 80,000 people per year than the latest official measure of 72,300…

…the people we previously considered to be relatively temporary arrivals – students, workers, and tourists – don't appear to be as temporary as we thought. The number of people gaining residence visas from within New Zealand has increased 27% since June 2015.

Against this backdrop of historically high net migration, Gareth Kiernan has estimated an optimal level of net migration we should be aiming for over the next decade of between 10,500 and 16,600 people per annum.

Nevertheless, we do not think we should immediately shut the doors on migrant arrivals. Annual net migration currently stands at 72,300 people and we need to gradually wean the economy off its dependence on migration. It will take at least seven years to bring net migration back down within a 10,500-16,600pa range, and the government should start implementing measures that have this long-term view in mind…

Over a 50-year horizon, the uncertainties around population growth and broader economic conditions increase. Our estimated average for sustainable net migration over this period lies in the 13,100-21,600pa range…

Arguably, the most problematic aspect of New Zealand's population growth over the last 20 years has been the significant swings in net migration. A relatively steady rate of population growth allows planners, policymakers, and private sector decision-makers to appropriately plan for the provision of housing, civic infrastructure, and other necessary goods and services. But New Zealand's population growth has varied between 0.5% and 2.1%pa during both last decade and this decade, making planning decisions that much harder…

Although migration is not the only cause of the current affordability crisis in the Auckland housing market, the fact that population growth in the region has accelerated so much over the last five years has definitely played a role in the housing market's imbalances. The response of monetary policy to the housing market has been limited by a lack of inflation throughout the rest of the economy, which has resulted in interest rates being kept low and forcing the Reserve Bank to implement other measures such as loan-to-value restrictions…

In our view, overall immigration, along with each of its subcomponents, needs to be considered within the context of targeting a more stable rate of overall population growth. So, when the net outflow of New Zealand and Australian citizens is small (or, as is currently the case, is actually a net inflow), visa approval numbers across the categories that generally contribute to permanent and long-term arrivals could be scaled back. In other words, there would be fewer resident, work, and student visa approvals during times when population growth was already relatively strong due to the net flows of New Zealanders.

One of the obvious questions posed by limiting immigration when there are plenty of job opportunities and the economy is growing strongly is "what about businesses that are already finding labour difficult to come by?" Restricting immigration during these periods would push up wages, encouraging businesses towards more investment in labour-saving technology, thereby improving New Zealand's labour productivity. The scarcity of workers would also help ensure that labour was directed towards the areas that it was most productive…

We believe that aiming for a relatively stable rate of population growth should be a central goal of migration policy. In this regard, determining what is an appropriate rate of population growth to target is a second-order issue. Nevertheless, we believe that targeted population growth:

should not be negative, to prevent the problems associated with a shrinking population
should not be so strong that it causes undue stresses on the economy, even if the growth rate is stable
should not be so strong that the quality of immigrants being accepted is detrimental to New Zealand's overall skill base and long-term potential growth…

Although the aging population means that New Zealand's already-tight labour market is likely to tighten further over the next 4-5 years, it is unclear what the relative demand for labour will look like over a 20-year horizon, as technological advances potentially make a lot of current jobs obsolete. Systemically higher unemployment could conceivably undermine the case for allowing continued migration if those people arriving in the country are not able to support themselves financially.
Sensible report. Now watch as it is lambasted by the population boosters and ignored by New Zealand's policy makers.