ACIL Allen has produced a report confirming what many of us already know: that the proposed $1 billion concessional loan to Adani to build the Carmichael coal project is a dud that poses great risks to Australian taxpayers. From The Canberra Times:
The economic assessment of the troubled project's outlook found the collapsing coal price, the uncertain global picture for thermal coal, and the $21.7 billion project's heavy reliance on external financing contributed to a high risk for taxpayers.

The assessment was done by the business consulting firm, ACIL Allen, and commissioned by the Australian Conservation Foundation…

ACIL Allen found there were multiple reasons why a public loan from the Northern Australia Infrastructure Facility appeared risky.

"The task of securing debt and equity finance for a $21.7 billion project comprising thermal coal mines and supporting infrastructure, including a new 388 kilometre standard gauge rail link and a new coal export terminal, would be very demanding at any time. It would be particularly difficult in the context of the current widespread perception of a negative thermal coal market outlook," its final report states.

"Both the failure to obtain sufficient financial support from commercial sources, and provision of concessional terms mean provision of a loan or other financial mechanism to Adani for the rail project must be regarded as a high risk financing arrangement for the financier. Northern Australia Infrastructure Facility's risk management framework has stated that the Northern Australia Infrastructure Facility has a high financing risk tolerance, but they will be imposing the high risk on Australian taxpayers"…

ACIL Allen said amid the uncertainties, "one thing is clear" about the project. "The substantial decline of thermal coal prices since 2011 has stripped in excess of $A40 per tonne from profit (after adjusting much larger US$ price declines for depreciation of the $A). This has raised doubts about the likelihood of any significant surplus of revenue over full costs (including a reasonable risk-adjusted rate of return on investment) in medium- and long-term timeframes."
MB has vigorously opposed extending a taxpayer-backed loan to Adani from the outset on the ground that:
Adani's own hand-picked economic expert, Jerome Fahrer from ACIL Allen consulting, told the Queensland Land Court that only 1,464 full-time equivalent jobs would be created by the project;
The project will create all manner of environmental externalities and degredation; and
The mine will flood the world with more cheap coal, thus depressing its price and putting non-subsidised mines in NSW and QLD out of business, resulting in job losses.
Indeed, Adani's CEO has continuously boasted that the Carmichael Project will be the most autonomous in the world: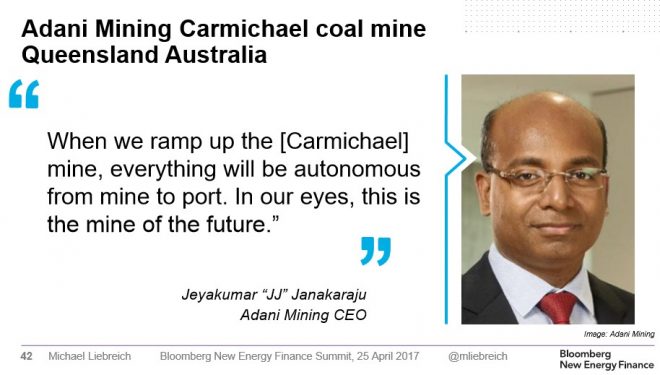 India's Minister for State Power has also acknowledged that the cost of solar power is now cheaper than coal, creating the risk that the Carmichael Project could become an unviable stranded asset: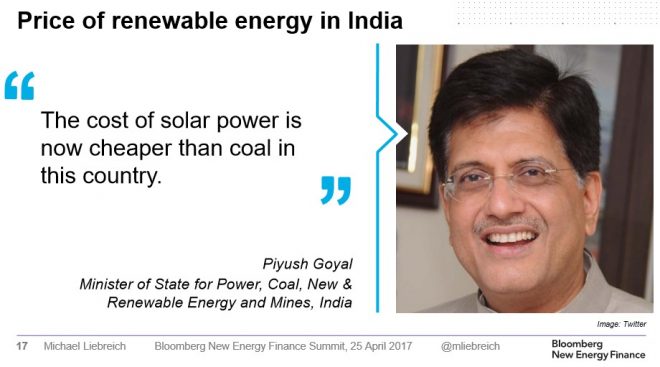 In short, there are far better ways to use scarce taxpayer funds than on this white elephant.
The Guardian has also created a good explainer video assessing the claims made about the Adani Project, which is well worth watching: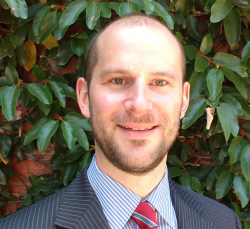 Latest posts by Unconventional Economist
(see all)