by Chris Becker
Time to kick the can again on endless QE. Japan's July CPI figure came in at a stonking 0.4% annualised…Take away energy prices and its only 0.1% per annum. Not a bad situation to be in actually and while stuck at this level for four months in a row, its "better" than the negative prints of last year:

source: tradingeconomics.com
But Governor Kuroda should be worried about his 2% target, supposedly to be reached by 2019. While the ECB and the Federal Reserve are looking to taper their own never-ending QE programs, the BOJ recently pushed back for the sixth time its objective, meaning more of the same is likely to follow.
Here's more from Bloomberg:
"The report confirmed that gains in energy prices have contributed to pushing up consumer prices after a time lag," said Atsushi Takeda, an economist at Itochu Corp. "However, low core CPI suggests that the inflationary pressure isn't gaining traction in a real sense."
Yasutoshi Nagai, chief economist at Daiwa Securities Co. said that inflation probably wouldn't reach 1 percent by the end of the year. "You can't expect service prices will surge in the middle of a fiscal year because companies tend to change prices in April at the start of the fiscal year," he said.
The figures confirm that a modest up tick in inflation is continuing, said Masaki Kuwahara, senior economist at Nomura Securities Co., adding that it's not anywhere near where the Bank of Japan wants it. "The economy is good, but I think it will still be difficult for inflation to pick up much more. Meeting the BOJ's 2019 target will be difficult," he said.
Kuroda's time may be up, as Prime Minister Shinzo Abe may stick with tradition and not reappoint the beleagured central bank leader. But what would any replacement be able to achieve? And why the urge to get inflation going when the economy is growing even as population retreats?

source: tradingeconomics.com
Of course, the weaker Yen may have something to do with that since its inflection in 2012, but even near parity it seems the Japanese economy is robust enough: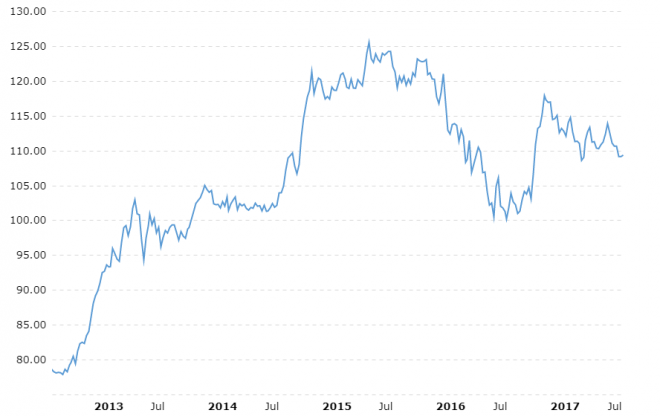 Maybe Draghi was right about resilience?
Latest posts by Chris Becker
(see all)