Labor leader Bill Shorten addressed the New South Wales Labor conference over the weekend, whereby he outlined his plan to tax trusts at 30% that would raise $17.2 billion over 10 years. Shorten said the extra revenue could be used to fund services such as education and health, while he stressed that the 30% tax plan would not be applied to farms or charity trusts. Shorten also said that his trust tax proposal would have no impact on 98% of wage earners and fits within Labor's inequality agenda.
The AFR's Laura Tingle is impressed with both the policy rationale and the politics behind Labor's trusts plan:
Labor has once again gone where the major parties have, in the past, feared to tread. But it has done so with some intelligence in its policy design, not a sledgehammer.

…in an age where voters see large corporates and high income earners apparently paying tax as a matter of choice rather than obligation, most voters would think that whacking the wealthy was a good idea…

Bill Shorten and Chris Bowen have nattily dressed up a tax system clean-up – whether this new initiative or previous ones on negative gearing and capital gains tax – in the clothes of their 'inequality' agenda.

Their proposal for stopping those who can afford to do so reaping the benefit of the tax-free threshold, which is designed after all to help low-income earners several times over, is a reasonable one.

They have limited the impact of the measure – and the political fallout – by keeping farmers out of the policy…

The announcement – along with the push for a referendum vote – puts Labor back ahead of the Coalition as the initiator of policy. These announcements are not ones the government can simply ignore: it will be forced to either agree to them or find some complicated reasons why it can't.

Hopefully, this will not be as excruciating a process as we witnessed on negative gearing.
The Australian's Alan Kohler also agrees that taxing trusts is a no-brainer policy in principle, although because they are used so pervasively, reform is inherently difficult:
It is, or at least should be, a no-brainer: income splitting is a device that should have been removed long ago, but ever since the failure of John Ralph's effort to clean up trusts in his Review of Business Taxation in 1999, which was buried by the National Party, trusts have come to be the structure of choice for Australian small businesses, and splitting the income an annual accounting ritual.

These days the majority of business activity now goes through trusts; The Australia Institute reckons a fifth of national GDP sits in them…

And why not? Most small businesses are family affairs: everyone works in the business…

Trouble is that the income tax system is designed around taxing individuals, not families.

…this political battle over the use of trusts is not superficial. In some ways it is a new front in the eternal war between capital and labour, between business owners and employees, and it's not entirely clear how it will turn out.
Sensing a scare campaign after launching Labor's policy, shadow treasurer, Chris Bowen, issued a challenge to the Turnbull Government:
"Either come out today and defend income splitting, defend the current arrangements and promise no change, or admit there's a problem and look at adopting Labor's proposals"…
To which Finance Minister Mathias Cormann responded:
"This is ultimately going to be a tax hike in particular on the many small business operators across Australia who use trust structures as a legitimate way of managing their financial affairs," he told Sky News.

"They will want to see how Bill Shorten thinks he's going to be able to take $17 billion out of their pockets."

He said trusts were predominantly used for legitimate purposes and there was an integrity taskforce within the tax office to rout out the rorters.
Drawing the following response from Chris Bowen, claiming that legitimate users of trusts would not be affected:
Labor's "carefully calibrated" changes shouldn't affect these.

"There are many, many hundreds of thousands of small businesses in Australia and most don't use discretionary trusts," he said.

"Where a small business is employing a family member … they will or can pay them a wage and of course they'll be taxed at the normal rate and they can claim the tax-free threshold, there's no change."

Farm trusts, charitable trusts, disability and those set up to manage deceased estates will be exempt.
Last week, The Australia Institute (TAI) produced new research showing that the use of trusts has exploded: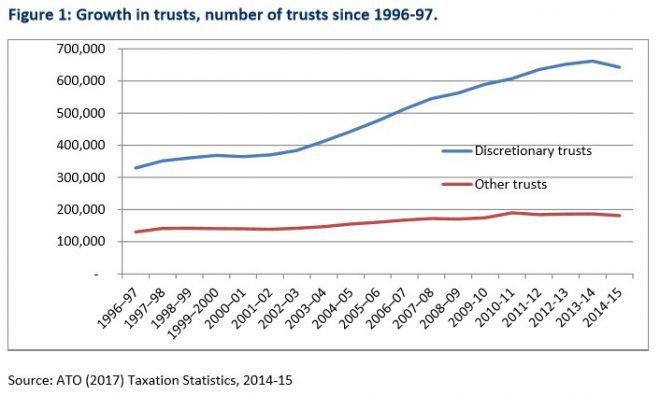 And that the equivalent of 21.6% of Australia's national income was run through a trust, which is overwhelmingly skewed to high income earners: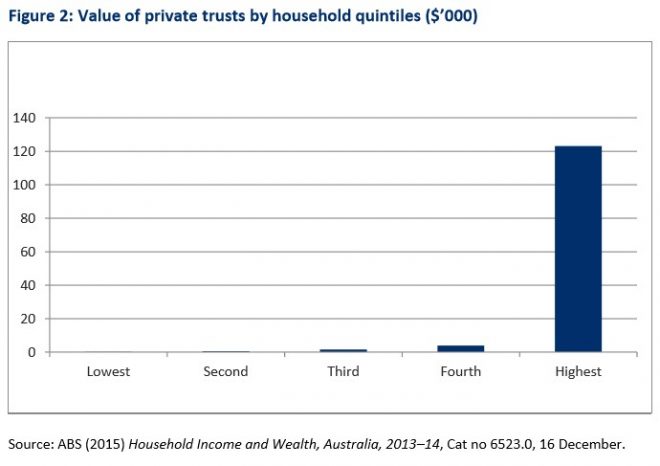 TAI also argued that the revenue foregone by the Budget from the use of trusts might be $3.5 billion a year.
Thus, there appears to be a strong case to target trusts used purely for tax minimisation purposes.
It will be interesting watching this political battle unfold. Will the Coalition do what it did with negative gearing and launch a concerted scare campaign? Or will it announce compromise reforms of its own?