The Grattan Institute has lamented the sharp decline in Australia's home ownership rate among younger cohorts, pinning part of the blame on a chronic housing supply in the major cities. From The ABC:
Australia's housing boom is no secret, and has been going for 20 years, Mr Coates said. It has been more acute in recent years, with house prices across the country rising 40 per cent in the past five years.

"What these numbers show is that there's clearly a problem linked to housing affordability. It shows we have a really big problem in ensuring the younger generations can afford to purchase a home," he said…

Mr Coates said housing construction had not kept up with demand, and there needed to be an increase in medium-density development in cities like Melbourne and Sydney.

"You've got a backlog of a decade that you would have to overcome in order to see those prices come down or at least stabilise," he said.

"We're not talking about high-rise apartment buildings, we're talking about two to three to four-storey townhouses.

"People are wanting these kinds of homes that are close to jobs and close to amenities, but it's the sort of thing the market is not supplying at the moment because it's difficult to subdivide and build in those inner and middle ring suburbs"…

Mr Coates said governments and policy-makers needed to act now, because turning the tide could take decades.

"It took 20 or 30 years for this problem to develop, and it will take 20 years for the problem to be solved, that's why we need to start now," he said.

"Without action there is a greater risk that millennials will miss out on the benefits of home ownership and those benefits are substantial.
Take a look at the below charts, which show the change in Sydney's and Melbourne's populations versus the change in the number of dwellings, as reported in the Census: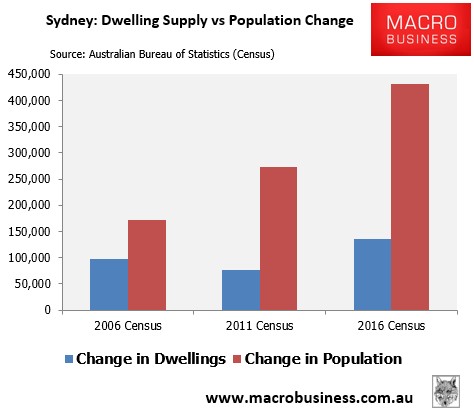 As you can see, the primary reason why "housing construction had not kept up with demand" is because their population growth has ramped-up massively due to mass immigration, not because less dwellings have been built.
So why is Grattan only focusing on the supply-side of the housing market by increasing "medium-density development in cities like Melbourne and Sydney", rather than the more obvious solution of cutting immigration back to sensible and sustainable levels.
As I have noted many times before, it is the federal government's mass immigration program that is the primary driver of Australia's (and by extension Sydney's and Melbourne's) strong population growth. The federal government has raised Australia's permanent migrant intake from around 80,000 at the turn of the century to 200,000 currently: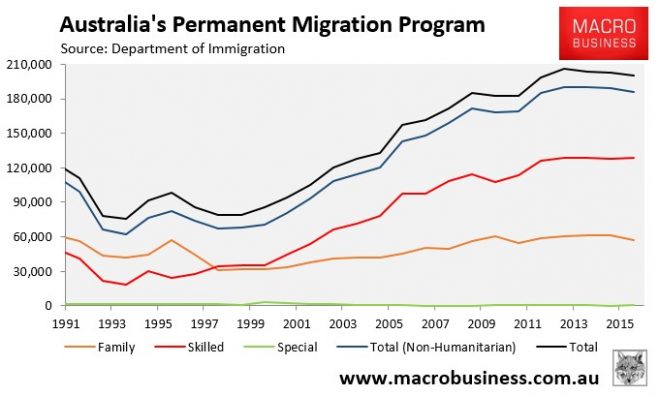 And the lion's share of these migrants have flooded Sydney and Melbourne, as confirmed by the Census, creating the population pressures in the first place.
As shown in the next chart, which comes from the Productivity Commission, Australia's population will reach more than 40 million mid-century under current mass immigration settings, at least 13 million more than would occur under zero net overseas migration (NOM):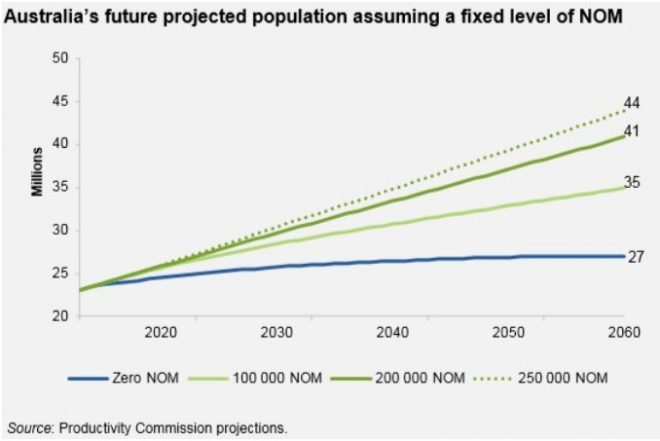 That's a heck of a lot of extra people to build infrastructure and housing for versus a lower or zero NOM policy.
The fact remains that it is a direct policy choice how 'big' Australia becomes, not a fait accompli. So why isn't the Grattan Institute advocating lower immigration, thereby relieving the intense population pressures afflicting Sydney's and Melbourne's housing markets?