The business lobby's new found propaganda drive surrounding company tax cuts continues in earnest today, with Business Council of Australia (BCA) president, Grant King, penning the following drivel today in The AFR:
Much of the political debate about important changes Australia needs to make is focused around one question: what is fair?

Never has this been truer than for the discussion around the federal government's Enterprise Tax Plan, which would reduce to company tax rate to 25 per cent over ten years. The most common criticism of the plan is simply that it "isn't fair". However, this claim rarely gets the scrutiny it deserves. Contrary to the criticism, a failure to implement the plan will inflict a greater unfairness on Australians.

Business Council of Australia members believe the fairest thing we can do is create more jobs and grow incomes, because this creates the prosperity that can be shared across the community.

Only business can sustainably achieve this, but it needs the right policies and incentives in place – hence the government's Enterprise Tax Plan and our support for it.

…we must restore the incentives for investment – as investment drives private sector job creation – if we are to have sustainable growth in employment.

Wages growth, which has been slowing over the last five years, is becoming a real concern for many, especially as Australian households have among the highest levels of debt as a share of GDP in the developed world. Many Australians face the real challenges of housing affordability, the prospect of rising interest rates and cost of living pressures…

The answer has to be productivity growth… The only consistent driver of sustained productivity growth has been investment…

The conclusion is simple. Income or wages growth relies on productivity growth, which in turn depends heavily on business investment.

…a globally competitive investment environment is essential if Australia is to be an attractive destination for companies. It also means that our high tax rate matters … a lot.

It seems the case for incentivising greater business investment is clear.

If fairness is about ensuring people can access good jobs and growing incomes, while living in a more prosperous country that supports the genuinely disadvantaged, then delaying or failing to implement the full Enterprise Tax Plan is clearly unfair.

The sooner it is implemented the sooner business can respond with increased investment, driving jobs and income growth, as well as increased prosperity that all Australians can share.
What rot.
First, the Australian Treasury's own modelling showed minimal benefits to either jobs or growth from the Coalition's company tax cut plan. As explained by The Australia Institute's Richard Denniss:
According to Treasury's in-house modelling, and the modelling it commissioned from Chris Murphy, if the company tax rate is lowered from 30 per cent to 25 per cent then gross domestic product will double by September 2038, while without the tax cut it won't double until December 2038. Wow, a whole three months earlier. Both modelling exercises conclude that in 20 years' time the unemployment rate will be 5 per cent regardless of whether we spend $50 billion on company tax cuts or not…

The "benefits" are more accurately described as rounding error than significant reform.
Second, the company tax cut would cost the Budget a lot. Again, the modelling of the company tax cut package conducted by Independent Ec0nomics on behalf of the Australian Treasury estimated that the full company tax cut package would cost $11.3 billion per year. However, this would be reduced to $8.2 billion due to "a gain in personal income tax and superannuation income tax of $3.1 billion as the cut in company tax automatically reduces the value of franking credits".
Obviously, the loss of revenue from company tax cuts would need to be made up somewhere, such as by raising personal income taxes, cutting government investment in infrastructure, or slashing welfare expenditure. Such cuts would necessarily reduce jobs and growth.
Third, because of Australia's unique dividend imputation system, the lion's share of the benefits from cutting company taxes would flow to foreign owners/shareholders, thus representing a direct fiscal transfer from Australian taxpayers to foreigners, and lowering national income in the process.
Fourth, as The Grattan Institute has pointed out, if companies pay less tax then they might reinvest some of what they save. But in practise, most profits are paid out to shareholders. So the tax cut won't have much of an impact on domestic investment or jobs.
Given that the share of national income flowing to workers has fallen to the lowest level in more than half a century: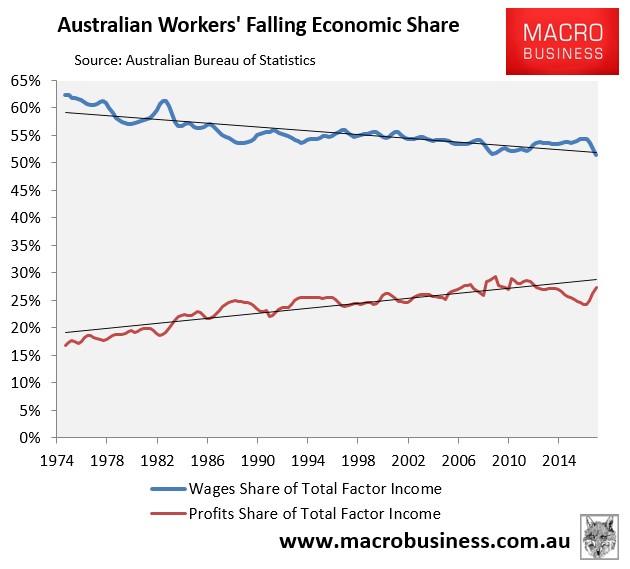 And real employee compensation has fallen sharply despite solid gains in labour productivity: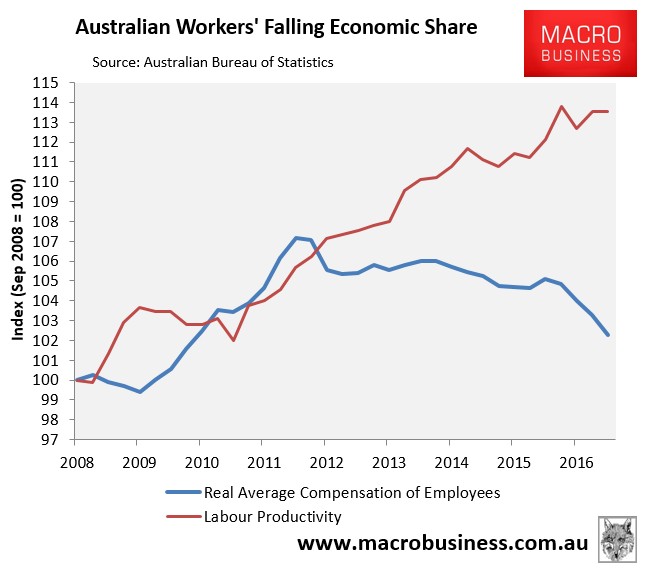 Forgive me if I don't believe a word that comes out of the BCA's mouth. They are talking their own book.
If the federal government genuinely want to boost investment, jobs and growth, it would make far more sense for it to use the tens-of-billions of dollars that would be spent on cutting company taxes to undertake critical infrastructure investment and restore Australia's dilapidated infrastructure stock, which is under siege from its own mass immigration agenda.