Via Australia's last journo standing Adele Ferguson:
Australia's $170 billion franchise sector is on notice after a class action was announced in Canada alleging the owner of Burger King and Tim Hortons misused millions of dollars paid by franchisees into a national advertising fund.

…The claim, lodged in the Ontario Superior Court, comes weeks after pizza giant Domino's was put in the spotlight in the Senate following an investigation by the competition watchdog the Australian Competition and Consumer Commission (ACCC) into breaches of Domino's franchising code in relation to its national advertising fund.

Domino's was found to have breached the franchising code in relation to its advertising fund, which receives contributions from franchisees of between 4 and 6 per cent of sales to pay for advertising and marketing campaigns.

The ACCC's investigation culminated in a landmark fine of $18,000 after it found Domino's failed to release information to franchisees detailing how they spend the money collected in the ad fund.
Meanwhile, the toxic Franchise Council is hard at it, from Sarah Dankert:
There's more news of the outer workings of the Franchise Council of Australia and we suggest this is best enjoyed with some mysterious dark music playing in the background.

CBD has seen a letter sent by Franchise Council of Australia director Stephen Giles to some Turnbull government ministers in April urging changes to new legislation being introduced to hold franchisors liable for systemic and rampant underpayment of staff.

In his letter, Giles expresses concern that Employer Minister Michaelia Cash is not passing on the FCA's concerns to other ministers.

Giles also describes the legislation as a knee-jerk response to media coverage of the 7-Eleven wages scandal and sticks the boot into former ACCC tsar Allan Fels, describing him as "aggrieved".
This comes on the back of more:
Leaked emails flagging a potential diplomatic incident with the United States and a potential loss of investments if certain legislation proceeded gives a fascinating – and rarely seen – insight into the opaque world of lobbying and advocacy.

The Australian Financial Review has obtained emails sent to US ambassador Joe Hockey from his former political colleague Bruce Billson, the chairman of the Franchise Council of Australia, warning him that legislation designed to protect vulnerable workers was of such concern to the White House it was likely to be raised with Mr Hockey directly and could result in US franchisors suspending investment in Australia.

Billson was the Minister for Small Business when Hockey was Treasurer. Both men announced their retirement from politics in the wake of the ascendance of Malcolm Turnbull to Prime Minister in September 2015. Hockey left straight away while Billson, who was demoted from cabinet and lost his position as the Minister for Small business, told the media he would serve his term then retire from politics.

The series of emails sent to Hockey and backbenchers in February displays a lobbying effort that has been able to reach into the heart of the government and the party room.

Billson has conducted personal lobbying – or as he prefers to call it, advocacy – of various current and former politicians no doubt helped by relationships and friendships built up during his years in parliament to "ensure that the franchise sector's interests are strongly and clearly communicated to the government and responsible Minister".

In the case of the emails and texts to Hockey, the reach of the FCA has scaled new heights. "Your Excellency Joe, as mentioned in my text message it is likely that the White House, and in particular Vice-President Pence, will express the concerns of the US franchise community about what the Turnbull Government is doing in the name of protecting so-called 'Vulnerable Workers' with a particular focus on the franchising sector," Billson says in an email sent on February 24.

He was referring to the Protecting Vulnerable Workers Bill, an election promise made by the Turnbull government before the 2016 election. It was aimed at beefing up penalties for wage fraud and make franchisors jointly responsible for workplace abuses if they have a "significant degree of influence or control" or influence over their franchisee's affairs.
And it has worked, recently from Domainfax:
The Turnbull government has put its bill to prevent worker exploitation on the backburner, delaying a vote until at least August – a full two years after the 7-Eleven wage scandal was exposed.

The move comes amid an extensive behind-the-scenes lobbying campaign by the Franchise Council of Australia, led by former Liberal minister Bruce Billson, aimed at watering down the legislation.

The government originally said it wanted to pass the bill in May, shortly after a Senate inquiry report.

When that didn't happen, Employment Minister Michaelia Cash signalled she would seek to pass it before Parliament's long winter break – but her office now concedes that will not happen either.

Citing a busy agenda dominated by school funding changes for the delay, a spokesman for Senator Cash says the bill is now "highly likely" to be debated when Parliament returns in August.

But the government's claim that it was too busy to deal with the bill was undermined on Tuesday when the government started filibustering on its own non-controversial legislation because the Senate had run out of work.

That will mark two years since a joint Fairfax Media/Four Corners investigation exposed widespread wage theft across the 7-Eleven network. A series of scandals involving a range of major companies have followed.
And they wonder why there's no income growth?
Everyone except Phil Lowe knows what's going on. Late last year, the Australian Population Research Institute (APRI) released an alarming new report entitled "Immigration overflow: why it matters", which examined the widespread rorting of Australia's visa system, as well as the crushing impact of Australia's high permanent immigration program on Sydney and Melbourne.
One of the findings from this report was "the high and increasing numbers of IT professionals being granted 457 visas", which "constitute by far the largest occupation group within the 457 program":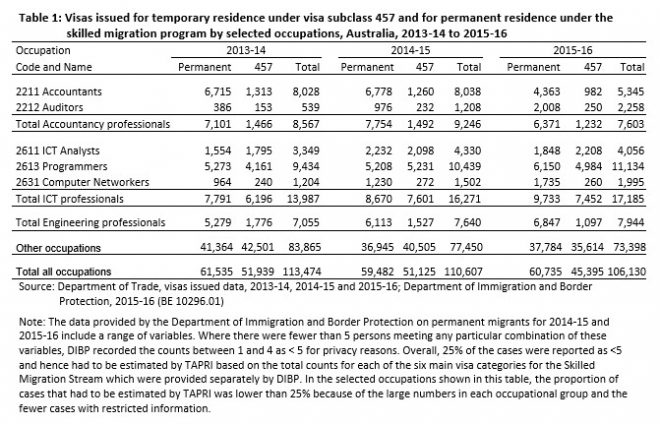 The APRI claimed that most IT professionals being granted 457 visas are Indian nationals who are sponsored by Indian IT service companies. These companies have been successful in winning a major chunk of Australia's IT consulting work on the basis of these 457 visa holders, partly because they are paying them much lower salaries than the market rate for IT professionals in Australia:
As Table 2 shows, some 76 per cent of the 7,542 457 visas issued in the three IT occupations listed were to Indian nationals. The great majority of these were sponsored by Indian IT service companies as intra-company transferees…

Once in Australia their staff are being paid at much lower rates than experienced resident IT professionals and in some cases even new local graduates.

Even more disturbing is the relatively high proportion of these Indian IT professionals (28 per cent) whose 457 visas were approved at the extremely low base salary of $53,900 or less. This is despite the fact that only eight per cent of the 457 visas granted to Indians in the two ICT occupations in 2014-15 were aged less than 25.

The median starting salary for local ICT graduates under the age of 25 is around $54,000. Coincidentally, the 457 minimum salary 'floor' is set at $53,900…
The report also noted how the biggest sources of skilled permanent migrants – engineers, accountants and IT professionals – are also the areas with the biggest surplus of workers: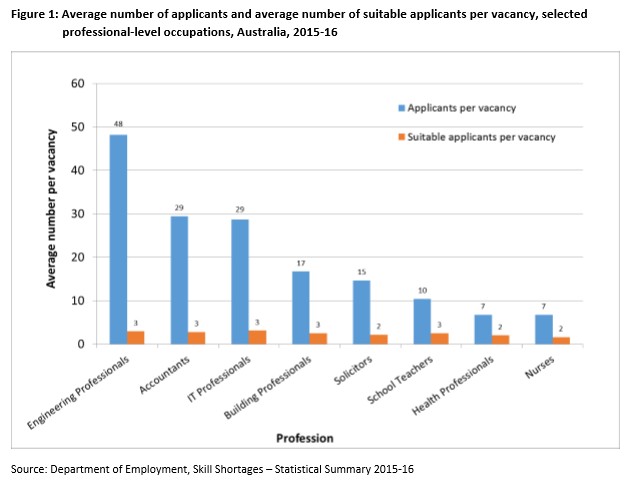 Thus, the overall immigration system is destroying career prospects for local graduates in these (and other) areas.
The IT Professionals Association (ITPA) has clearly had enough of the rorting, claiming that local tech firms are abusing the 457 visa system and threatening to 'name and shame' IT organisations involved if issues are not rectified:
The ITPA… cited temporary work data from the government's data.gov.au website which suggests there has been an unprecedented rise in 457 visas being issued to IT support workers over the past 10 years.

The data also found that while the overall number of 457 visas issued over the last decade (excluding IT) has risen by just 2 per cent, over the same period there has been a 136 per cent rise in 457 visas issued for IT workers.

Digging deeper, he said the growth rate for 457 visas granted to entry level occupations including systems administration and IT support blows out by over 480 per cent over the decade of 2005/06 – 2015/16.

"The ITPA has no issue with local IT organisations using 457 visas if they are genuinely unable to find suitable local candidates," Hale said.

"What we are concerned about, however, is that many local IT organisations appear to be using 457 visas to hire international staff to work in entry level IT support positions rather than hiring and developing local graduates"…

With the growing number of people now being brought in on 457 visas to undertake these roles, he said it's not surprising local IT graduates can't find work, and the number of students studying IT degrees at Australian tertiary institutions has dropped in the last decade.

"What is happening in IT is the equivalent to Australian government deciding to scrap all medical internships at Australian hospitals and bring in surgeons from overseas who are willing to work for half the wages," said Hale.

"If that was the case, the result would be that universities stop offering medical degrees and we would become totally reliant on importing overseas medical staff in our hospitals"…

"To stop abuse of organisations using the 457 visas system to fill systems administration and IT support positions, the ITPA calls on the Department of Immigration and Border Control to make details of all future 457 visa applications for systems administration and IT support positions available, so that we can promote to our members and IT graduates.

"In the interim, the ITPA has asked our membership to advise us of examples of alleged abuses they encounter and if any claims are substantiated, we intend to alert the Immigration Department. If the identified 457 abuses are not rectified we will 'name and shame' the IT organisations involved to our 7000 members and the media," he said.
Adele Ferguson recently penned another troubling piece on the "rampant" exploitation of foreign workers and visa fraud in Australia:
Extortion, blackmail, cash back scams and slavery are happening every day under our noses. They happen in the most unsuspecting places such as suburban restaurants and nail bars. Most suffer in silence.

In some cases unscrupulous employers offer sponsorships to desperate foreign workers in return for payment. In other cases they lure unsuspecting workers into a job with the promise of sponsorship, then they turn on the blackmail dial.

The price of visas can vary from $30,000 to $150,000 depending on the visa, the job on offer and the worker's nationality. For companies engaging in this illegal practice, the scheme offers big bucks…

If workers complain, their sponsorship is likely to be cancelled, inevitably leading to deportation unless a new sponsor can be lined up. Finding a legitimate sponsor isn't easy and there are no protections for workers who are exploited.
What this says is that running mass immigration into an economy with surplus capacity is triggering a whole range of unhealthy adjustments across the economy. There are now entire business lines, firms and sectors whose business models rely entirely on the systematic undermining of wages and, worse, running virtual slave labour.
We have seen this in pizzas, convenience stores, agriculture, building, mining, accounting, IT, engineering, education, transport, the gig economy and no doubt it is even more widespread.
A bubble is a price inflation based upon the extrapolation of present favourable conditions far into the future. Sure, we've seen that in house prices. But we're also seeing it the above businesses which have accrued immense value by illegally cramming down their labour costs and, in some cases, turning wages into visa-rorting profit centres.
Yet the current level of immigration is clearly unsustainable, generating a political backlash that is now an existential threat to the Coalition, triggering enormous frustration in the wider populace and deflating wages such that domestic demand is now permanently bogged down plus the Budget irretrievably broken as it relies on fictional income growth.
When the immigration intake drops, and it will as the wreckage spreads, the immigration business bubble is going to bust.