Earlier this month it was the Grattan Institute that urged Australia's politicians to back the Coalition's Gonski 2.0 needs-based school funding package, with Grattan contending that the lion's share of the extra $22 billion that Labor promised to spend at the 2016 election would represent wasteful investment that would not deliver any notable improvement in student outcomes.
Now, the left-leaning Centre for Policy Development (CPD) has entered the fray, releasing a new report entitled Losing the game: State of our schools in 2017, which urges politicians to seize a once in a generation opportunity and support the Turnbull government's Gonski 2.0 legislation so that past mistakes in school funding can be undone. Below is the overview of this report:
This new report is co-authored by Fellows Chris Bonnor and Bernie Shepherd, who between them have over 80 years of experience in the public school system…

Chris and Bernie examine the key trends in schools funding, performance and student composition, based on an analysis of My School website data for 2010 to 2016…

The report's key findings include:

equity in Australia's schools is declining since the original Gonski Review was released.
school intakes are becoming more polarised and socially segregated. Advantaged students move to advantaged schools and strugglers are left behind, literally in classes of their own.
schools are becoming less representative of local communities and less connected to them.
the 'private school' is vanishing with increased public money but with minimal public obligations.

Figure 3 shows that government schools enrol the broadest cross-section of students, including the vast majority with higher levels of socio-educational disadvantage (see report p.19).

Figure 14 shows that combined government funding for Catholic and Independent schools (yellow and green bars respectively) tends to be similar to funding for government schools (red) that have a similar socio-educational profile (see report p. 28).

Losing the Game recommends that essential amendments to the package must be made to:

accelerate the proposed increases in funding to the most disadvantaged schools, and
create a National Schools Resourcing Body to ensure all sectors and levels of government are transparent and accountable.

Additionally, the Second Gonski Review should conduct an investigation into barriers in our current schools framework that risk preventing the implementation of its recommendations. A task force should also be established that monitors progress being made against the recommendations of the Second Gonski Review and the commitments of federal and state governments, and reports publically on them at regular intervals.
Interviewed in The AFR, co-author Chris Bonnor urged Labor to negotiate with the government about amendments to the Gonski 2.0 bill through Parliament, as well as urged the powerful public sector teacher's union, the Australian Education Union, to rethink its opposition:
"They [the AEU] need to get their mind around what the new structure will offer in the long term," Mr Bonnor said…

He praised the Turnbull government's determination to end special funding deals for Catholic schools and some independent schools.
"If you want to fund schools equitably you've got to claw back some of those crazy exceptions and deals," he said…

"Our research has shown that the small schools which enrol the strugglers are shrinking in size and have an increased concentration of the strugglers. Large schools that are more advantaged are growing," he said.

"That's a real no-no for a country which wants to lift student achievement. Student achievement in those disadvantaged schools is just drifting lower."
Appearing on ABC's 7.30 Report last night, the former head of the Australian Education Union also urged all sides to back the legislation, saying it's better than the existing system:
DIANNE FOGGO, FMR PRESIDENT, AUSTRALIAN EDUCATION UNION: I've had decades of activism and passion about supporting public education, and I am absolutely terrified if this chance goes past, it will be many decades again before there's an opportunity to get needs-based funding for public schools in Australia.

ANDREW PROBYN: Dianne Foggo was federal president of the Australian Education Union for five years. She has written to her old union, political leaders and the crossbench, urging them to support the reforms.

DIANNE FOGGO: It's not perfect. The first Gonski report was the one that should've been implemented and it wasn't and this is not as good but it provides an amazing opportunity for the future of public education in this country, and I just couldn't let this go by without saying something, and hoping that people would with my background listen to my views.

ANDREW PROBYN: Labor could back the model she says, and still offer greater funding.

DIANNE FOGGO: If Labor as good as its word, when it gets into government, it has the opportunity then on a needs based funding model to put the funds that they so desperately want to go into education. And so, perfect never works. No-one can achieve perfection but this is a very, very decent step forward.
As I have noted repeatedly, the original botched Gonski program implemented by Labor would have seen non-government school students  – and those in Catholic schools in particular – receiving greater taxpayer funding than average public school students by 2020: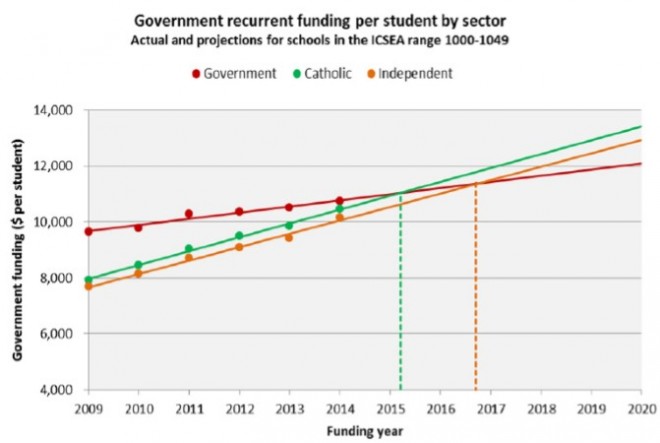 By comparison, the Gonski 2.0 package proposed by the Turnbull Government would redirect some funding from these privileged Catholic schools to public schools, improving equity and saving the Budget billions in the process.
How Labor can oppose Gonski 2.0, in favour of the inequitable and wasteful status quo, beggars belief.