Weeoo, weeoo, weeoo.
If you're planning on refinancing or picking up a new interest-only non-bank loans to dodge APRA curbs then The Pascometer is screaming a a warning for you today:
The Law of Unintended Consequences does not sleep. The Australian Prudential Regulation Authority's crackdown on real estate lending by the banks it regulates is driving business to the financiers it does not regulate.

…APRA regulates deposit-taking institutions. Institutions that don't take deposits, that fund themselves on the wholesale market such as Pepper Money and Liberty Financial, have not been required to get tougher with borrowers.

A mortgage broker has shown me a simplified real-world example of the considerable difference APRA has made for the unregulated players:

A client with an investment property worth $600,000 wanted to buy another property for $500,000 with minimal equity. APRA now requires banks to assess applications on the assumption that the interest rate on all loans is 7.25 per cent. The client had annual income of $110,000. On that basis, banks assigned the client total "borrowing power" of $624,000.

An unregulated lender, free to make  their own credit assessment, looked at the rate the applicant actually paid on the existing property – 4.5 per cent – and allowed a borrowing limit of $1.05 million.

Yes, the unregulated lender is likely to be more expensive than the deposit takers, but they make it possible to get a loan APRA won't allow deposit takers to offer.

Pepper Group [saw] its Australian residential mortgage business soar a 36 per cent rise in new originations in 2016 to $2.53 billion. The results announcement noted system growth across the whole market had been 6.5 per cent. The company pulled up short of thanking APRA on that occasion, but co-CEO Patrick Tuttle subsequently told the AFR:

"Clearly any additional macroprudential policies imposed by APRA could give rise to increasing loan applications in the non-bank sector."
There has been a little more activity in the RMBS market this year from last, to the end of April: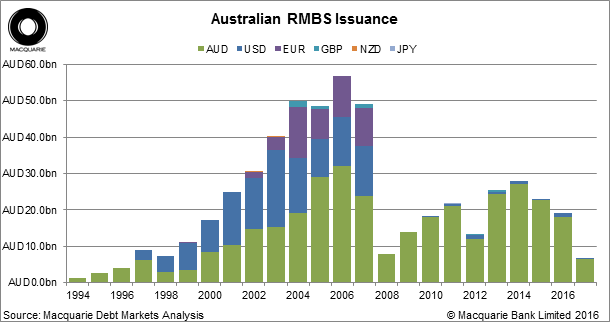 At this stage activity is on track to meet 2015 levels, a little better but hardly a boom. Moreover, there is this:
Following the news that the federal government will provide $2.6 million to the Australian Prudential Regulation Authority to "apply controls" to the non-bank sector, several non-bank lenders have said that the sector should not be worried.

In last week's budget announcement, it was revealed by the Hon. Scott Morrison MP, Treasurer of the Commonwealth of Australia, that the financial services regulator would be given power over non-authorised deposit-taking institutions (ADIs).

While the non-bank sector is bound by responsible lending regulations, it is not currently subject to macroprudential controls imposed by APRA, such as the recent caps on investor lending growth or interest-only loans.

Several industry heads have said that the crackdown has been a boon to the non-banks, including Liberty Financial's chief operations officer James Boyle, and — notably — APRA boss Wayne Byres.

Speaking at an event in Sydney in March, Mr Byres highlighted that regulatory efforts to tighten certain forms of credit — such as investor and interest-only home lending — have simply resulted in loans being picked up by alternative lenders "beyond APRA's remit".

Mr Byres explained that the most important impact of the regulator's macroprudential measures to date –including a 10 per cent limit on investor loans growth, higher serviceability buffers and interest-only loan caps – has been to reduce the competitive pressure on banks to loosen lending standards as a means of chasing market share.

"Of course, lenders not regulated by APRA will still provide competitive tension in that area and it is likely that some business, particularly in the higher risk categories, will flow to these providers," he said.

However, if the new APRA powers announced in the budget are passed by the Senate, the non-banks could, potentially, also be subject to similar controls.

While the details of what the oversight could look like in practice have not yet been revealed, the budget documents state that the "new powers complement APRA's existing macroprudential power", and the new funding will "allow APRA to collect data from these entities for the purposes of monitoring the non‑ADI lending market".
Of course the same macroprudential controls are coming to the non-bank sector, and soon. The quote recycled from Pepper by The Pascometer is from March, pre-Budget.
That leads one to wonder why this factoid was left out of the piece. As readers know, The Pascometer has increasingly shut down as a contrarian mechanism on investment as MB utilised it to great effect. It became instead more of a policy-focused engine. It therefore beggars belief that the machine was unaware of the Budget shift for APRA supervision to subsume non-bank lenders. Was a rag thrown into the mechanism or is it just a missing cog?
The truth is, mortgage brokers are not really much of a "deep throat" source for jounos. I know half a dozen of them so I rang around a little and the clear consensus was that they are being smashed by APRA's macroprudential regime. Banks are pouring on the heat for brokers to lift all sorts of credit assessments, as well as limiting borrowing amounts. Demand is materially down as well. The uniform attitude among the brokers was that we're at or near a housing price cycle peak and right now was a very bad time to invest in property.
Weeoo, weeoo, weeoo.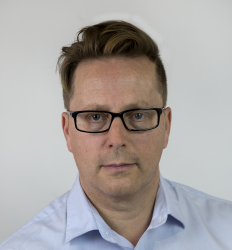 Latest posts by David Llewellyn-Smith
(see all)