Earlier this week, The ABC published a report arguing that childless couples will be Australia's most common family type by 2023:
One sociologist says the trend is already happening, and future government policy will determine whether the traditional family model continues to exist.

For many millennials… changing financial and social realities are important factors in the choice to have kids.

…couples [are] delaying their decision to extend their families, a trend which paired with Australia's ageing population means the nuclear family is in decline.

The Australian Bureau of Statistics estimates between 2023 and 2029, there will be more people in a relationship living without children than families with kids…

University of Melbourne sociologist Leah Ruppanner said while the trend of not having children varies between countries, it is already happening in Australia…

Bronwyn Harman of Edith Cowan University, who studies social responses to childless couples, said the public has become more accepting of non-traditional families…

She expects the 2016 Census data, which has not been fully released yet, will show an increase in households without children.
This was followed by another article bemoaning the fact that more and more children are continuing to live with their parents well into adulthood. From The Daily Telegraph:
Get used to that childhood bedroom, you'll be there for the next 40 years. Every week the great Australian dream seems to slip further away…

Sure they might go to uni but their industry of choice will probably change more rapidly than their qualification, which will have a hefty student debt attached anyway. Children are already priced out of the communities in which they grew up.

…a 2017 Perceptions of Housing Affordability report by property analytics and information company CoreLogic RP Data confirms the "great Australian dream of home ownership" as "an insurmountable challenge".

"A growing proportion of younger generations, while overwhelmingly maintaining a sustained appetite to live the dream, are staying home with parents — increasingly into their 30s — to save for deposits," it says in doom-laden pages.

"It captures the degree to which parents are being expected to assist their adult children in either saving for — or paying for — a home, and reveals how families with low incomes and or young children are becoming more vulnerable to mortgage stress"…

The empty nest is the forever nest. Youth see low wage growth and being locked out of buying a home. The family dynamic is changing and from an independence point of view, that is bad news for everyone.
The above articles should hardly be a surprise to anyone, given Australia's politico-housing complex has deliberately engineered expensive housing via the combination of:
Egregious tax breaks like negative gearing, the capital gains tax discount on investment properties, and the excessive taxation of deposits;
Mass immigration;
Restrictions on fringe land supply and planning; and
Inadequate infrastructure investment.
To the above flawed housing policies you can also add increasing higher education costs (and debts), as well as poor labour opportunities for young people.
Since the GFC, overall youth employment has fallen by 3.6% in trend terms, despite the 6.9% lift in the youth population over this time, with full-time jobs down an incredible 21.2%. By contrast, the overall number of jobs for the rest of the labour force has risen by 15.3%, with full-time employment up 10.7% (see below table).

Youth underemployment was also at an all-time high 17.7% as at February (see next chart).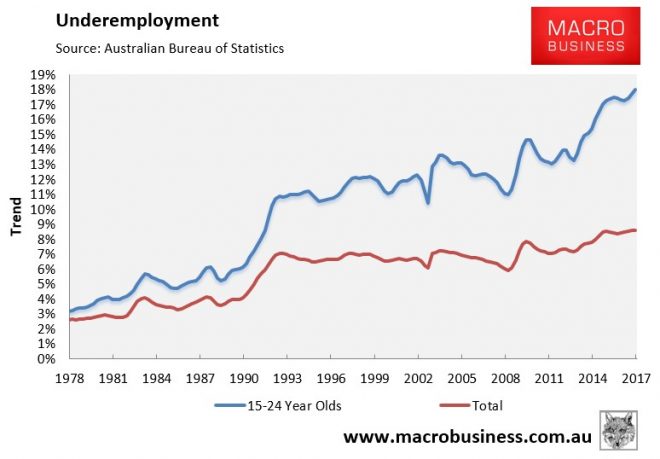 The fact is, young people need financial stability – and preferably a roof over the own heads – before they even contemplate having children. However, with one of the world's most expensive housing markets, disappearing full-time jobs, and rising university debts, such stability is become rarer in Australia, so it's no wonder couples are delaying (or choosing to go without) having children.
The saddest part is that policymakers' likely response will be to ramp-up immigration even further in order to inject younger workers into the economy and 'solve' the fake ageing population problem (even though immigration is totally ineffective in this regard). In turn, increased mass immigration will further raise housing costs, as well as boost competition for jobs and lower wages. It will make the whole problem of Aussies not having kids and staying at home even worse.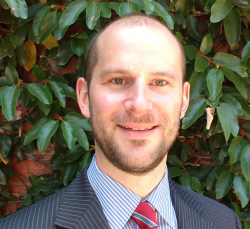 Latest posts by Unconventional Economist
(see all)