CoreLogic has released its quarterly Housing and Economic Review, which reported a slight rebound in rental growth at the national level, with rents climbing by 0.4% in the year to March 2017, with house rents rising 0.3% and unit rents rising 1.4%: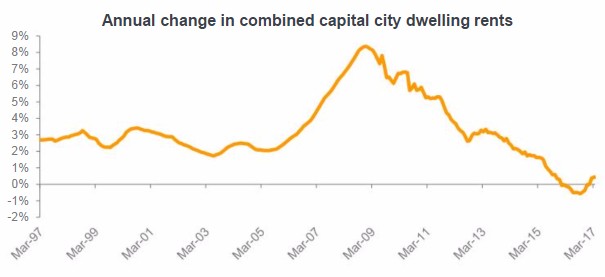 According to CoreLogic, rents across the capitals rose as follows in the 12 months to March:
Sydney: +1.4%
Melbourne: +3.4%
Brisbane: -0.4%
Perth: -9.2%
Adelaide: +1.0%
Hobart: +8.1%
Canberra: +8.1%
Darwin: -12.8%
Because dwelling values have far outpaced rental growth, rental yields nationally have compressed to an all-time low 3.1%, with house rental yields at just 3.0% and unit rental yields at 4.0%. This compares to rental yields tracking at 3.5% a year earlier, with houses yielding 3.4% and units 4.3%.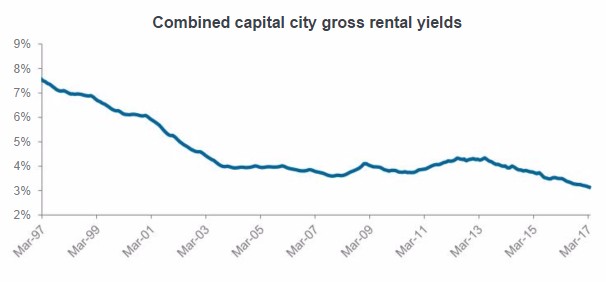 Across the capital cities, rental yields were as follows as at March 2017:
Sydney: 2.9%
Melbourne: 2.8%
Brisbane: 4.2%
Perth: 5.0%
Adelaide: 3.6%
Hobart: 4.7%
Canberra: 4.1%
Darwin: 4.7%
CoreLogic believes that rents and rental yields could weaken further as the large pipeline of apartments currently under construction hits the market:
"The rental market is already showing the effects of the surge in new housing supply with rental growth having slowed markedly over recent years. With more stock in the pipeline, it is anticipated that rental growth is set to remain quite weak over the coming years. The other factor to watch will be what happens to vacancy rates as more rental stock hits the market over the coming years".