I read with some trepidation this morning that the Coalition Government might still be considering cracking down on so-called welfare 'cheats' that are accessing unemployment benefits without applying for jobs. From The Australian:
More than 20,000 jobseekers are deliberately "gaming the system" by turning up to Centrelink appointme­nts just to get paid, new figures show, as the government prepares to target in next week's budget "capable" people who refuse to work…

Employment Minister Mich­aelia Cash and Human Services Minister Alan Tudge will unveil the new welfare crackdown…

A new system that provides "immediate and proportionate" financial punishment is expected to be a central part of the new regim­e as the government seeks to draw a battleline with Labor over welfare compliance.

New data obtained by The Australian shows that last year 7006 jobseekers missed their Centrelink appointments and re-engaged at the very end of each fortnight, allowing their welfare payments to continue without any financial consequence.

Of those, almost half repeated the behaviour six times or more during the year in order to maintain a Newstart payment of about $579 a fortnight.

An additional 16,492 jobseek­ers were identified for "unusual" behaviour in attending Centrelink appointments at regular intervals only to prevent payments being cut off…

The group the department has identified as deliberately gaming the welfare system amounts to about 3 per cent of the 759,000 people receiving the Newstart ­allowance.
I have nothing in-principle against cracking down on legitimate welfare cheats. However, I want to note that Australia's welfare system as it pertains to the unemployed is already one of the most tightly means tested among developed countries. It is also so horribly low – at just $268 a week for a single – that the Business Council of Australia claims Newstart "presents a barrier to employment and risks entrenching poverty". Heck, even the Coalition-dominated inquiry into Newstart found there was a "compelling case" for boosting it, although it refrained from recommending so for budgetary reasons.
We also shouldn't lose sight of the fact that last year's HILDA survey revealed that welfare reliance for those below retirement age has actually fallen over the past decade: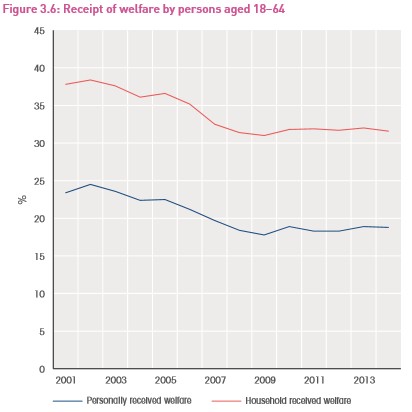 Whereas the Government's own Budget figures shows that unemployment benefits make up a tiny fraction of the welfare Budget:
And unemployment benefits are actually forecast to decline as a percentage of GDP over the forward estimates:
Clearly, concerns about rorting and waste regarding unemployment benefits seems overdone. While there may be some abuse at the margins (as is the case in all quarters of the tax and welfare system), the fact remains that unemployment benefits in Australia are already tightly means tested, payments are already ridiculously low, and the cost to the Budget is expected to decline relative to GDP.
Moreover, given the Aged Pension is the biggest (and a growing) source of welfare spending, one wonders why the Coalition doesn't target rorting there? No doubt there are a bunch of wealthy pensioners that are hiding assets so that they can continue to receive benefits. Why is it that the Coalition always targets the unemployed and vulnerable first and foremost?
Policy solutions need to be far more innovative and comprehensive than simply cutting access to Newstart, and must include training initiatives, addressing the overuse of foreign labor (which is depriving locals of job opportunities), as well as addressing the high effective marginal tax rates applying to those shifting from welfare to work.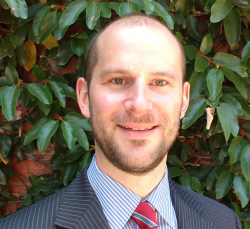 Latest posts by Unconventional Economist
(see all)