Slowly but surely the mainstream media is starting to question Australia's mass immigration program on a more regular basis.
Even Fairfax – which is joined at the hip to the housing bubble (via Domain) and has open borders boosters like Peter Martin and Jessica Irvine in its ranks – has increasingly questioned the efficacy of Australia's high immigration intake.
On Saturday, former economics editor, Tim Colebatch, penned a piece in The Age on Melbourne's "runaway growth" and challenged whether Australia's immigration intake should be set at such a high level:
Advertisement
Melbourne's population has been booming for a decade, but not like this. In the year to last June, the Bureau of Statistics estimates that almost a third of Australia's population growth crowded into this city – 108,000 more people – with another 16,000 settling in the regional towns and cities within commuting distance.

No Australian city has experienced growth on this scale before… If today's Melbourne were to grow for 25 years at the pace it has over the past decade, let alone the past year, by 2042 it would have 8 million people…

In effect, three in every eight new residents of Australia are settling in Melbourne or inner Victoria – the region within 150 kilometres of the city. We are taking 37 per cent of the nation's population growth…

It has brought gains and losses: new skills and demands for our services, but also more crowding of the city's roads, trains, and public services. And this wave of high immigration is likely to continue long into the future…

Obviously more people means more congestion on the roads, and crowding on the trams and trains…

Just over half the growth in the past decade took place in suburbs more than 20 kilometres from the GPO… For homebuyers, that's where the affordable housing is, and they have no choice but to accept higher transport costs and travel times as the price of being able to own their own home…

Rapid population growth is a mixed blessing. It adds to the richness and diversity of urban life, but also to its costs and frustrations. It increases pressure on housing prices, and hence affordability. And in the years when Victoria has dominated the nation's population growth, the Bureau estimates that its output per head, net of inflation, has grown less than any other state: just 0.8 per cent in the eight years to 2016. Average incomes have grown just 1.2 per cent in the same period.

There is room for legitimate debate about whether we have got the balance right. Has the federal government got it right in setting an immigration target of more than 200,000 permanent migrants a year, plus more than a million residents on temporary visas? Or should we scale back to give ourselves more breathing space on infrastructure, housing prices and employment opportunities for our own children?
And on Sunday, Fergus Hunter and Eryk Bagshaw argued in The SMH that immigration is now the hottest underlying issue affecting federal politics, which sooner or later will need to be addressed by the federal government:
Housing affordability, economic growth, the return of right-wing populism, groaning infrastructure, environmental stresses and the pressures of an ageing society.

They make headlines, divide communities and define elections. And they are all connected. The thread that links them is arguably the most important, and most sensitive, factor in Australian politics: immigration…

Migration to Australia currently sits at double the long-term average, down from triple during the last years of the mining boom. The bulk of this influx comes from the government's permanent migration program, currently pegged at 190,000 people a year and mostly comprising skilled migrants…

"High rates of immigration put upward pressure on land and housing prices in Australia's largest cities," a 2016 Productivity Commission report into the migration intake said, noting that poor urban planning and zoning laws compound this.

"While this is beneficial to property owners," the report said of the demand introduced by migration, "it increases costs and thereby reduces the living standards for those entering the property market".

… a recent NSW government forecast found Sydney will require 726,000 new dwellings by 2036 to keep up with growth…

"We do not have the infrastructure capacity to support today's population, far less the population of the future."

That is what the former secretary of the Treasury Ken Henry told the Committee for Economic Development of Australia in February amid ongoing frustration about Australian roads and public transport.

"On the basis of official projections of Australia's population growth, our governments could be calling tenders for the design of a brand new city for two million people every five years" he said.

Both Mr Henry and the Governor of the Reserve Bank Philip Lowe agree: these are growing pains that we are not prepared for…

The more people you have, the more pressure is placed on the natural environment. This means that more work is required to protect it, particularly in urban areas.

In Sydney, more than 70 green spaces – the "green grid" considered a crucial part of a liveable city – have been identified as under threat from the booming population. Australia's largest city will pack in another 2.1 million people over the next two decades…
Advertisement
With any luck, the trend will continue and immigration will move front-and-centre of the political debate, which will hopefully lead to Australia's net overseas migration (NOM) being cut back to below 100,000 (the historical average is around 70,000):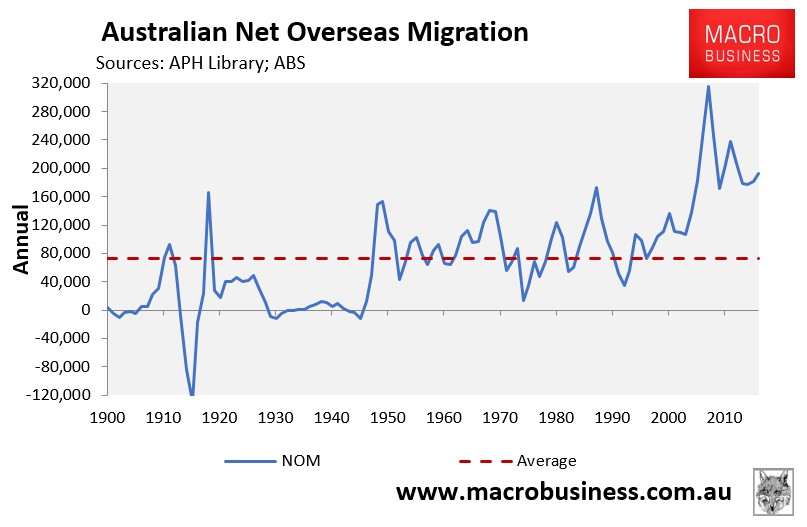 According to the Productivity Commission, NOM of 100,000 would see Australia's population hit 35 million mid-century, which is around 5 million below current settings:
Advertisement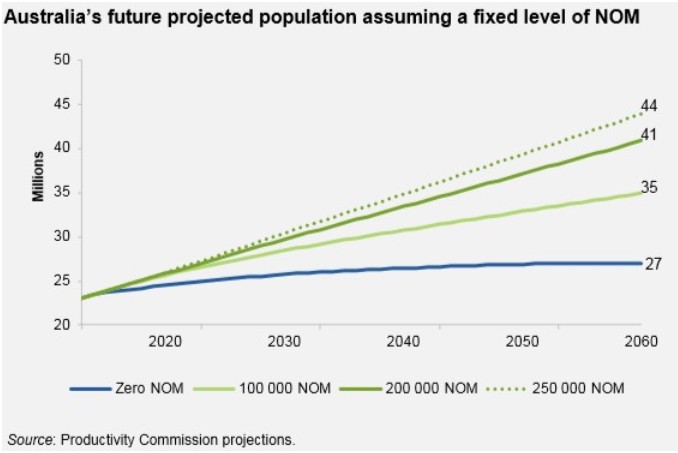 Even better, a NOM intake of 70,000 a year – the historical average – would see Australia's population peak at around 32 million mid-century – some 8 million less than under current settings.
If the Turnbull Government has any political nous, it will slash the immigration intake in the upcoming Federal Budget. Doing so would not only cut One Nation off at the head – given reducing immigration is the only card that it has to play – but also wedge Labor on housing affordability. It's no-brainer policy for the Coalition if it wishes to stand a chance at the next federal election.
Advertisement