Immigration Minister Peter Dutton has confirmed that the Turnbull Government's curbs on temporary overseas labour will not apply to existing free trade agreements (FTAs). Dutton says the FTAs in question are those with China, Japan and South Korea. From The AFR:
Immigration Minister Peter Dutton confirmed on Thursday that the FTA's, which essentially waived requirements for local labour market testing before a foreign worker was brought in, could not be renegotiated…

Mr Dutton said the existing FTAs would be exempt.

"Exemptions existed and we abolished that obviously. We said yesterday there would be mandatory testing in relation to the short-term and long-term stream but there will be adherence with our free trade agreement. So that's a statement of the obvious," he said…

Shadow trade minister Jason Clare said the government could also waive labour market testing in its FTA negotiations with the United Kingdom, India and the 16-nation Regional Comprehensive Economic Partnership.

"It could potentially mean up to three quarters over overseas workers are brought in without seeing if there's an Australian who can do the job first."
Seriously, how stupid is our government? It has negotiated control of our temporary migration system, in turn eroding the sovereignty of our borders and diluting wages and working conditions – all for slightly improved market access. It also highlights why labour should never be included in FTAs to begin with – FTAs are for trade and trade alone.
The only silver lining is that while the government cannot fully control the skilled temporary migration system, it does still control the permanent migrant intake, and it can determine who gets to stay in Australia for the long-term: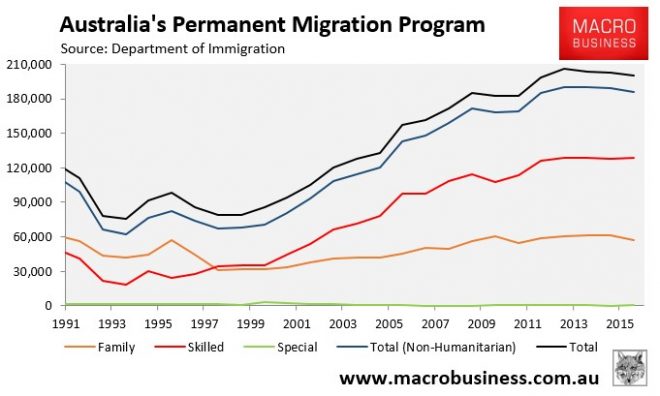 If the Coalition and Labor cared about the living standards of the Australian people, they would cut the permanent migrant intake to the level that existed prior to the turn of the century (roughly 90,000 from 200,000 currently) and take the pressure off housing and infrastructure in the major cities, as well as reduce the downward pressure on wages.