The Real Estate Institute of Australia (REIA) has called on the federal government to allow first home buyers (FHBs) to access their superannuation to purchase a home. releasing the following press release:
"One of the biggest hurdles young people have in buying their first home is saving enough money for a deposit and the transaction costs. With rising house prices, the dream of owning a home is becoming difficult to attain," Malcolm Gunning, President of the Real Estate Institute of Australia said.

"Surveys show that not only are aspiring homebuyers saving for longer but are also using debt to meet their deposit requirement including personal loans and credit cards.

"With first homebuyers finding it increasingly difficult to enter the housing market, home ownership in Australia is declining after four decades of stable levels.

"Many young people already have a partial deposit, access to their super would make the difference but they aren't allowed to make the decision to access what is after all their own money until they retire.

"Too much attention has been focused on the accumulation of a nest egg through superannuation at the expense of other more practical considerations which not only improve the quality of life at an earlier age but result in a greater retirement 'nest egg'.

"Superannuation and home ownership are both components of a retiree's 'nest egg' and not competing products. By buying earlier in life retirees have every prospect of having a higher equity on retirement and a larger 'nest egg' on downsizing.

"It is nonsense to suggest that early access to superannuation for a home despot would undermine retirement savings and create new risks.
"Access to superannuation for the purchase of a first home could help reverse the trend of falling home ownership and address the looming social problem of large numbers of long-term renters aged 45 years and over remaining in the rental sector and possibly requiring rental support in later years.

"Accessing Super is not a radical idea. The use of retirement savings for a first home purchase has already proven to be successful in Canada, New Zealand and Singapore.
The REIA clearly has not studied economics, because there's a term called the 'fallacy of composition', which arises when an individual assumes something is true of the whole just because it is true of some part of the whole.
Sure, allowing an individual FHB to access their super to purchase a home probably would increase their chances of home ownership, since they would have a leg-up on other buyers. But if you allow all FHBs to access their super, this advantage diminishes, and the end result will be home prices being bid-up for no 'affordability' gain, with the added downside of having less funds available in retirement.
The REIA's claim that "the use of retirement savings for a first home purchase has already proven to be successful in Canada, New Zealand and Singapore" is also patently false.
Canada's Garth Turner, who oversaw the introduction of a housing-super system in Canada in the 1990s, has admitted that it was a massive mistake – placing further upward pressure on Canadian house prices and putting at risk retirement savings – and has explicitly cautioned Australian policy makers against such a move.
Meanwhile, New Zealand's housing market is the most expensive in the English-speaking world: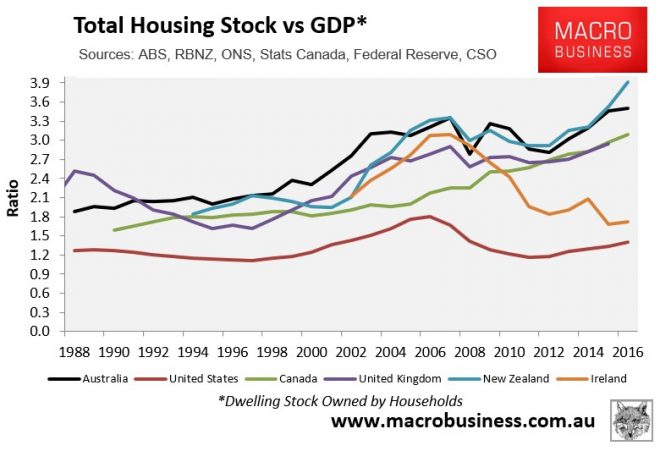 And home ownership rates have similarly collapsed: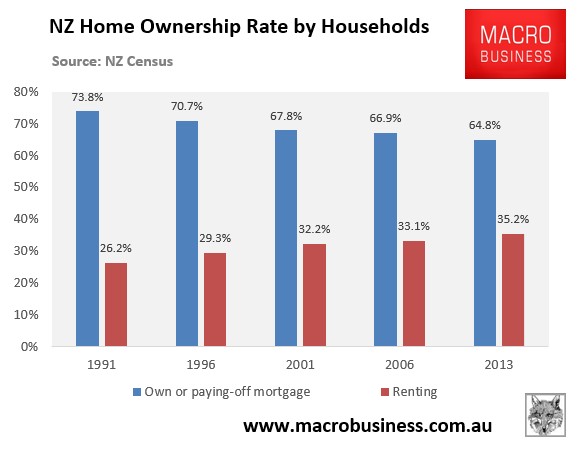 It is the REIA's complete failure to acknowledge the inflationary impact of allowing FHBs to access their super that is most galling.
Instead of backing policies that are guaranteed to add more heat to the market and inflate prices, how about instead supporting cuts to negative gearing and the capital gains tax discount, so that investor demand is diminished and FHBs are no longer out-competed and priced-out?
The answer, of course, is that the REIA doesn't actually give a toss about making homes more affordable. All it is interested in is further inflating prices and turnover, so that it can line its own pockets.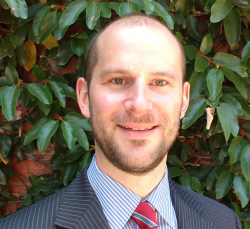 Latest posts by Leith van Onselen
(see all)