From the Q and A yesterday in following the speech by Assistant Governor Michele Bullock:
"We are watching it because investors can be the first ones to get out if things turn down," she said, warning that a rush for the doors could make a slump "much bigger than it would otherwise be".

Invited to repeat an assurance by Treasurer Scott Morrison on Monday that rapidly climbing house prices in Sydney and Melbourne were "not the function of any sort of investor credit bubble or anything like this", Ms Bullock declined, saying: "I would not like to speculate on what is a bubble and what is not, personally".

"The worry is what happened in the United States: a big downturn in housing prices and negative equity. Hopefully what we've done with strengthening the resilience of the households and the banks means they can withstand that sort of thing if it happened."

"But what we saw from the global financial crisis has made us more focused on the fact that just because one institution doesn't look to be doing anything particularly risky, it doesn't mean that if you aggregate it with the others the end result won't look quite risky."

"We don't want households to find themselves in a situation where they have to emergency sell or whatever because they can't afford it any more."

In the past year Sydney prices had climbed 18 per cent and Melbourne prices have risen 13 per cent.

"Is there evidence that people are seeing prices rise, and they think prices will always rise?" she said. "If they are, what will happen when prices turn down? Will the slump be much bigger than it would otherwise be?"

Purchases by investors was a much bigger driver of house prices than buying by foreigners. Concern about investor borrowing was likely to keep interest rates higher than they otherwise would be.

"The governor has noted that there is a balance between the interest rates that are needed to support the economy and interest rates that might be fuelling borrowing and investing," Ms Bullock said. "These are the issues that are on the mind of the governor and the board".
In short, it's a bubble. Expect more macroprudential tightening shortly to force this down: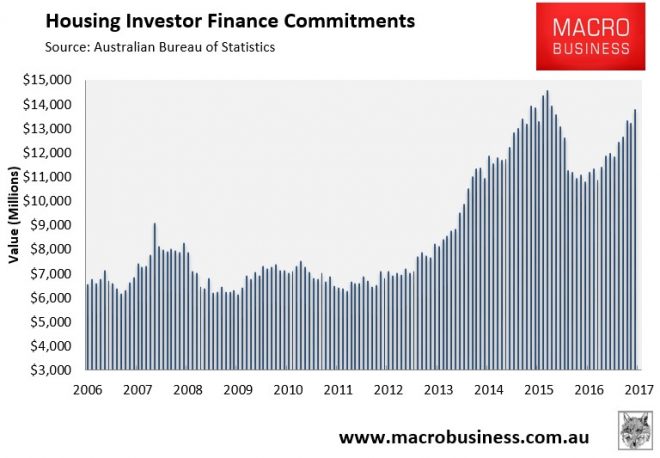 And this: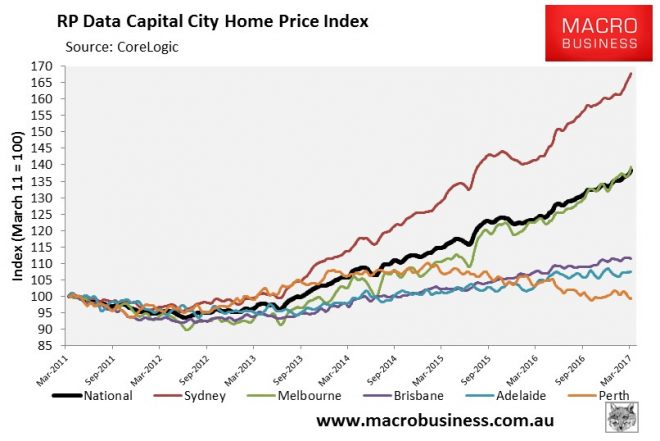 It is already impacting markets as short end bonds rally while just about everywhere else they sell as the Fed gets set to tighten, driving the spread ever tighter: