In scenes reminiscent of when former treasurer Joe Hockey told those looking to buy their first home to "get a good job that pays good money… [so] you can go to the bank and you can borrow money", Australia's real estate treasurer, Scott Morrison, has echoed Barnaby Joyce's recent call for young Australians locked-out of the housing market to move to regional Australia. From The Australian:
Treasurer Scott Morrison has talked up Barnaby Joyce's decentralisation strategy as one of several means of addressing housing affordability…

Mr Morrison visited Tamworth in Mr Joyce's northern NSW electorate over the weekend, meeting with developers, builders and other businesses…

"For young people who are thinking about, 'can I buy a house in Sydney or can I buy a house in Melbourne or Brisbane?' or things like that, there is an option if people want to take it in places like Tamworth.

"That doesn't mean they have to, but it's important these towns can say to people 'you can have a future here,' and there's a great future in Tamworth"…
There are several problems with Scott Morrison's suggestion that young Aussies locked-out of housing should simply move to the regions.
First, Australia's regions – while certainly cheaper than the big cities of Sydney and Melbourne – are also hideously expensive. The below chart, which comes from Gerard Minack, shows median house price/median income ratios for Anglo cities: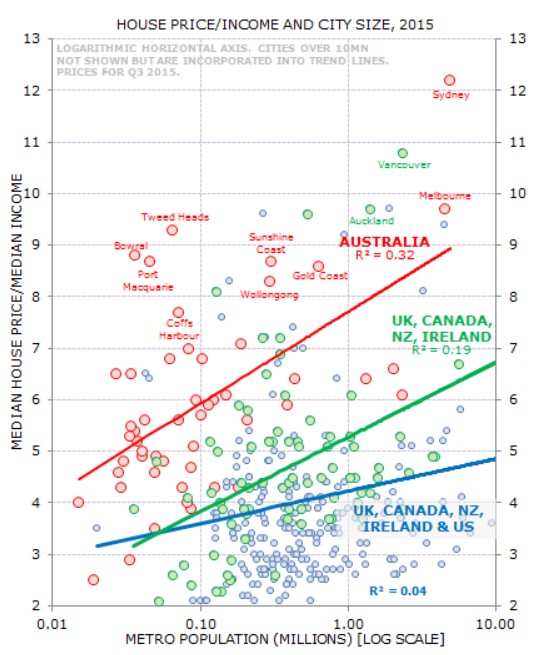 As you can see, housing in Australia is incredibly expensive even outside the major capitals. In fact, there are no cities with less than 100,000 people where house prices are over 7 times income – aside from Australian cities.
Second, while housing might be a bit cheaper in the regions, are there jobs to match? For example, Tamworth's unemployment rate is 7.5% – way above Australia's large capitals.
Third, does Morrison appreciate that moving from the cities to the regions requires one to become detached from their families and support networks, making it a very difficult and often impractical solution?
Finally, it would be nice if Morrison acknowledged the deleterious impacts of the Coalition's 'Big Australia' mass immigration agenda on housing affordability in the major cities.
The Productivity Commission's (PC) recent Migrant Intake into Australia report revealed that immigrants are far more likely to settle in urban areas than people born in Australia. As shown in the next chart, 86% of immigrants lived in the major cities of Australia in 2011, whereas only 65% of the Australian-born population did: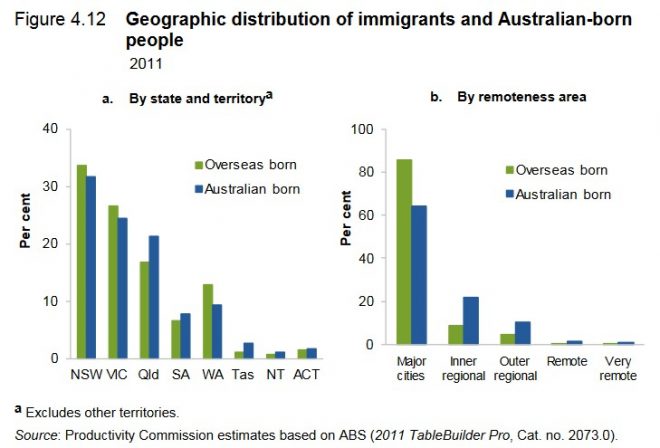 Melbourne's population is projected to balloon by 97,000 people per year (1,870 people each week) over the next 35 years to more than 8 million people – effectively adding 2.5 Adelaide's to the city's population over this time period: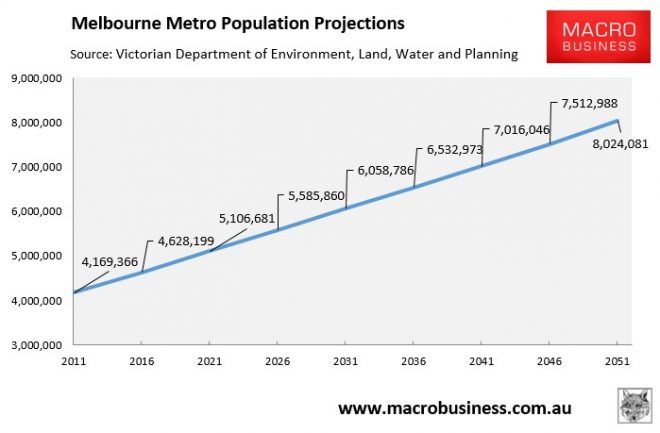 Why does Scott Morrison think it's reasonable for incumbent young Australians to be forced to move from where they grew up just so they can make way for tens-of-thousands of migrants arriving into Sydney and Melbourne each and every year?
If Morrison was serious about addressing housing affordability for young Australians, he would slash Australia's mass immigration program to sensible and sustainable levels.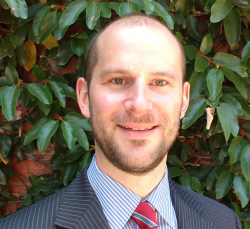 Latest posts by Unconventional Economist
(see all)