The proliferation of high-rise 'shoe box' apartments across Melbourne have long been denigrated for their poor design.
Back in 2014, Melbourne City Council released a report claiming that 40% of Melbourne's newest apartments are smaller than 40 square metres and would breach the minimum size requirements of many other international cities.
In 2015, John Mant – a lawyer who helped write Victoria's planning laws in the 1980s with a senior Cain government minister – claimed Melbourne had created "a monoculture of one-bedroom, poorly designed apartment stock", whereby ceilings were too low, too many apartments were being allowed on each floor, there was no cross ventilation, and many bedrooms had no windows or natural light.
And last year, former Victorian Premier, Jeff Kennett, also slammed the high-rise dog boxes proliferating through Melbourne:
"We are still building units that, to be quite honest, you wouldn't put your dog in. I mean, some of these one bedroom vertical fridges are appalling. And I couldn't imagine anything worse"…

"I think we are in for a crunch, there's no doubt about it"…
As did Melbourne's Lord Mayor, Robert Doyle, who last year labelled "shameful" the proliferation of "dog boxes in the sky".
Today, Domain reports that almost all of the apartments built in Melbourne over the past six years would fail to meet minimum requirements set to be introduced this month as apart of the state government's Better Apartment design standards:
The study of 3000 apartments in areas such as the CBD, Southbank and Brunswick, revealed just nine apartments passed the new guidelines on design elements such as size, ventilation and light. More than 99 per cent (2,991 apartments) failed to meet all the minimum requirements of the seven standards the study assessed…

Size was the hardest category for apartments to pass, with the huge majority of units failing on private open space requirements and bedroom and living room size. Most had balconies too small, or none at all, while bedrooms and living rooms failed to meet all mandated minimum dimensions.

More than half did not provide adequate sunlight to bedrooms and had either no windows to their bedrooms, or "snorkel" windows that were deeper than allowed. More than two thirds were not well-ventilated enough to pass requirements…

The study highlights the possibility that apartments built pre-guidelines may lose value when held up next to their newer and better counterparts.
In June last year, The AFR produced the below table showing the average price and size of apartments being built across various parts Melbourne: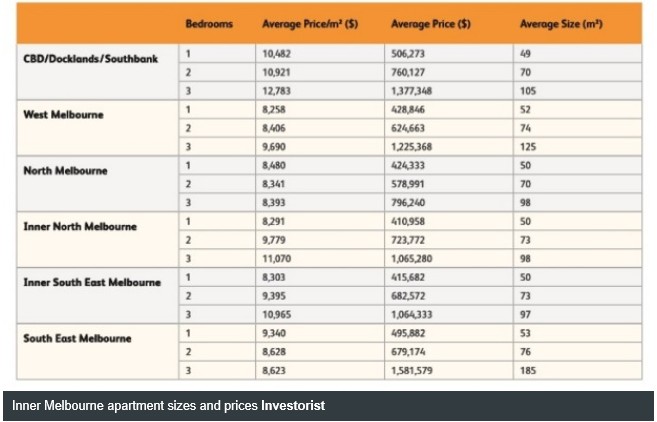 As you can see, apartments in the CBD are being priced at more than $10,000 per square metre, with surrounding areas only slightly below this level.
The average price of a tiny one-bedroom apartment ranges from an astonishing $410,000 to $506,000, which rises to more than $580,000 for a two-bedroom apartment and $800,000 or more for a three-bedroom apartment.
Hence, Melbourne's high-rise apartment boom has failed to deliver affordable housing options for our most important demographic: young families.
The sad truth is that the economy has become so fundamentally dependent on never-ending population growth (immigration) to pump demand and fuel the economy (e.g. via apartment construction) that it has forgotten about improving the living standards of the existing population.
Instead of creating a sustainable economy that works for Australian families, our major cities are building a whole bunch of expensive shoe boxes in the sky that are marketed for quick profit to investors (both domestic and foreign) and entirely inappropriate for resident families.
Meanwhile, those families seeking established homes are having to compete for entry level stock against a never-ending army of negatively geared investors as well as new migrants, thus either forcing them to take on jumbo-sized mortgages or becoming long-term renters.
Alternatively, families seeking a new detached home on the fringes or our cities are having to pay exorbitant sums for a postage stamp-sized lot, courtesy of the artificial restrictions on land supply and the hyper-inflation of lot values experienced over the past 15 years.
In short, the housing system is failing.