CoreLogic's Cameron Kusher recently published a blog post showing the hyper-inflation of vacant land costs across Australia.
According to CoreLogic, the median cost of vacant land across the combined capital cities rose by 4.1% to a record $253,000 in the year to December 2016, versus a 8.5% fall in regional areas to $151,000 – the largest annual fall on record:

The difference between land costs in capital city and regional areas has also hit a record $102,000 (68%).
Looking across the various capitals, you can see that Sydney's vacant land costs are by far the highest ($450,000), whereas Hobart's are the lowest ($164,000). The other capitals are bunched fairly close together between $220,000 (Adelaide) and $258,000 (Perth):

Just as lot prices have rocketed in cost, the median size has shrunk considerably across the combined capital cities, down around 30% from circa 650 square metres in December 2001 to 459 square metres as at December 2016:

The decline in lot size has been experienced across all capitals except Sydney, where it is basically the same as the early-2000s:

As shown above, Perth has experienced the biggest decline in lot size, but Adelaide and Melbourne have also experienced big falls. Smaller falls in lot sizes have been recorded in Brisbane and Hobart.
The combination of rising lot costs and falling lot sizes has seen the cost per square meter of vacant land hyper-inflate across the combined capitals:

The median rate per square metre for vacant land across the combined capital cities in 2016 was recorded at $553, versus around $120 per square metre in December 2001 – roughly a 350% increase.
Again, the escalation in lot costs per square metre has occurred across all capital city markets:

As at December 2016, Vacant land in Sydney cost $808 per square metre in 2016 while across the other state capital cities it cost: $534 per square metre in Melbourne, $407 per square metre in Brisbane, $484 per square metre in Adelaide, $670 per square metre in Perth and $144 per square metre in Hobart.
Commenting on the data, CoreLogic's Cameron Kusher said that it was almost impossible to build an 'affordable' house in Sydney, because it is "virtually impossible to buy land and build a house for less than $600,000".
Indeed, CoreLogic's most recent Quarterly Mapping the Market Report revealed in all its hideous glory the complete absence of affordable housing across Sydney, with almost no houses available within 20 kilometres radius of the CBD below $800,000, and very few houses available at all below $500,000: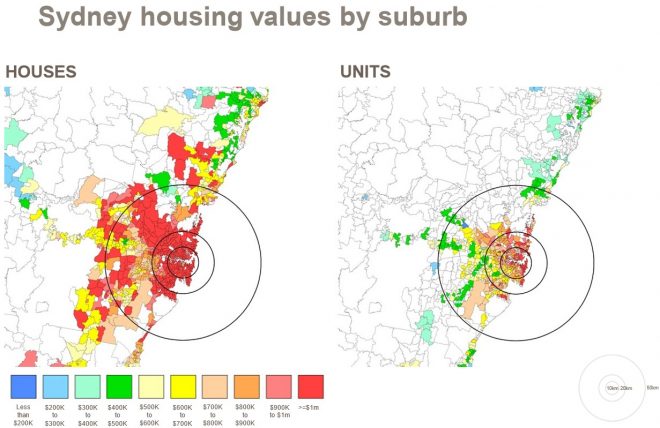 Similarly, last month CoreLogic released data showing that there are now more Sydney suburbs with a median house price of more than $2 million than there are suburbs with a median house price below $600,000: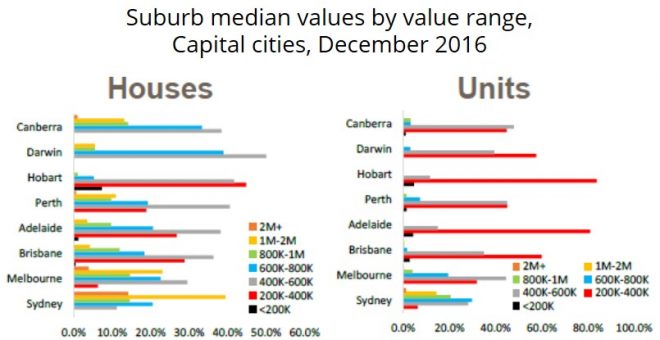 Kusher also lists the various bottlenecks artificially constraining land supply and driving-up costs, and provides some potential policy solutions:
The cost of vacant land in capital cities is also being driven higher by a lack of supply, not in a physical sense but in the sense of the supply of land ready and able to be built upon.  Zoning restrictions on the outskirts of cities limit land supply and result in it taking longer to bring residential vacant land to the market.  Furthermore, most of the vacant land is owned or optioned by large private development companies.  These businesses seek to maximise their profits so from their perspective there is little incentive to bring too much supply to the market at any one time, thus ensuring that the cost of vacant land remains high.  The cost of vacant land is also influenced by the cost of getting approval to develop the land.  Governments impose many charges on developers and ultimately these costs are not worn by the developer, rather these costs are passed on to the end user, i.e. the purchaser of the vacant land.

Making vacant land cheaper would help to make housing more affordable.  Some areas that governments should be looking at in order to make land more affordable include: increasing the supply of land that is developable, encourage land owners to bring on supply quicker (perhaps look at increasing land tax on undeveloped land) and look at reforming development fees and charges imposed on new development.  Another factor Governments should look at to help housing affordability is improving intra-city connectivity.  Instead of spending billions on fast rail between the major east coast cities, use that money to improve interconnectivity (both in terms of rail service and rail speed) between the capital cities and relatively nearby regional areas where land and housing costs are significantly lower.

Businesses can help with housing affordability too by adopting more flexible working arrangements for all staff.  If possible, they could also look to shift jobs away from the more expensive capital cities.  Not only would this help economies outside of Sydney and Melbourne they would most likely also find that both staff and accommodation costs would be significantly lower outside of the larger capital cities.
To these solutions I will add significantly lowering immigration to sensible and sustainable levels. After all, there is little justification in flooding Australia's cities with hundreds of thousands of migrants each year if supply and infrastructure cannot keep up. It's a demand issue as much as it is a supply issue.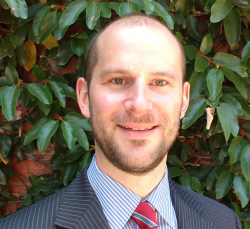 Latest posts by Unconventional Economist
(see all)