It's becoming hard keeping up with the Turnbull Government's housing affordability gimmicks. So far, we have received indications that the Coalition may include in the May Budget the following measures:
Allowing first home buyers (FHBs) to access their superannuation for a housing deposit;
Giving APRA the power to adjust the rules governing how easily banks can lend to investors each month – just as the Reserve Bank does;
Allowing retirees to downsize without affecting the assets test for the Aged Pension or their superannuation limits;
Commonwealth-supported 'shared equity' mortgage scheme;
Restricting the amount of off-the-plan homes that can be purchased in a development by foreign buyers (despite strongly supporting foreign investment into new homes); and
A bond aggregation scheme aimed at boosting affordable housing.
Now we have the following brain fart:
WORKERS in our most valued professions will be offered cheaper housing in new developments under a progressive new initiative being discussed by state and federal governments.

In a move to address skyrocketing house prices in Sydney, key workers such as nurses, teachers and police officers will be able to access premium properties at an affordable price, to ensure they are able to afford to live where they work.

The initiative is based a concept called "inclusionary zoning"… Under the innovative plan, developers would be allowed to increase the floor space or height of new developments in exchange for providing a percentage of lower-priced housing to these key workers…

It is understood discussions are taking place at both a federal and NSW government level…

Assistant Minister for Cities Angus Taylor declined to comment specifically on any package ahead of the May Budget, but he did say that increasing supply is a major focus for tackling housing affordability.

"If Sydney had been growing its housing stock as fast as it should have, to keep up with population growth in Australia, we should have built about 35,000 homes a year for the last 15 years. We have actually built 17,000. So we've been building half the number of houses we need to keep up," Mr Taylor told news.com.au…

First Home Buyers Australia co-founder Taj Singh has welcomed the idea of inclusionary zoning for key workers as a good first step, but he said it still isn't enough to tackle housing affordability holistically.

"We do welcome this move aimed at increasing supply and more importantly increasing 'affordable' supply of homes. However, it does exclude other workers such as factory, retail and hospitality workers who are also very important to all parts of Sydney…"

"The Government also needs to look at curbing demand for property by cashed up investors who are aided by generous tax concessions and incentives. Housing simply shouldn't be a tool that allows people to get tax concessions at the expense of those working hard to achieve the Great Australian Dream of home ownership."
Having more affordable housing made available via "inclusionary zoning" may be a modest step forward, although the success of such schemes internationally has been mixed. It also doesn't address the fact that Sydney's housing is systemically expensive.
One only needs to examine CoreLogic's latest Quarterly Mapping the Market Report. which shows the complete absence of affordable housing across Sydney: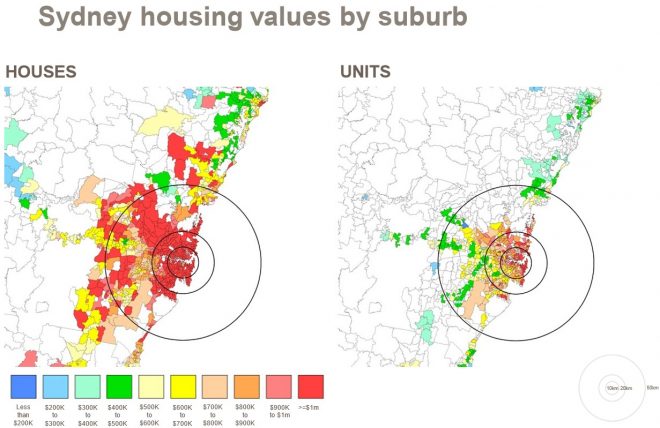 For a family seeking a house to live in, they would need to stump up nearly $1 million (plus stamp duty) to purchase anything within 20 kilometres of the CBD. Even if they spread-out to within 50 kilometres or more from the CBD, they would be hard pressed to find anything that one could reasonably classify "affordable" to those on median incomes.
Providing these so-called "affordable homes" to certain "valued professions", such as teachers, nurses and police, while excluding other lower income workers, such as cleaners, hospitality staff, and retail staff, is also a form of economic apartheid. It would effectively create two classes of working class: those that are 'worthy' and those that are 'unworthy'.
It would also be nice if the Coalition for once acknowledged that housing is not just a supply-side issue. In the article above, Angus Taylor claimed that Sydney's housing supply has not kept pace with population growth, but failed to admit that the major cause is the federal government's mass immigration program, which for the past 14 years has run at levels far above historical norms and 2.5 times the OECD average: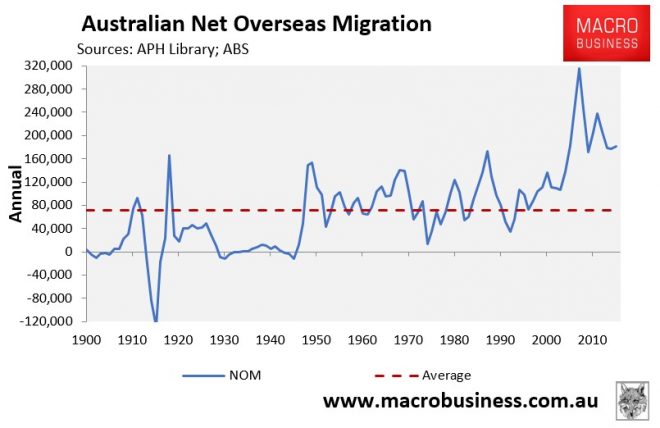 This mass immigration has seen Sydney's population balloon by around 800,000 over the past 12 years. And under current immigration settings, Sydney's population is projected to balloon by 87,000 people per year (1.74 million in total) over the next 20 years – equivalent to adding 4.5 Canberra's: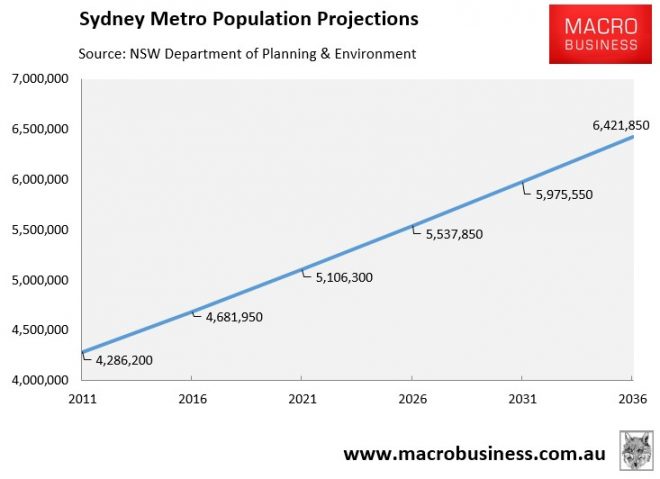 One of the best things that the federal government could do to alleviate the housing crisis in Sydney is rein-in Australia's mass immigration program and take the pressure off both housing supply and infrastructure. Other genuine measures to take the pressure off demand and boost supply include:
Undertaking tax reforms like unwinding negative gearing and the CGT discount [reduces speculative demand];
Tightening rules and enforcement on foreign ownership [reduces foreign demand];
Extending anti-money laundering rules to real estate gatekeepers [reduces foreign demand]; and
Providing the states with incentive payments to:

undertake land-use and planning reforms [boosts supply];
swap stamp duties for land taxes [boosts effective supply]; and
reform rental tenancy laws to give greater security of tenure [reduces demand for home ownership].
The Turnbull Government's motherhood statements on the need to boost supply, while maintaining the throttle on immigration and leaving the other demand-side levers wide open, adds nothing of substance to the housing affordability debate and is a recipe for failure.
We need genuine policy action, not more housing gimmicks.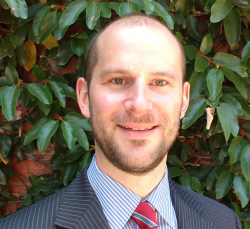 Latest posts by Unconventional Economist
(see all)