The next big shock in Australia's lost decade is rolling down the pipe. It's one we're quite familiar with since it's the same one that hammered the economy in 2015. It's more terms of trade carnage as the iron ore and coal boomlets go comprehensively bust.
Let's figure out where we are today in the great terms of trade bear market. With contracts lagging spot we can already estimate both the March and June quarters which will show an huge spike and then bust quarter to quarter: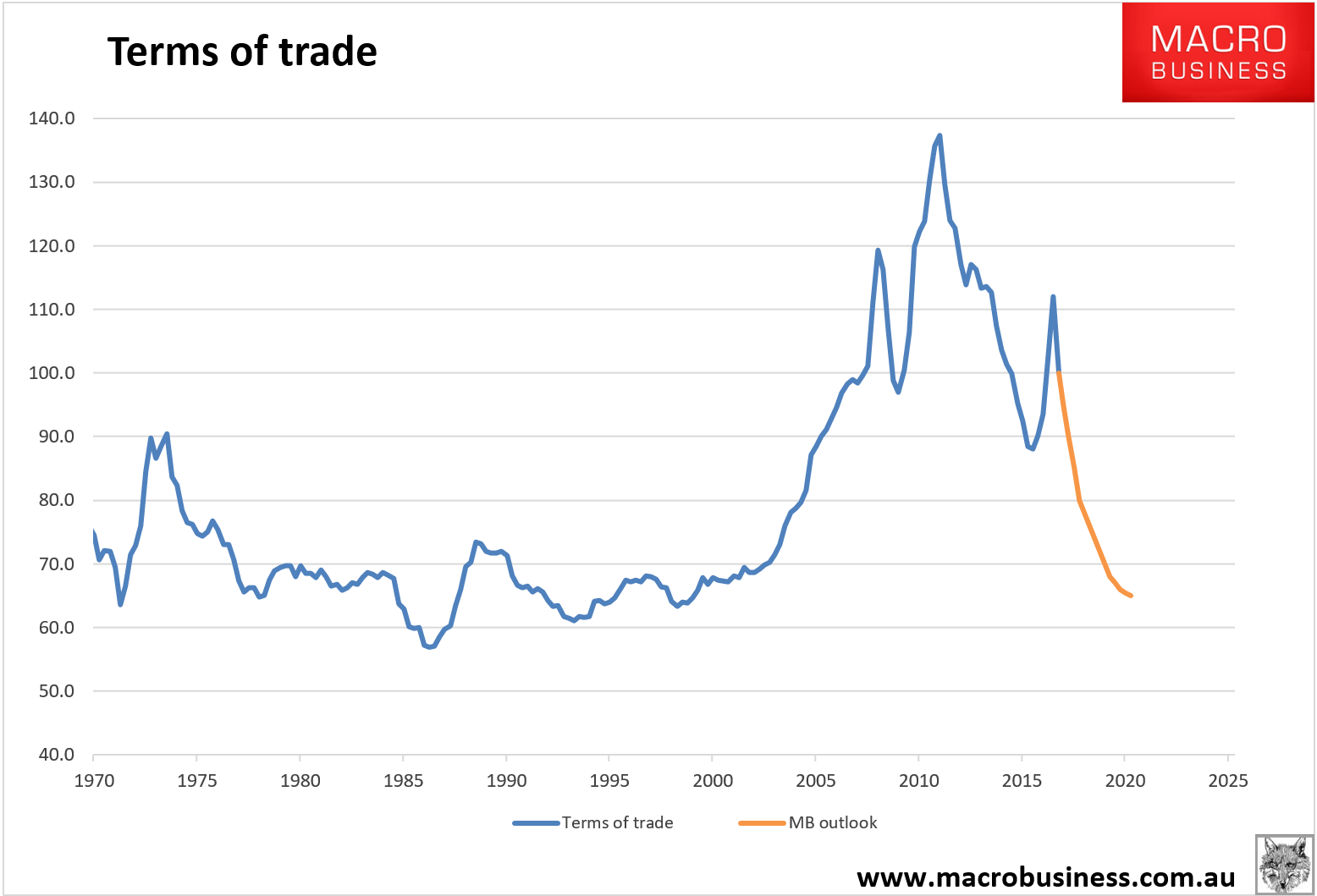 From the June quarter it is all down hill again. Why?
It is pretty clear now that China is not going to give up on reform. The process will be halting and, much as it has to date, look like one foot on the brake and one on the accelerator much of the time. The net result will be a falling trend in building and slower growth to boot.
Iron ore will suffer increasing oversupply this year as:
50mt of new low cost ore hits the market;
Chinese macro slows into H2 as housing market tightening takes effect, and
the bloody enormous steel and dirt inventory overhang is liquidated though H2 and into 2018.
The cyclical dimensions of the renewed shakeout will pass but the trend remain down as the supply keeps coming over the next three years while demand falls. We still expect iron ore to fall into the $20s before the shakeout ends.
Coking coal will keep falling too as no new Chinese production curbs are coming. First to $120 by year end then lower in later years as demand tapers.
Thermal coal has some short term support in China's consolidation process which ought to put a floor under it at $70, but global oversupply as China winds back demand will take it down further in the long run too.
So, what will that do to the Australian economy? Nothing good!
Nominal growth will plunge again: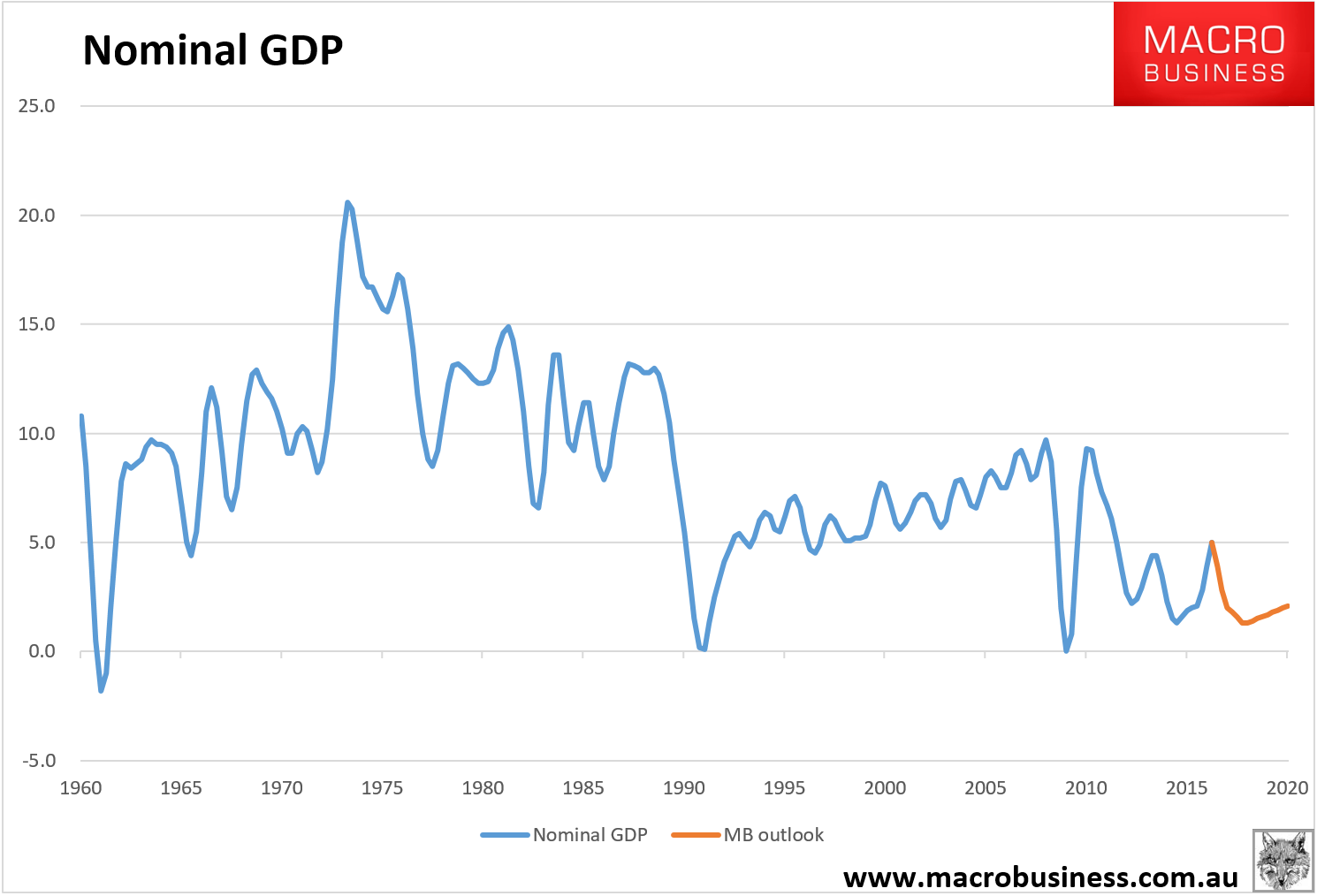 Income will re-enter recession: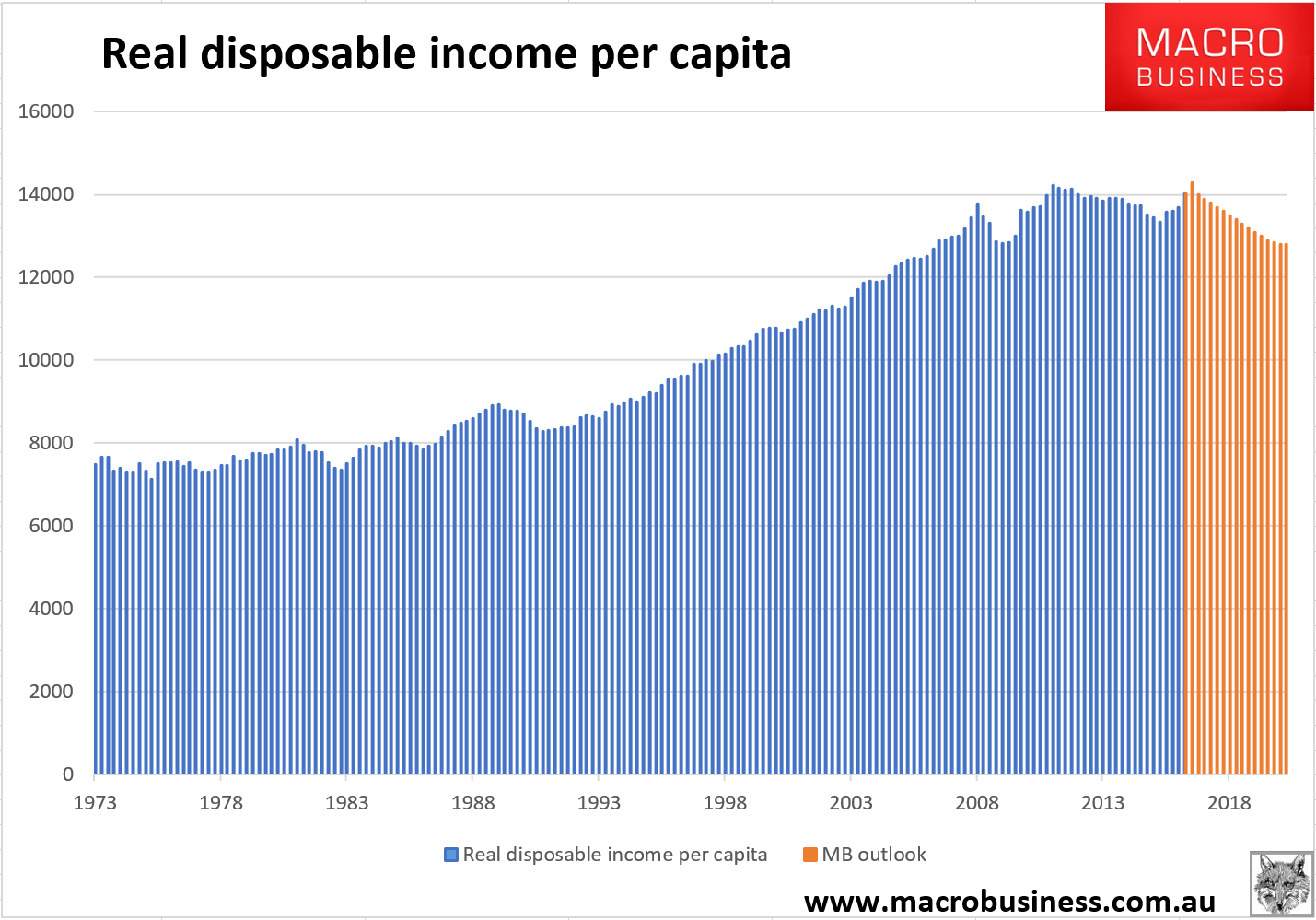 Company profits will plunge: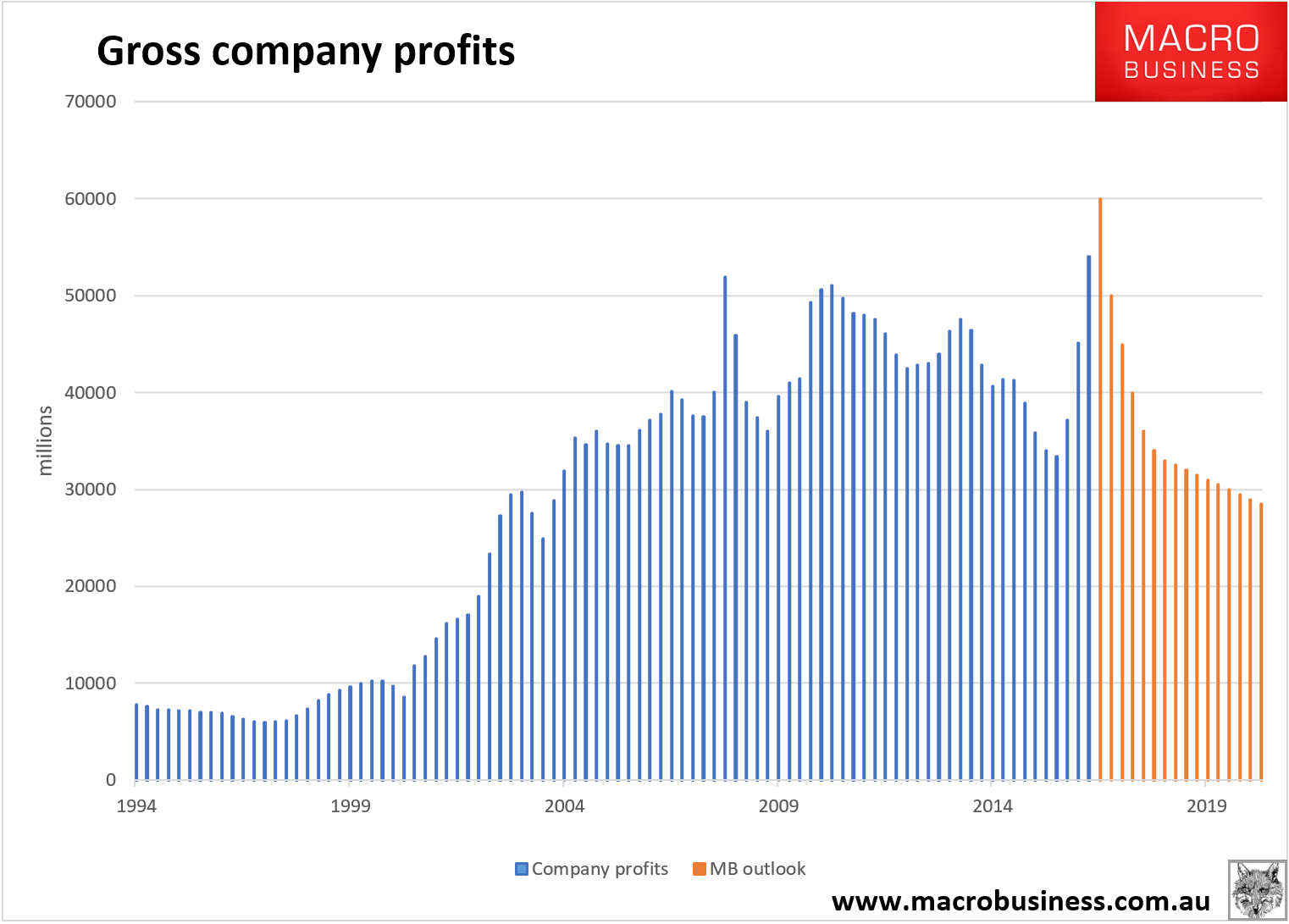 And, of course, the Budget outlook will collapse: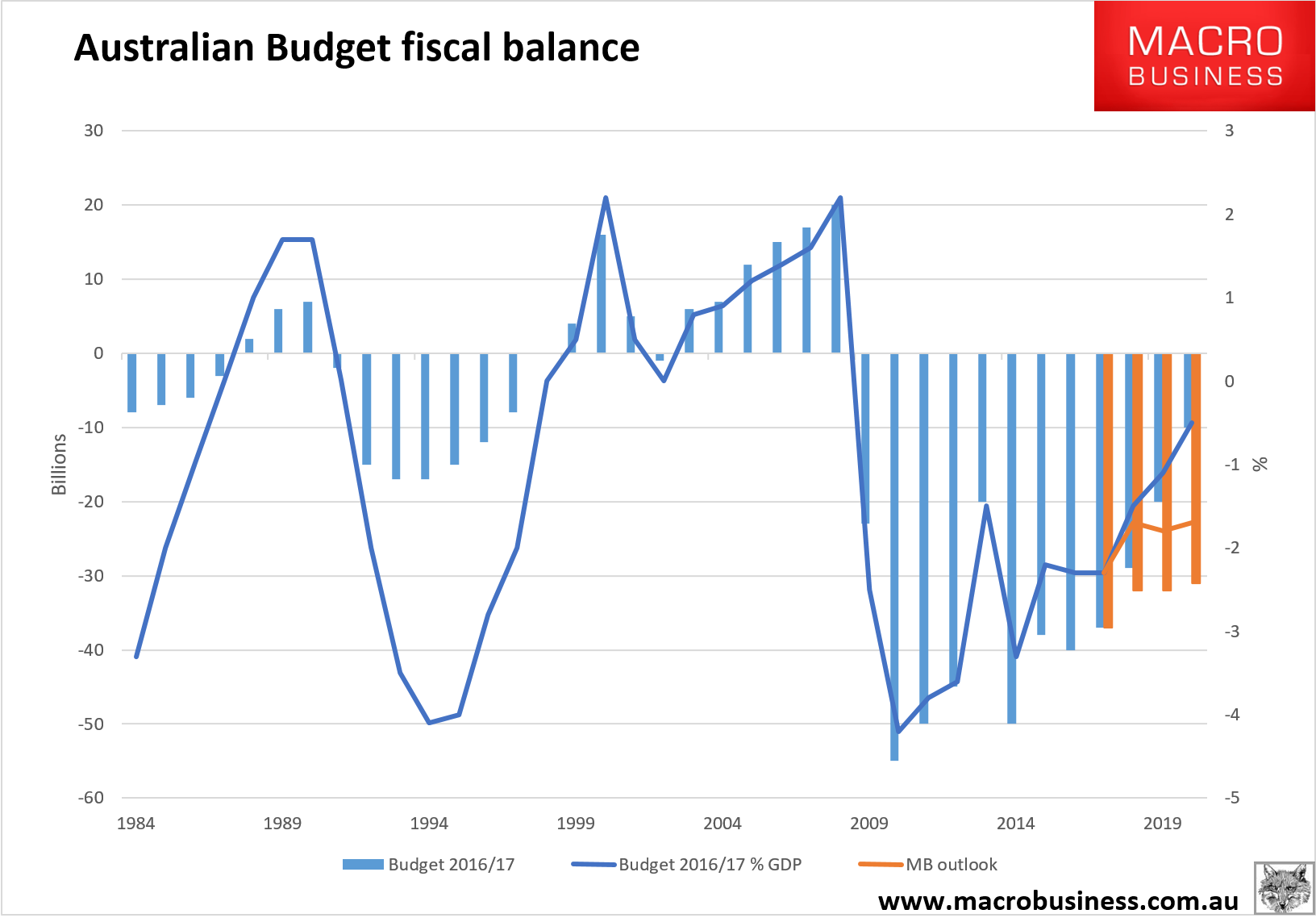 These charts should not be taken literally. They are a figurative base case for what lies ahead as China transitions away from its debt-dependent growth model. It could happen a bit faster or a bit more slowly, go more or less deep.
But it will happen. You can call it a recession in any number of ways and it could very easily turn into the popular definition of one – two consecutive quarters of negative growth – as next year a whole range of negatives converge:
the terms of trade crash resumes;
the dwelling construction boom enters a hard landing;
the car industry shutters;
demand destruction in the east coast gas crisis intensifies,
the easing business capex draw down continues and public capex also begins to fall, and
today's agri-boom reverses.
Then you have to add rocketing political risk as the Coalition shifts leaders and immigration is cut, as well as ongoing prudential tightening for house prices. It could all converge to turn what is bound to be very ordinary into awful.
Offsets will include more rate cuts, a lower currency, some more LNG volume growth and ongoing fiscal deficits which will end in a credit downgrade.
And all of that is just the base case. There is no global shock assumed. I expect that to arrive sometime in 2019 as the Trump boom goes bust, just as we've exhausted every policy support in the arsenal coping with our own bust. That's the tipping point for the housing bubble.
It is this outlook that has led MB to forecast the Australian dollar falling to at least post-float lows in the mid-0.40s as the nation takes an historic pay cut.
Thus we say to you, get your money out while the going is good!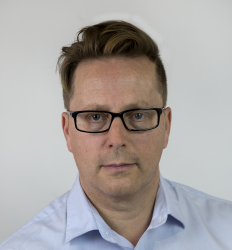 Latest posts by David Llewellyn-Smith
(see all)