Another week and more reports have emerged on how Australia's uncoordinated mass immigration program is destroying living standards in Australia's biggest cities.
Let's start with Australia's biggest city, Sydney, which is failing to cope with the influx of inner-city school students following a "once-in-a-generation" enrollment surge. From The SMH:
"Sydney is facing a once-in-a-generation enrolment surge and, unfortunately for us, or fortunately for the city, it is happening in the built-up infill areas," said [Department of Education's Anthony Perrau].

…the number of primary school-aged children forecast to increase more than 50 per cent between 2015 and 2025…

Green Square and Ultimo are set to become two of Australia's most densely populated suburbs within the next decade.

"Major physical and social infrastructure has been delivered by the city and developers but investment by the NSW government has not kept up," she said.

"There is a lack of urgency to tackle the shortfall of school places and provide for rapid growth, especially in our major urban renewal areas."
The very same problem is occurring in Melbourne, where inner-city schools are being crush-loaded by the record population influx. From The SMH:
Many public schools are now overcrowded to the point where it is surely compromising educational standards. In about three years, Victorian schools will be teaching one million students.

Some schools, particularly in inner suburbs and areas of booming population growth, have been forced to stagger start times and lunch breaks. Two-storey portables with lifts are now being used.

The government has announced plans for 42 new schools over the next five years, but that won't be enough.The Grattan Institute has estimated that up to 220 new schools will be needed over the next decade in Victoria.
Indeed, in February 2016, Peter Goss, School Education Program Director at the Grattan Institute, penned an excellent article in The Conversation assessing the upcoming shortage of schools across Australia's capital cities as the nation's population balloons. This article estimated that NSW (mostly Sydney) would need an additional 213 schools to cope with an additional 14% of students over the next decade, whereas Victoria (mostly Melbourne) would require an additional 220 schools to cope with an additional 19% of students (see below graphic).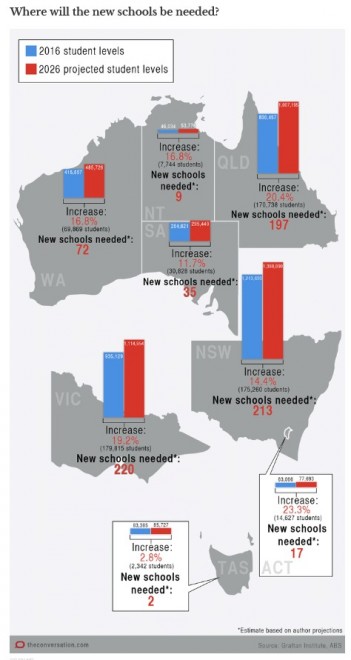 Of course, the problems associated with mass immigration are not just restricted to schools, traffic congestion and commute times are also worsening at an alarming pace. The Victorian Government's Suburban Development Minister, Lily D'Ambrosio, on Wednesday admitted the traffic situation in Melbourne is "sad" but failed to confront the underlying cause. From the Herald-Sun:
Ms D'Ambrosio said that she often heard from families in her northern city fringe seat of Mill Park complaining about long commute times on buses and trains.

"(They say) 'By the time I get home I'm probably lucky if I actually get to see my young kids awake before they go to bed, let alone have the opportunity to read to them,'" she told a recent Urban Development Institute of Australia state event.

"That's pretty sad. That's a real tangible example of the experiences that people are having," she said…

[But] D'Ambrosio… ruled out "simplistic" plans like "shifting populations from one part of Victoria to another"…
Fairfax's John Gordon yesterday also lamented the traffic chaos facing Melbourne caused by rampant population growth. From The SMH:
Melbourne is growing at an unsustainable pace. As it is, one-third of car trips happen on congested roads during the morning peak. The bad news is that it's only going to get worse.

According to Infrastructure Victoria, in coming decades the city is going to become so clogged that the average speed during the morning peak will drop to just 31km/h. And that's even after factoring in billions of dollars worth of planned road and rail upgrades.

Already, it takes about an hour to drive from Epping to the city. In 20 years, add an extra 45 minutes, which is equivalent to more than a working day spent in the car fighting traffic each week.

The costs of this will be huge. There will be obvious imposts, such as lost productivity and leisure time, but also less tangible impacts, such as added pyschological stress.
And then there's the public transport system being overrun. From The Age yesterday:
The Geelong railway line will need an overhaul within five years, or it will decline into a slow, overcrowded service with more and more passengers standing in the aisles over long journeys, an expert analysis warns…

Demand for trains between the CBD and Wyndham is growing so fast that patronage on the Geelong line jumped 57 per cent in the link's first year, an extra 2.4 million journeys, all because of two new outer suburban stations at Tarneit and Wyndham Vale.

Less than two years old, the Regional Rail Link "has already become a victim of its own success" and will soon be overwhelmed, the Rail Futures Institute predicts.
Of course, I could add the problems of housing affordability or environmental degradation, which are all being made worse by the mass immigration program being run by the federal government.
The fact is that living standards in Australia's major cities will continue to erode under current immigration settings.
Remember that under official state government population projections, Sydney's population is projected to grow by 87,000 people per year (1,650 people each week) to 6.4 million over the next 20-years – effectively adding another Perth to the city's population: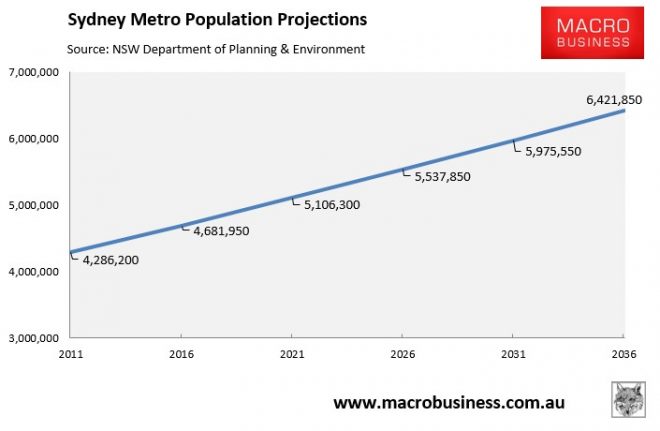 Whereas Melbourne's population is projected to balloon by 97,000 people per year (1,850 people each week) over the next 35 years to more than 8 million people: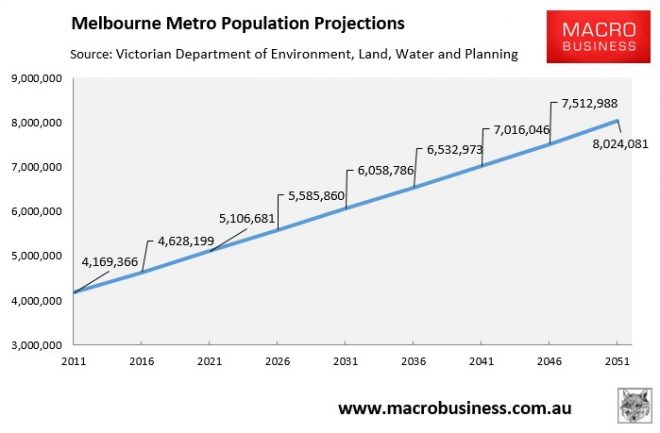 None of this is rocket science. The Coalition's property price fixation, as well as the Labor/Greens alliance on "social justice" is destroying our future living standards.