Carolyn Whitzman, a Professor of Urban Planning at the University of Melbourne, has penned a spurious piece attacking the Victorian Government for both failing to achieve affordable housing and failing to reduce urban sprawl. From The Conversation:
No doubt Premier Daniel Andrews inherited several industrial-strength cans of toxic planning waste when Victorian Labor won office in November 2014. This legacy came not only from the Liberals, but from the earlier Bracks-Brumby Labor government.

Under the 2000s Labor government, the fourth new metropolitan strategy in four decades, Melbourne 2030, largely failed to stop sprawl. The main excuse for sprawl – that increased and largely unregulated housing supply would magically enable affordability – had become a sad joke.

As former Labor adviser Joel Deane's book Catch and Kill shows, inability to respond to basic public concerns about planning and transport was perhaps the most significant factor in Labor's 2010 election defeat.

If Labor had been ineffective in creating new affordable housing, the Liberals' planning decisions between 2010 and 2014 were disastrous. Australia's largest urban renewal site – Fishermans Bend – was drastically up-zoned from Industrial to Capital City (also known as "Anything Goes"). They did this without extracting a cent in added value from landowners towards affordable housing – or any other infrastructure.

…the public housing waiting list now has more than 35,000 names. About 120,000 households receiving Commonwealth Rent Assistance are still unable to afford living where they do. That includes 50,000 households in the lowest income bracket. And another one million new households are expected to move into Victoria within the 30-year timeframe of the infrastructure strategy.

This all means that baby steps will not be enough to prevent rapidly increasing homelessness.
If Professor Whitzman is so worried about urban sprawl, then why is she not lobbying hard against the Big Australia policies being run by the Australian Government, which funnels tens-of-thousands of new migrants into Melbourne every year? You know, the policy that saw Melbourne's population expand by 832,000 people in the decade to June 2015: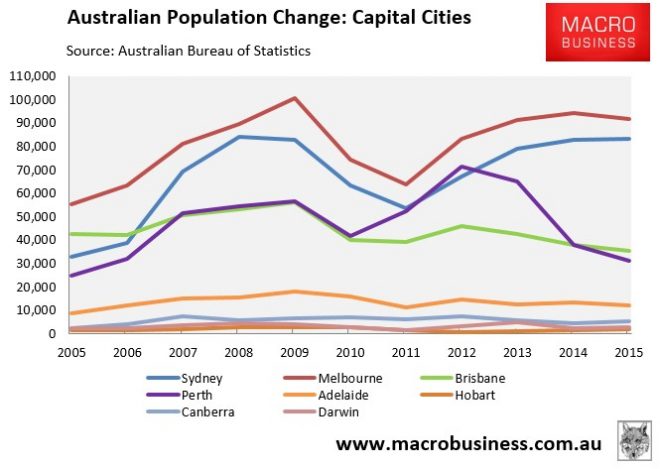 And the policy that has Melbourne's population projected to increase by around 1,850 people per week (97,000 people per year) for the next 35 years!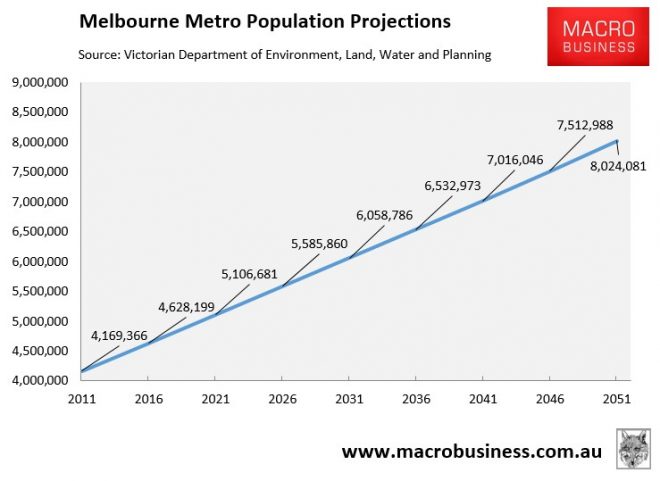 Obviously, all these extra people will need somewhere to live, be it in detached homes, apartments or townhouses. And this will involve building both up and out, which necessarily involves more 'evil' urban sprawl.
It is this mass immigration program that has also over-run Melbourne's social housing supply, thus forcing many people to sleep rough. From the Herald-Sun in December:
RAPID population growth is worsening Victoria's social housing crisis amid calls for co-ordinated action to tackle the lack of accommodation…

Not-for-profit group Housing Choices Australia, which provides housing for people struggling to rent private homes, estimated that investment of $600 million a year would be needed up to 2031 to keep pace with the demand for social housing…

Mr Lennon said that Victoria's growth was "bigger than the Gold Rush era … It's huge"…

"Over the last 10 years we've added more than a million people into Melbourne but at the same time we've had no policies … to expand the range of either social housing or steps into affordable housing other than small deposit assistance schemes," he said.
If Professor Whitzman gets her way on preventing sprawl, all we are likely to get under current migration settings is further appreciation of urban land values, deteriorating housing affordability (despite shrinking home sizes), worsening levels of traffic congestion, and even more homeless. Those lucky enough to be pre-existing land holders will benefit from the rising wealth brought about from higher values, whereas those yet to enter the market (and future generations) will suffer immensely. The overall Melbourne economy would also likely lose further competitiveness as escalating land costs feed into the costs of production.
Expecting to achieve a more liveable and affordable city by restricting the urban footprint at the same time as Melbourne's population surges towards 8 million and beyond is a contradiction in terms and mutually exclusive.
If Australia is to persist with a mass immigration program, our cities must be allowed to expand to accommodate the growth. It's that simple.