The full speech that Ken Henry gave to CEDA yesterday has been released, and Dr Henry pulled no punches in admonishing the Government's negligence in managing Australia's mass immigration program. Below are the key highlights:
In the broader community, there is considerably less support for a larger population.  People are concerned about the impact of a growing population on traffic congestion, urban amenity, environmental sustainability and housing affordability.  And they worry about our ability to sustain Australian norms of social and economic inclusion.  These concerns are understandable…

Even with strong growth in the size of government and public debt, we do not have the infrastructure capacity to support today's population, far less the population of the future.

How will we fund the biggest infrastructure build in our history? And what about infrastructure planning?…

On the basis of official projections of Australia's population growth, our governments could be calling tenders for the design of a brand new city for two million people every five years; or a brand new city the size of Sydney or Melbourne every decade; or a brand new city the size of Newcastle or Canberra every year.  Every year.

But that's not what they are doing.  Instead, they have decided that another 3 million people will be tacked onto Sydney and another 4 million onto Melbourne over the next 40 years.

Already, both cities stand out in global assessments of housing affordability and traffic congestion.

And even if we do manage to stuff an additional 7 million people into those cities what are we going to do with the other 9 million who will be added to the Australian population in that same period of time?  Have you ever heard a poltical leader addressing that question?  Do you think anybody has a clue?…

At the very least, we are going to have to find radical new approaches for infrastructure planning, funding and construction.  And that includes energy infrastructure, critical to our economic performance and our quality of life.
The Productivity Commission's (PC) final report on An Ageing Australia: Preparing for the Future projected that Australia's population would balloon to 38 million people by 2060 (mostly via immigration) and warned that total private and public investment requirements over the 50 year period are estimated to be more than 5 times the cumulative investment made over the last half century: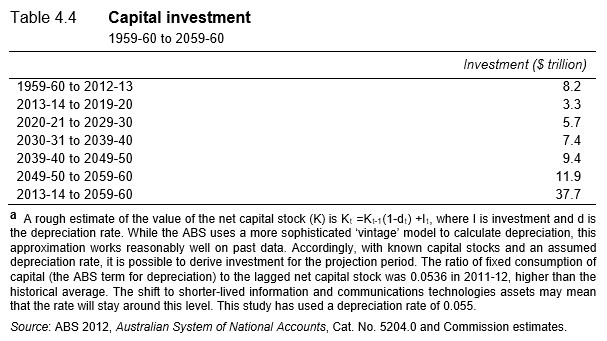 Then in its recent Migrant Intake into Australia report, the PC warned that:
Governments have not demonstrated a high degree of competence in infrastructure planning and investment. Funding will inevitably be borne by the Australian community either through user-pays fees or general taxation.
Blind Freddy can see that running a high immigration program requires massive investment and costs a lot. Australia's governments have failed dismally on this front, preferring to take the sugar hit from added demand while leaving the problems to be solved down the track on somebody else's watch (i.e. never).
Unfortunately, Ken Henry stopped short of calling for a lower and more sustainable immigration intake, which surely must be part of the solution. Because as it stands, Australia cannot possibly hope to build enough infrastructure to supply a Canberra-worth of new residents each and every year for decades to come.