It's been pretty hard for anyone in the wider public to think that parliamentary privilege abuse has been simply a matter of 'just a few bad eggs',  but the revelations of the last couple of days have been staggering.  We can now be 100% certain that what we thought was just a bad cold sore on the lip of Australia's body politic is the tertiary stage of Australia's parliamentary entitlement pox.
It doesn't matter where you look, there is no avoiding the grotesque sense of entitlement our politicians have.  Even Australia's mainstream media have twigged to the possibility that while our politicians are sending out debt collectors on an algorithm generated witch hunt, a completely different set of rules applies to them.
Lets start at the Rupertarian where it appears our Foreign Minister has dipped into our pockets to offset costs associated with her social diary.
The foreign minister charged taxpayers more than $2700 to attend a polo event last year on Victoria's Mornington Peninsula as a guest of Peroni and Jeep.
Australia's taxpayers could ask themselves if they would get better value out of overpaying some some beanbag bongmaster a welfare payment (presumably these would at least head down to Aldi and blow it) than they would out of coughing up $2700 to have our Foreign Minister attend an event, in Australia, where she is the guest of companies who consider minimising tax a core company requirement, where the only tangible benefit for most taxpayers is in the social pages.
Maybe we should ask Peroni and Jeep to get some Centrelink claimants over for the polo this year and take up any unused canapés. Harpers Bazaar gives us a superb look at the types of people attending the event, and today's Fairfax fills in some extra details on the guest list.
Department of Finance records show Ms Bishop spent $2177 on flights from Perth to Melbourne via Sydney, claiming $416 for car travel and a further $123 for the MPs standard travel allowance.

Other guests at the event included sports stars, socialites, models and former prime minister Tony Abbott's daughter, Frances Abbott.

Ms Bishop is reportedly planning to attend the event again this weekend with her partner David Panton, as guest of Italian auto giant Alfa Romeo.
It does give rise to a question of if the Foreign Minister did a single thing which would come under the heading 'represent Australia's interests internationally' and did far more representation amidst B grade celebrities and socialites (and one wonders how many of them have their affairs in order to avoid paying as much tax as possible) and her partner, leading directly to the question of why taxpayers picked up the tab.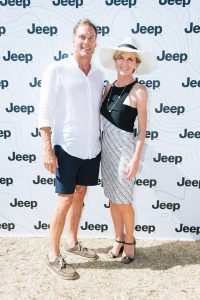 We paid for this happy couple of mix with assorted B Grade celebrities at a polo event – isnt that great taxpayer value!
Over at SBS, another report suggests that taxpayers coughed up to help guests at Prime Minister Turnbull New year's Eve functions.
Four government ministers billed taxpayers almost $7000 to attend Malcolm Turnbull's private harbourside New Year's Eve reception in 2015 – even as the majority of the Coalition frontbench paid their own way.

The guests were served Chermoula spiced quail breasts with pomegranate molasses and Sydney rock oysters with chardonnay vinegar dressing, at the glitzy 185-person celebration that cost taxpayers almost $10,000.

Entitlements claims for the period covering the party, just months after Mr Turnbull assumed his prime ministership, were only revealed last month.

Immigration Minister Peter Dutton flew from Brisbane on December 31st, returning on January 1st, and claimed flights, COMCAR costs and a $468 travel allowance to attend.

Attorney General George Brandis was in Sydney between December 30th and January 1st, and claimed flights, COMCAR and travel allowance for two days.

Communications Minister Mitch Fifield claimed COMCAR costs and flights for himself and a family member to fly to and from Melbourne for the evening, flying to Sydney on December 31 and back on the 1st.

Education Minister Simon Birmingham claimed only a single taxpayer-funded Cabcharge for the visit, totalling $62.53.

A spokesperson for Senator Birmingham confirmed he attended "an official function" at Kirribilli House "while on a privately funded trip to Sydney" but claimed "all other aspects of the trip were self-funded by the Minister".

Spokespeople for the other three ministers all confirmed the entitlements claims were based around attendance at the event, and all described it as an "official function".
The ambient thinker on that one need simply ask if most Australians want their hard earned taxes funding access to Chermoula spiced quail breasts with pomegranate molasses, or simply want essential services sorted out?  Again taxpayers could ask if they would get better value for money by overpaying welfare recipients.  Could we make it mandatory that at every event where politicians are funded in any way by the public to attend events there needs to be at least a dozen welfare recipients? Just to make sure the table is picked clean?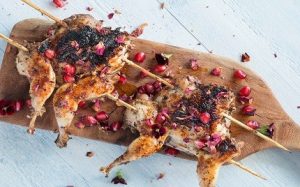 Spiced quail and pomegranate – just imagine nibbling on this while hobnobbing at the Prime Minister's NYE party after soaking taxpayers with the costs to get there! 
Meanwhile back with Sussan Ley, who was the first symptom of this latest bout of Australia's parliamentary entitlement pox, it appears there are some more issues that taxpayers should be aware of.  The first is that low-balling real estate speculation on the Gold Coast is an ongoing interest of the Minister while on Ministerial duties.
But the Albury-based MP's troubles could worsen after retired couple Adrienne and Stewart McEachran came forward to claim that she and her partner, Graham Johnston, inspected their home in Advancetown, in the Gold Coast hinterland, in late August and on September 8 in 2014.

Government documents reveal that Ms Ley billed taxpayers more than $2000 in travel costs for a long weekend on the Gold Coast from September 5 to 8, 2014.

The costs included $720 for two nights of travel allowance, more than $1000 in flights to and from Coolangatta, and $271 for a hire car.

Ms Ley refused to answer queries on the latest claims.

Ms McEachran said of Ms Ley: "She was friendly and obviously looking to purchase something. She must have been impressed enough that she came back."

The couple said that in October, Ms Ley made an offer that was about $50,000 below the mid-$700,000 asking price, and they declined.
The second is that she likes taxpayer funded trips to the Gold Coast, and likes them a lot.
The ABC has analysed three years' worth of the minister's travel reports and found she travelled to the Gold Coast 20 times.

As the sun set on the final days of 2013, Ms Ley charged taxpayers $655 for her flight to the tourist strip for New Year's Eve.

A year later, after another Gold Coast New Year's Eve, she charged for her and her partner's flights back to Sydney.

The most expensive flight was a $12,365 charter flight taken in March 2015.

The ABC put questions to Ms Ley's office about 18 trips, worth $53,877.

She declined an interview, but her office issued a statement saying: "In her portfolio, she is required to undertake extensive meetings with doctors, patients and other organisations that are not media or public events."
But former Minister Ley's issues appear to be growing by the day with the Daily Telegraph suggesting that the individual from whom she purchased an apartment, Martin Corkery, had received a 'Staff Training Grant' worth nearly $110K in 2014 when Sussan was Assistant Education Minister, and
companies controlled by the embattled Ms Ley's Gold Coast party pal, training tycoon Sarina Russo, have won $768 million in government contracts since the ­Coalition took power in 2013.
Could be the basis of a deep friendship, that sort of contractual obligation.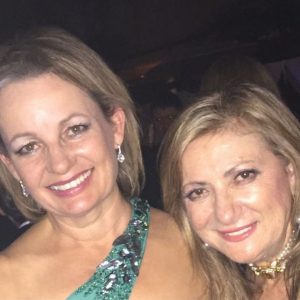 One of these friends has job placement and training firms which have won $768 million worth of government since since the ­Coalition took power in 2013 according to the Daily Telegraph.  The other is a former Assistant Education Minister, who went on to become Health Minister, and who likes entitlements, buying Gold Coast apartments on a whim, and flying.
The third is that Ms Ley thinks taxpayers should pick up the tab so she can keep up her flying hours by chartering flights when commercial flights are a cheaper option.  Its a great look!
…travel records reveal the licensed commercial pilot also charged $6300 to fly from Canberra to Melbourne in July 2014 and another $7000 to travel from Canberra to Adelaide in May 2015.

Ms Ley's social media accounts indicate she was in the cockpit.

On both occasions she had official ministerial business to attend to – for childcare policy meetings in 2014 and talks with GPs in 2015.

However, ministerial guidelines say charters can only be used under special circumstances "such as where no scheduled commercial services exist or a minister would be unduly delayed by the use of scheduled services".

A spokesman for Ms Ley refused to say whether any such special circumstances existed.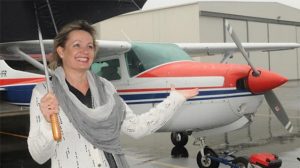 Sussan likes to fly, and she likes you to pay…….and she likes trips to the Gold Coast, and real estate speculation, and you paying some more…
As Fairfax notes, the choice of travel mode is no longer about effectiveness or cost, but about her and what provides the most enjoyment – with other nearby parliamentarians setting a far better example.
Ms Ley also regularly charters planes between Canberra and her home base of Albury, with costs ranging from $1500 to $4000 per flight – even though it's only a three and a half hour drive.

Other MPs from the area, including neighbouring crossbench independent Cathy McGowan, regularly make the drive.
Let us acknowledge that she does have a large electorate, that flying will often save time when she wants to meet people, and that in some instances there are benefits for her electorate in her having a flying licence.  But given she already observably meets flying hours requirements from flying about her electorate (which the taxpayer has shelled out $210K for since 2014) taxpayers have every right to ask what conceivable benefit is in it for them to be paying for aircraft charter to and from Canberra when alternatives are cheaper.
The only conceivable answer is that she wants to fly and thinks that the public should pick up the costs associated with her wants rather than her responsibilities. (CB: I want this gig! Time to dust off my election campaign…)
Those with a sense of humor will be happy to note Arthur Sinodinos has stepped into take Sussan's place while she is taking a breather from the public gaze.  That's ICAC Artie for you people.
Senator Sinodinos was chairman of the NSW Liberal party's finance committee in when then party fundraiser Paul Nicolaou raised the prospect of using the federally registered FEF to accept donations from property developers.

Property developers had just been banned from donating to NSW state election campaigns from 2010, just ahead of the March 2011 poll.

In May, Senator Sinodinos was asked by Labor Senator Penny Wong: "Did the cabinet secretary ever participate in or witness discussions about the use of the Free Enterprise Foundation to channel and disguise donations by prohibited donors?".

Senator Sinodinos responded: "No".

But on Thursday Labor Senator Jenny McAllister said the Independent Commission Against Corruption's Operation Spicer report into this and other Liberal party fundraising matters had "seemingly contradicted" this answer.

The report found the FEF was used to "channel" banned donations into the NSW Liberal party's 2011 campaign.

Senator McAllister noted that the ICAC's report, tabled in the NSW Parliament on Tuesday, stated then state director Mark Neeham had said Mr Nicolaou raised the use of the FEF at a finance committee meeting in relation to the property developer ban.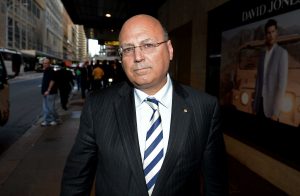 Artie loved ICAC, not.
But if you thought symptoms of the tertiary stage of Australia's parliamentary entitlement pox ended there you'd be wrong.  The ABC tells us too that Finance Senator Mathias Cormann, Trade Minister Steve Ciobo, and Tasmanian senator David Bushby billed travel to Melbourne for the 2013 AFL Grand Final to taxpayers – after being given free tickets.
Thats right, for a game many people simply cannot get tickets for, and which many supporters make a considerable effort to attend, these guys have not only got the freebie (and the NAB hospitality box) but have expected the public to provide the magic carpet so that not a single iota of their presence at the game reflected an effort they made.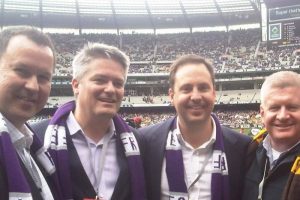 What is the point of free AFL Grand Final tickets if you have to pay for your own travel, right?……They are entitled for you to pay for their travel (and their wives too), and you did.
Another fine exponent of the taxpayer funded travel when the tickets are free dynamic appears to be Minister for Transport and Infrastructure, and then Defence Industry Minister, Darren Chester, who had the taxpayer pick up the travel tab when attending soccer and tennis, all the while snaffling another addition for his property portfolio.
Mr Chester claimed travel allowance, worth $876, for January 26 and 27.

A spokeswoman said Mr Chester's official business included representing the government at an Australian Defence Force enlistment ceremony at the Shrine of Remembrance on January 27.

After attending several Australia Day events in his electorate of Gippsland, Mr Chester attended a football match that night between the Melbourne Victory and Sydney FC at the invitation of Victory chairman Tony Di Pietro. The following night he attended the Australian Open quarter finals as a guest of Qantas.

Mr Chester's spokeswoman said the visits to the football and tennis were part of Mr Chester's official business over the Australia Day period.
He at least appears to have some minor substance, bearing in mind the duties at the Shrine would have taken about 2 hours, tops, but we seem to have another obvious example of a politicians not recognising that when they get the free ticket, or when they are the 'guest' of a corporate or organisation, then they start to move from representational duties to private jolly, and that taxpayers (some of whom would like to attend those events themselves) shouldn't be asked to cough up for the travel.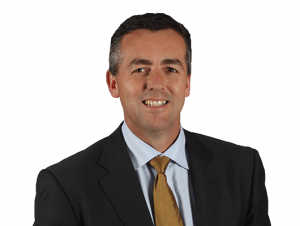 Darren Chester is another for whom free corporate provided tickets to major events is an ideal opportunity to snip the taxpayer for some travel. 
Now the government is putting out into the media that it will do something about the issue of politicians entitlements.  There is no problem with believing that the Government would like the public to believe that it is going to do something about it, because even as profoundly inept a collection of individuals as Australia's federal politicians must surely be aware that public patience with them is running out.  The problem is in believing that they will do anything of substance, or will do anything of substance within a timeframe which is meaningful, or will do anything of substance to those politicians who have been found take the piss out of the system.
The doubts about what they may actually do stem from two fronts.  The first is that the public face of doing something about it is Acting Special Minister of State Kelly O'Dwyer.  Kelly O'Dwyer, for those who don't know, headed an investigation into the Foreign Investment Review Board and the approval process for foreign buyers of Australian real estate.
She identified FIRB had failed the Australian public, but 18 months down the track the Australian public could rightly ask themselves what has actually changed when it comes to foreign nationals buying Australian houses?  There were lot of proposals, a mooted ATO data match of buyers and FIRB approvals, and a database back in 2014.  But in 2017 what has actually changed?  What assurances do the Australian public have that foreign nationals aren't buying existing Australian housing  and aren't laundering corruption proceeds in Australian real estate?  The second tranche of the AML-CTF (Anti-Money Laundering and Counter-Terrorism Financing Act) legislation was supposed to be enacted in 2008 – and 9 years later we are still waiting.
The second cause for doubt about whether the government wants to do anything at all about politicians entitlements is that it has been in possession of a review carried out in the wake of Bronwyn Bishop's legendary chopper charter in 2014 since 2015.  In the time since it has done nothing whatsoever about it.  And every day nothing is done taxpayers have every right to ask if their politicians have simply devolved into parasites.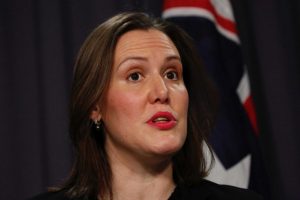 Kelly O'Dwyer's investigation into the complete failure of FIRB to address illegal buyers of Australian real estate, and subsequent failure to do a single thing about it, is a good reason to doubt when she says the Government will address parliamentary entitlement rorts by June this year.
The ABC and Finance Department have compiled table on expenditure by politicians and every Australian should take a look.

Finally, no Australian should think about their politicians and the abuse of entitlements which they may embark upon without thinking about Bronwyn Bishop.  When the claims about Sussan Ley first entered the public domain this woman, who could rightly be considered the mother of the Australian parliamentary entitlement mindset, spoke live on Sky News about her thoughts.
This woman suggests that politicians aren't to blame because their administrative staff make the travel arrangements, that anyone wanting to ensure that politicians don't rip off taxpayers is a socialist, and that politicians entitlement abuses are somehow connected with free enterprise.  Every time a claim is made about a potential abuse of entitlements by a member of parliament people should go back to this video of Bronwyn because she embodies the mindset Australia's politicians all too often have when it comes to abusing the public purse for their enjoyment and disguising this as some form of public service or sacrifice.
It would be laughable if it wasn't our government – and it should be acknowledged things would be no better if it was the opposition in power, and that the smaller parties are every bit as much prone to this behaviour – and it wasnt our parliament.  But it is, and it is no longer particularly funny.
It is time for political heads on sticks.  It is time for forcing the resignation from parliament of all politicians found to have abused their positions or their entitlements, and it is time for their access to their parliamentary pensions to be on the table when it comes to having politicians treat the taxpayer and public with some respect.
Latest posts by Gunnamatta (see all)