The Bureau of Meteorology (BOM) has published an extremely sobering report on the nation's (and world) climate, with figures showing that 2016 was the fourth hottest on record for Australia.
From the ABC:
Assistant Director for Climate Information Services, Neil Plummer, said 2016 was an "eventful year" with significant climate drivers affecting the country's weather.

Individual states across the country had local weather records broken — 2016 was the warmest year on record for Sydney, recording the most days above 25 degrees Celsius on record, while parts of South Australia recorded its wettest year on record.

"The year started off very warm and dry, with bushfires in Victoria, Tasmania and Western Australia, and a nation-wide heatwave from late February to mid-March," Mr Plummer said.

"We had our warmest autumn on record partly due to a very strong 2015-16 El Nino.

For Australia as a whole, annual rainfall was 17 per cent above average.

Australia was also warmer than average, with a national mean temperature 0.87 degrees Celsius above the norm. Sea surface temperatures were the warmest on record, 0.77 degrees Celsius above average.
In isolation, a bad year – according to the WMO 2016 was "very likely" the warmest year on record globally –  affecting farmers, households and businesses alike in terms of lost productivity, energy disruptions, land degradation and property losses.
Here are the longer term trends from the BOM's overall report (available here):
Australia's climate has warmed in both mean surface air temperature and surrounding sea surface temperature by around 1 °C since 1910.
The duration, frequency and intensity of extreme heat events have increased across large parts of Australia.
There has been an increase in extreme fire weather, and a longer fire season, across large parts of Australia since the 1970s.
May–July rainfall has reduced by around 19 per cent since 1970 in the southwest of Australia.
There has been a decline of around 11 per cent since the mid-1990s in the April–October growing season rainfall in the continental southeast.
Rainfall has increased across parts of northern Australia since the 1970s.
Oceans around Australia have warmed and ocean acidity levels have increased.
Sea levels have risen around Australia. The rise in mean sea level amplifies the effects of high tides and storm surges.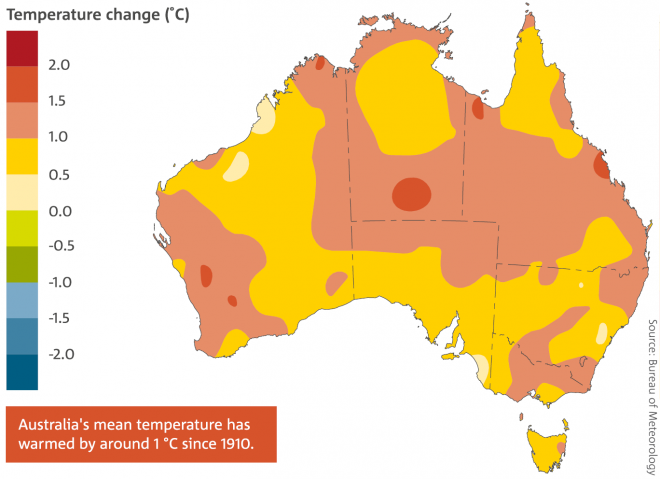 That last chart is the most sobering and shows pretty clearly that "climate change" doesn't just mean a linear increase in temperature, but rather more severe weather – hot, cold, wet, dry – over the long term.
Here are there conclusions, which from an investment point of view might dissuade you from buying insurance, or indeed non-renewable energy shares, let alone worry about coastal property prices:
Australian temperatures are projected to continue increasing with more extremely hot days and fewer extremely cool days.
The number of days with weather conducive to fire in southern and eastern Australia is projected to increase.
Winter and spring rainfall is projected to decrease across southern continental Australia, with more time spent in drought.
Past and ongoing greenhouse gas emissions mean further warming of ocean temperatures.
Sea-level rise and ocean acidification around Australia are projected to continue.