In scenes reminiscent of when former treasurer Joe Hockey told those looking to buy their first home to "get a good job that pays good money… [so] you can go to the bank and you can borrow money", Nationals leader Barnaby Joyce has told would-be first home buyers in Sydney to move to other parts of the country. From The Canberra Times:
"I get annoyed when people talk about that the only house that you can buy apparently is in Sydney and it's too dear," he told ABC Radio National. "There are other parts of Australia. I live in one, it's called Tamworth"…

"Houses will always be incredibly expensive if you can see the Opera House and the Sydney Harbour Bridge. Just accept that," Mr Joyce said. "Houses are much cheaper in Tamworth, houses are much cheaper in Armidale, houses are much cheaper in Toowoomba.

"Sydney's wonderful and so is Melbourne. The trouble is so many people think it's wonderful that the price of houses is incredibly expensive. But there are other parts of Australia…

"I did move out west so I can say this – if you've decide you've got the gumption in you and you want to move [west], you're going to have a very affordable house. If you say 'I want a really affordable house in Mosman', well, don't we all."
Message to Barnaby: Sydney housing is not just expensive near the Opera House and the Sydney Harbour Bridge, but all over. One only needs to examine CoreLogic's latest Quarterly Mapping the Market Report. which shows the complete absence of affordable housing across Sydney: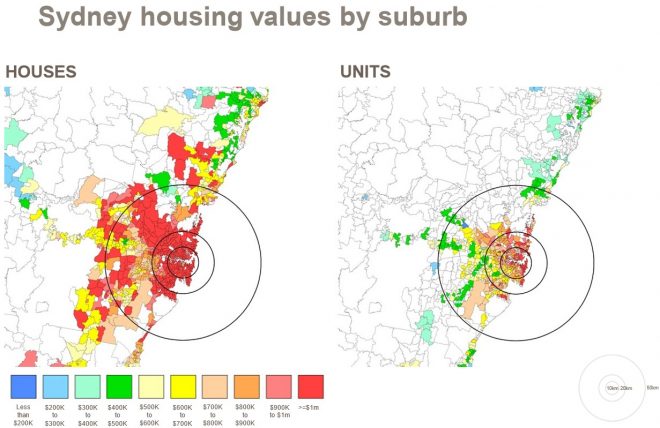 For a family seeking a house to live in, they would need to stump up nearly $1 million (plus stamp duty) to purchase anything within 20 kilometres of the CBD. Even if they spread-out to within 50 kilometres or more from the CBD, they would be hard pressed to find anything that one could reasonably classify "affordable" to those on median incomes.
Sure, more affordable housing is available in the regions, but are there jobs to match [Tamworth's unemployment rate is 7.5%]? And does Barnaby appreciate that moving requires one to become detached from their families and support networks – hardly an easy solution?
Finally, it would be nice if Barnaby acknowledged the deleterious impacts from the Coalition's 'Big Australia' mass immigration agenda. Most migrants end up in the big cities of Sydney and Melbourne, thereby placing continued upward pressure on housing costs, infrastructure and commute times.
Under this mass immigration agenda, Sydney's population is projected to rise by 87,000 people per year (1,650 people each week) to 6.4 million over the next 20-years – effectively adding another Perth to the city's population: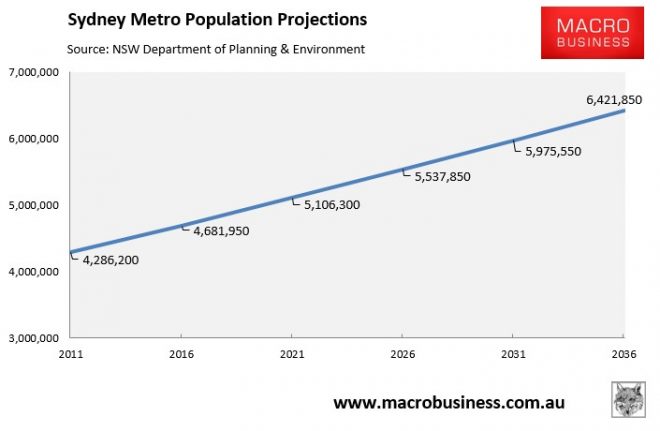 Melbourne's population is projected to balloon by 97,000 people per year (1,850 people each week) over the next 35 years to more than 8 million people: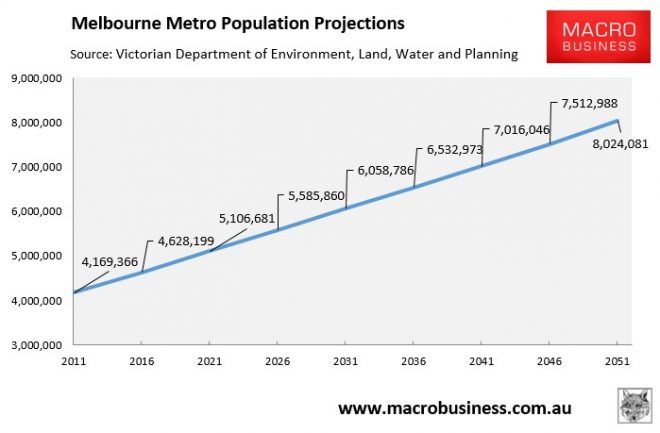 Why is it reasonable for incumbent young Australians to be forced to move from where they grew up just so they can make way for tens-of-thousands of migrants arriving into Sydney and Melbourne each and every year?
I thought Australia's politicians were there to represent the interests of incumbent Australian citizens?