The integrity of Australian treasuries across the country is collapsing as lies have become forecasting de rigueur. The latest and greatest is Dr Nahan's next installment of fiction for WA in which:
• The general government operating deficit for 2016-17 is now estimated to be $3,388 million, a $527 million improvement on the $3,914 million deficit forecast in the May Budget.

• This improvement predominantly reflects higher iron ore prices, partly offset by weaker than expected payroll tax and transfer duty revenue and the delayed receipt of Commonwealth funding for key road projects.

• The revenue benefit of higher iron ore prices is more than offset by lower GST grants by the end of the forward estimates period, with Western Australia's GST 'relativity' now forecast to reach 0.661 in 2019-20, down from 0.759 forecast in the 2016-17 Budget.

• Excluding the impact of potential new asset sales, total public sector net debt is now forecast to be $483 million lower at $39.7 billion by 30 June 2020, down from $40.2 billion forecast at Budget-time.
And the economic lies assumptions to generate this?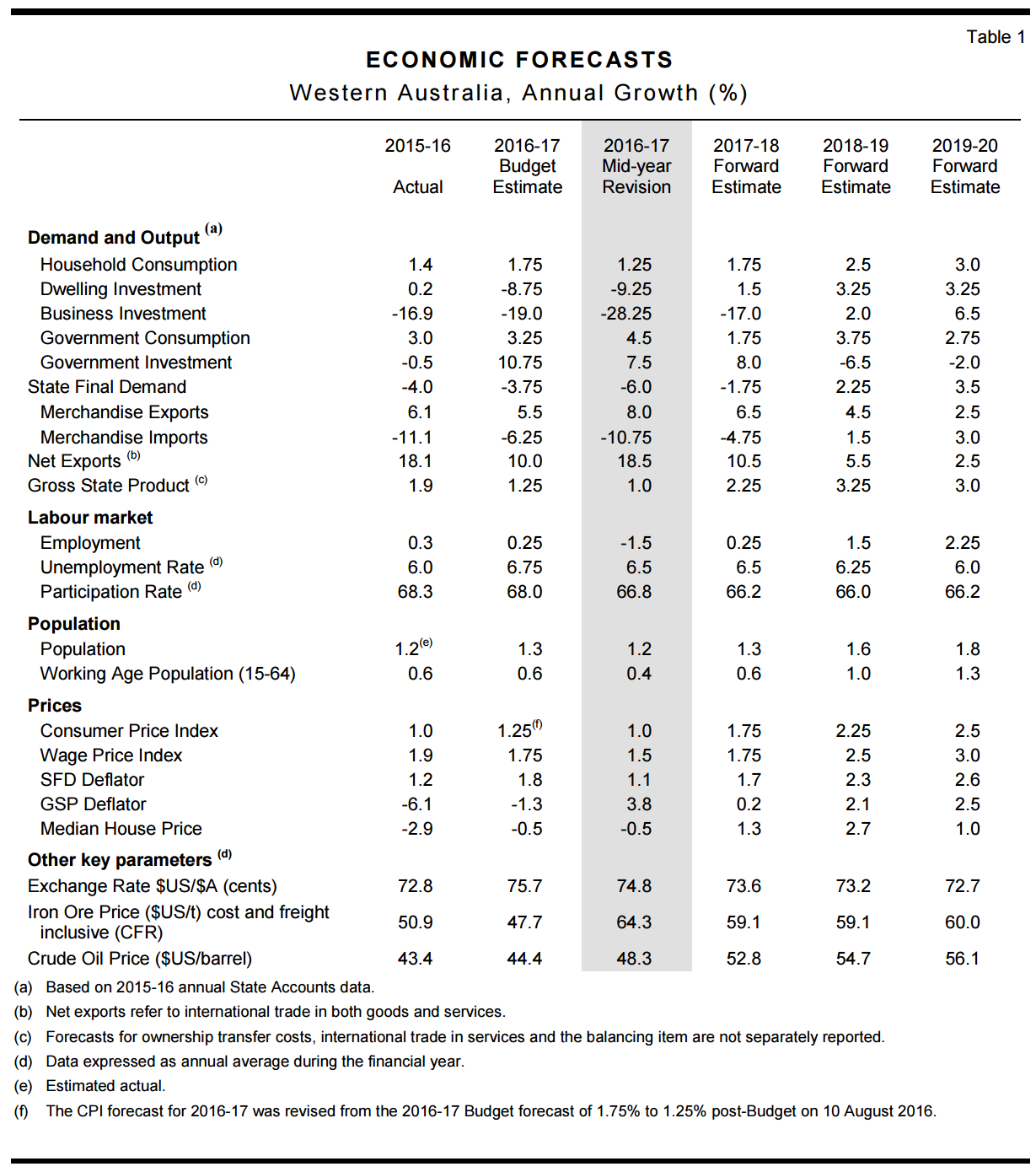 In 2017/18 consumption will rebound, dwelling investment will rebound, business investment will fall but not enough, the labour market will rebound, population growth will rebound, CPI will rebound, wages will rebound, house prices will rebound and iron ore will remain miles above the lows.
None of this will happen. None of it. The complete opposite is coming as the business investment bust is joined by the dwelling investment bust, unemployment keeps rising, wages keep deflating, population growth keeps falling (and may turn negative), house prices keep falling and iron ore averages $45 in 2017/18.
A few charts tell the tale. Here's business investment: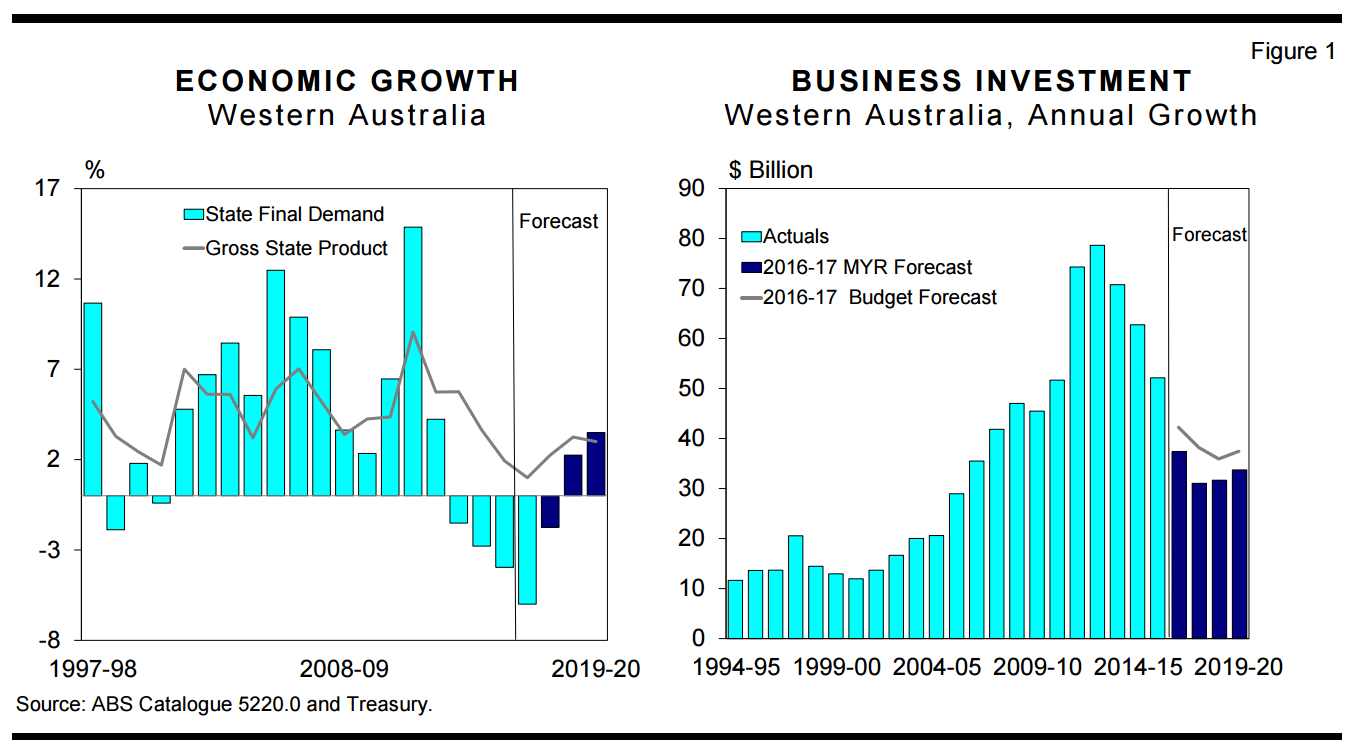 Apparently, it's going to bottom out at $30bn then start climbing. Please just note where it was in 2004 when the state was booming. Now, as it goes through the greatest bust in its history it is going to remain at super boom time levels in perpetuity?
This is a bad joke. It will bottom below $20bn and probably fall to $10bn in an overshoot given how much excess capacity the state already has.  Mining investment (which is 95% of it) is still massively elevated and we already know that it will shrink much, much further, probably back to 2000 levels at 6% of state final demand: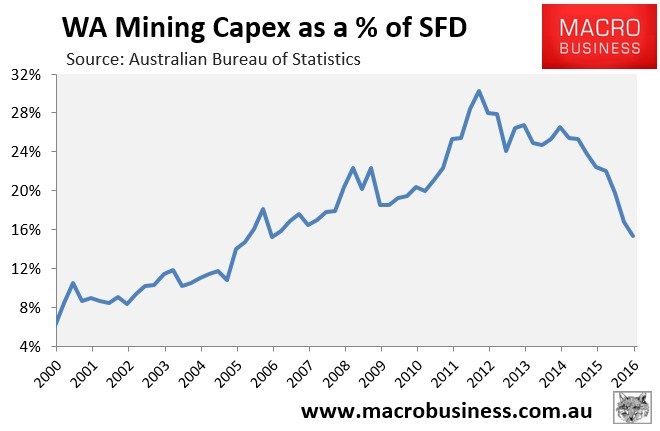 That would imply total business investment of $15bn as the bottom.
Next up, dwelling investment and population growth. This chart tells you all you need to know: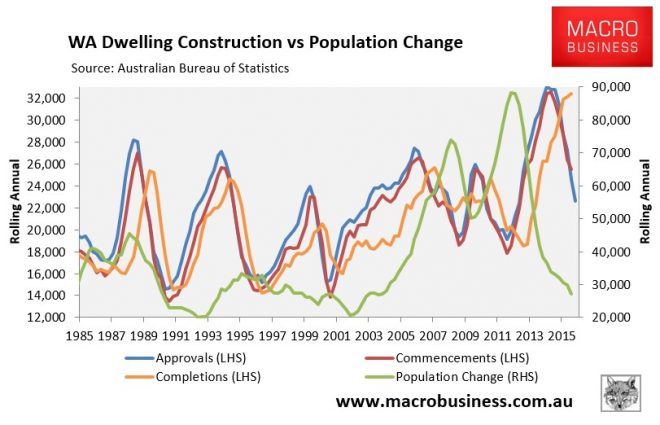 Does that look like a rush of people to you? Does that look like an imminent turn in construction as completions approach an unprecedented and monumental cliff? WA dwelling investment is on the verge of outright collapse as it chases population growth into the pit.
Which will be one of the major drivers behind a further rocketing in the unemployment rate that is already above the Budget forecast at 6.7%: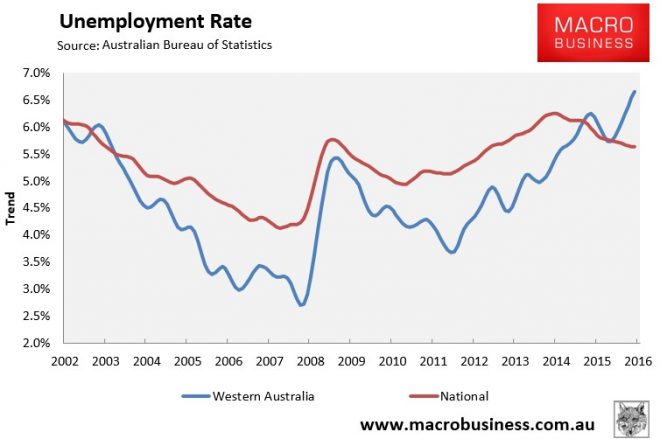 It is probably going north of 9% in 2017/18.
Does anyone really think that house prices are going to rebound in this environment? They are falling and will keep doing so: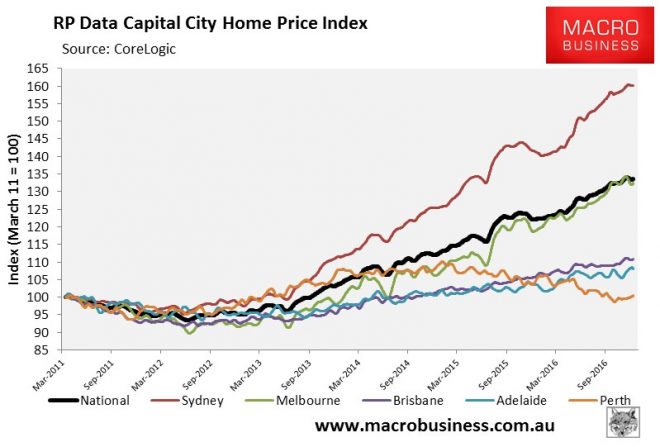 And so will consumption.
What is perhaps most frightening about all of this is the five minutes of easy research it takes to utterly destroy the budget update's assumptions. I can only wonder what ratings agencies see when they look at this document. There are only two possible explanations for it.
The first is that the WA Treasury is so profoundly inept that it may as well be a monkey throwing faeces at a dart board.
The second is that it is sheer and bald-faced corruption.
Either way, such an obvious set of lies belongs in the annals of the worst of Banana Republican management.