Last week's national accounts release for the September quarter confirmed that Australia's FIRE economy – Finance, Insurance and Rental, Hiring & Real Estate Services – continues to eat its host, surging to a new record high (12.0%) share of the Australian economy (see next chart).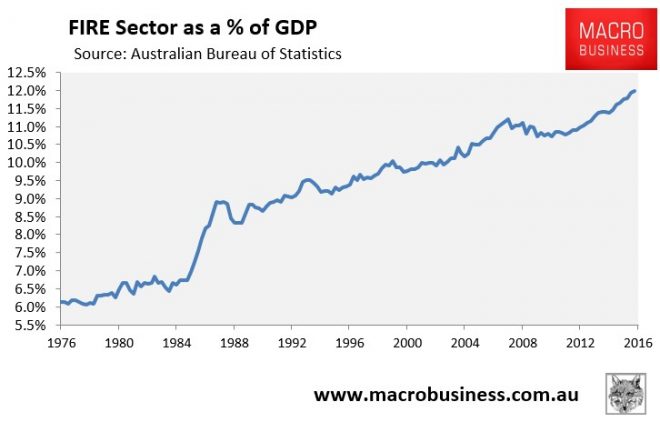 Since financial markets were first deregulated in the mid-1980s, the FIRE sector has grown at roughly twice the pace of the rest of the economy, sucking the life out of the productive sector: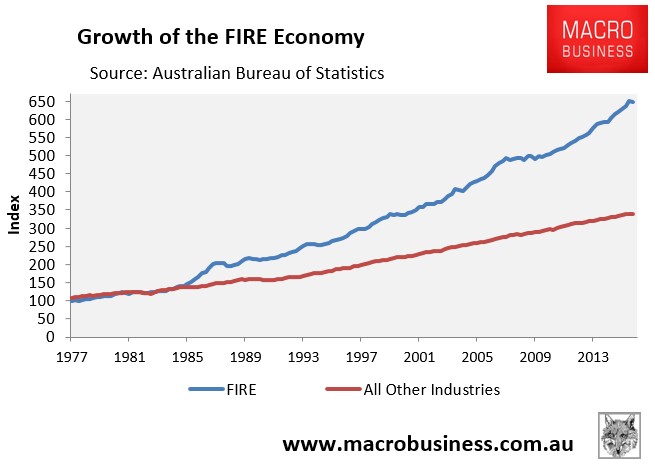 Within the FIRE economy, the finance and insurance industry increased its share of the Australian economy to a record 9.0% of GDP in the July quarter: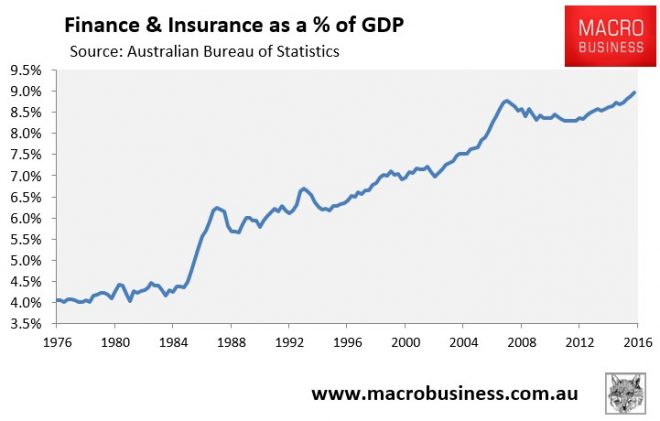 With the finance and insurance industry growing at well over twice the pace of the rest of the economy since financial deregulation, with diverging trends: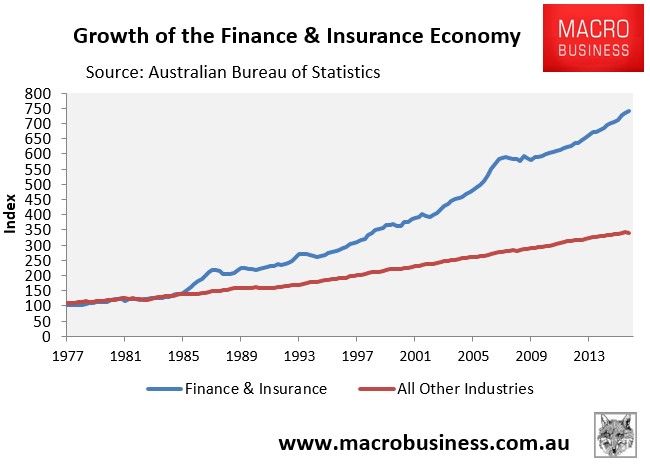 The FIRE sector has enjoyed life recently. Households have re-leveraged, as evident by the trend decline in the household savings rate over the past four years: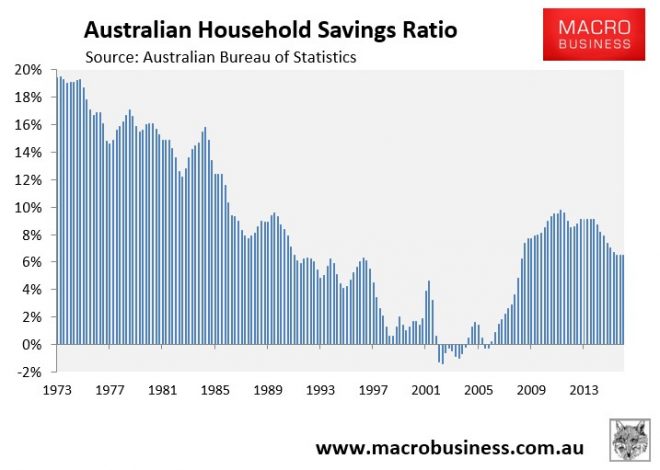 Along with the rise in the ratio of mortgage debt-to-GDP to an all-time high 96% of GDP as at September: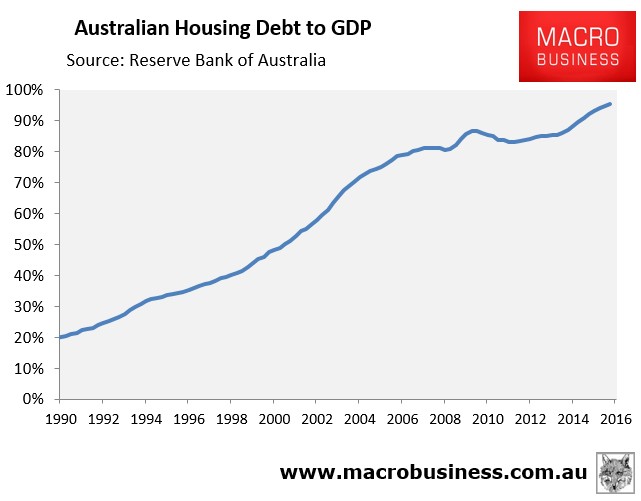 The banks have also ramped-up their exposure to offshore funding over recent years – particularly short-term – although it did fall slightly in the latest quarter from record high levels: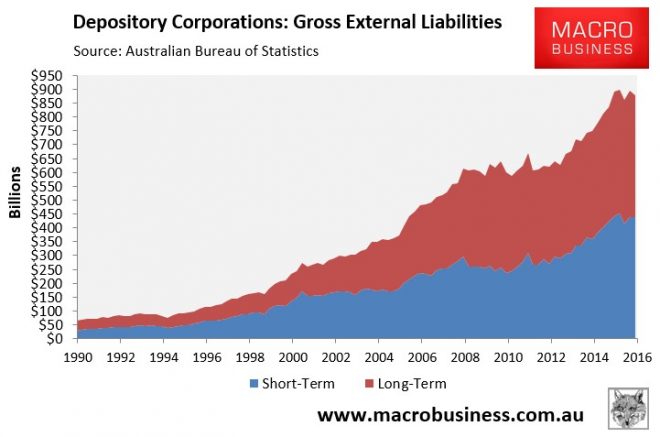 With the ratio of offshore borrowings to GDP still an insane 53% of GDP, easily above the pre-GFC peak (51%):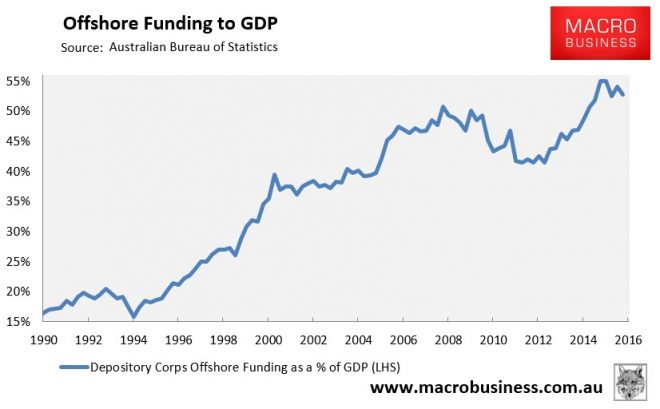 The end result is that Australian house prices continue to decouple from rents as capital has flooded into non-productive housing: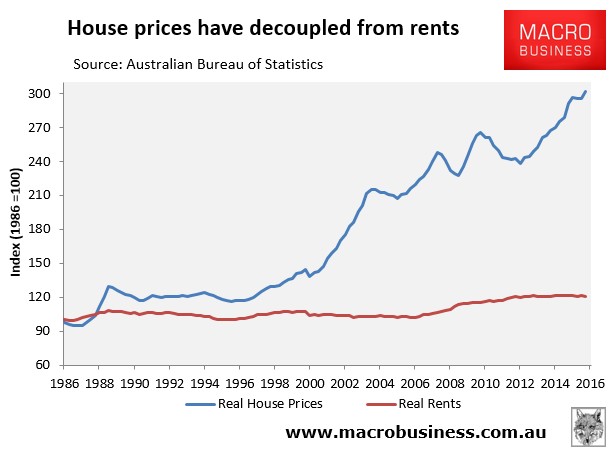 With overall housing credit growth still expanding at 6.4% in the year to October 2016 – much faster than nominal GDP (+3.3%) – the FIRE economy is set to continue consuming the real economy, as is household debt.
It's called the "dumb bubble" for a reason.