The Italian referendum is all but lost, from the Express:
ITALY looks likely to be the next fed up European Union (EU) nation to deliver an angry message to Brussels as the last poll before its referendum predicts the populist vote will win.

Anti-establishment votes are ahead by five points in the final public opinion poll as the backlash against Prime Minister Matteo Renzi gains momentum.

Matteo Renzi called a vote on what he calls streamlining Italy's government decisions.

He has big plans for the referendum as the young centre-left leader wants to strip the country's second house of much of its constitutional power.

A last poll before the vote, by Ixe for Agora-Rai3 TV station, shows the 'No' is up to 42 percent from 40 percent previously, while 'yes' has stayed the same at 37 per cent.A poll conducted by Demos & Pi for newspaper La Repubblica shows the gap between the two sides widened from the previous month, with the 'No' at 41 percent and the 'Yes' side at 34 percent.

La Stampa reported the "No" camp in the lead by eight points, according to a poll conducted by Istituto Piepoli.A survey by Ipsos said 55 percent of those who plan to head to the polls would reject the reform – spelling the end of Renzi as PM.
The fallout appears instantaneous, from the FT:
Up to eight of Italy's troubled banks risk failing if prime minister Matteo Renzi loses a constitutional referendum next weekend and ensuing market turbulence deters investors from recapitalising them, officials and senior bankers say.

Mr Renzi, who says he will quit if he loses the referendum, had championed a market solution to solve the problems of Italy's €4tn banking system and avoid a vote-losing "resolution" of Italian banks under new EU rules.

Resolution, a new regulatory mechanism, restructures and, if necessary, winds up a bank by imposing losses on both equity and debt investors, particularly controversial in Italy, where millions of individual investors have bought bank bonds.

The situation is being closely watched by financiers and policymakers across Europe and beyond, who worry that a mass failure of Italian banks could trigger panic across the eurozone banking system.

In the event of a "No" vote and Mr Renzi's exit, bankers fear protracted uncertainty during the creation of a technocratic government. Lack of clarity over a new finance minister may lethally prolong market jitters about Italy's banks. Italian lenders have more than halved in value this year on concerns about their non-performing loans.

…Italy's banks have €360bn of problem loans versus €225bn of equity on their books after successive regulators and governments failed to tackle a bloated financial system where profitability was weakened by a stagnant economy and exacerbated by fraudulent lending at several institutions.

But the market solutions, including a JPMorgan plan to recapitalise Monte Paschi and the efforts of a government-sponsored, private vehicle Atlante to backstop problems at smaller banks, are looking shaky in the face of expected market turbulence if a "No" vote wins, said officials and bankers.

Lorenzo Codogno, a former chief economist at the Italian Treasury and founder of LC Macro Advisors, argued that the "biggest concern" in the aftermath of the referendum is its impact on "the banking sector and implications for financial stability".

"The capital increases of Italian banks due to be announced right after the referendum may become even trickier than currently perceived in the case of a "No" vote"," Mr Codogno said.

Senior bankers and officials said that the worst-case scenario was where a failure of Monte Paschi's complex €5bn recapitalisation and bad-debt restructuring demanded by regulators would translate into a wider failure of confidence in Italy and imperil a market solution for its ailing banks.

Under this scenario, officials and senior bankers believe that all eight banks could be put into resolution. They fear that contagion from the small banks could threaten a €13bn capital increase at Unicredit, Italy's largest bank by assets and its only globally significant financial institution, planned for early 2017.

"The issue is whether Siena gets done or not," said a senior official, reflecting how Monte Paschi has become a proxy for the Italian financial system. "Without Siena on the line, I am not worried. With Siena on the line, I am worried."

This person added that, should Monte Paschi's deal fail, "all theories are possible" including "a resolution of the eight banks", especially if a "No" vote led to Mr Renzi quitting office and a period of protracted political uncertainty.

Spreads on Italian government bonds versus German Bunds rose above 190 points on Friday, a level not seen since October 2014, as markets priced in expectations of turbulence.
Spreads are still contained in Italy and France: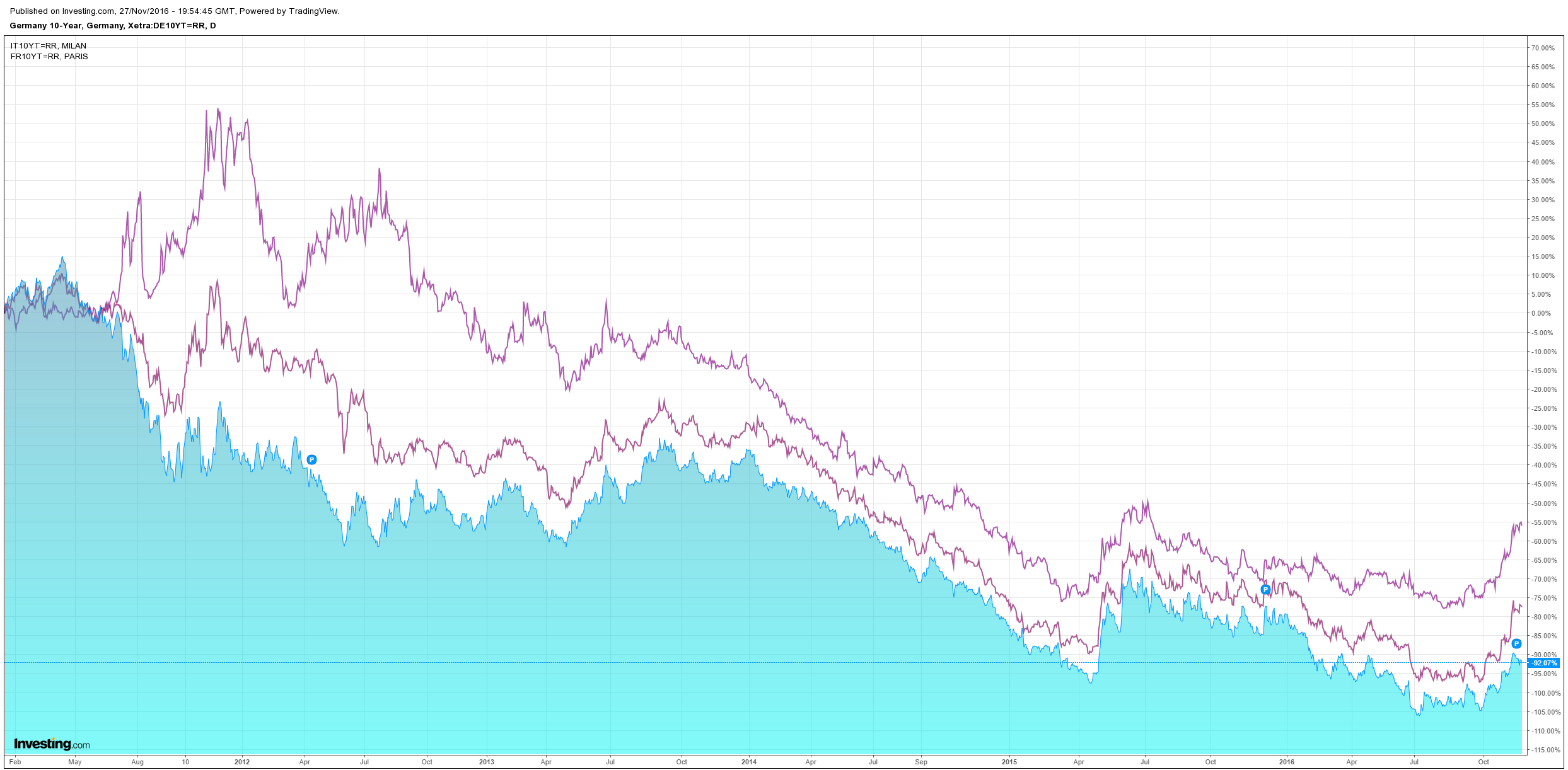 But it must always be remembered that markets are hopeless at discounting political risk, even when it is screamingly obvious, so worse will come with a referendum defeat. Even so, it's not my base that an Italian "no" triggers a market crisis. There are too many unknowns to make that call.
Meanwhile, in France, it's presidential election is set to be Libertarian Right versus Fascistic Right, also via the FT:
The final result is a crushing defeat for Mr Juppé, who was prime minister under Jacques Chirac. The 71-year-old politician, who had long been predicted to win the nomination, failed to make up for lost ground by criticising his opponents' free market platform and traditional views on social issues.

…Mr Fillon, meanwhile, focused on his radical supply-side reforms, pointing out that Mr Juppé's cure for France's woes was too gentle to produce the "shock" he is instead advocating. The 62-year-old politician laid out more ambitious measures to shrink the welfare state, scrap the 35-hour working week and revisit the French postwar social model that "is taking on water from everywhere".
How is a Libertarian free-marketeer going to placate a population angry over Libertarian free-markets and interference in internal affairs by external powers? Here's how:
On foreign policy: Fillon has a positive outlook on Paris' relations with Moscow. Unlike Juppe, who sees Russia as more of a threat to be contained, the 62-year-old has called Moscow a "crucial partner" for Europe and has supported calls for the lifting of sanctions against Russia.
Fillon is the author of a book called, "Beating Islamic Totalitarianism," and advocates a hard line against Islamist terrorism at home. He wants to bar French jihadists from returning to France after fighting in Syria or Iraq by stripping them of their citizenship. Juppe has a somewhat softer approach to terrorism and supports the arrest of jihadists returning from Iraq or Syria. He has also made calls to place suspected Islamist radicals who pose a threat under house arrest
On the economic front, Fillon advocates tough free-market positions. His economic proposals include cutting 500,000 to 600,000 civil servant jobs and cutting public spending by €110 billion ($117bn). He also wants to raise the retirement age from the current 62 years to 65 years and VAT rates by 3.5 percent. The Republican also advocates for ending the 35-hour work week, allowing unions to negotiate up to 48-hour working weeks.
On social policy, Fillon, for instance, opposes same-sex partners adopting children. Such a conservative agenda has allowed him to secure votes among anti-gay marriage groups. He also advocates making it harder for children born to foreign surrogate mothers to obtain French citizenship.
So, it's open borders plus an internal police state versus closed borders and a return to sovereign rule. I have no idea which the French will choose.
Meanwhile, how the Left somehow managed to butcher the post-GFC opportunity to rule the world for fifty years I will leave to the historians.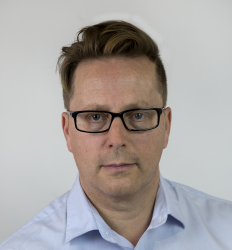 Latest posts by David Llewellyn-Smith
(see all)