Over the weekend, the NSW Department of Planning and Environment released research showing that the equivalent of 20 years of housing supply is tied up in empty bedrooms, mostly pertaining to older empty nesters, and that this is making it increasingly difficult for young households to find "family-friendly" accommodation.
This research followed a major study released last year by Bob Birrell and David McCloskey from the Australian Population Research Institute, which found that in the inner and middle suburbs of Sydney and Melbourne, 50% to 60% of the detached housing stock was occupied by older households in 2011, and that their numbers would rise rapidly into the future, thus depriving younger households of 'family-friendly' accommodation.
Now, New South Wales Finance Minister Dominic Perrottet has suggested that housing affordability could be improved if states replaced stamp duties with a land tax regime. He argues that phasing out stamp duty would encourage more people to sell their homes, particularly so-called empty nesters. From The Australian:
NSW Finance Minister Dominic Perrottet has declared there is "no doubt" that moving from stamp duties ­towards broad-based land taxes would encourage property transfers, relieving chronic pressures on the market…

"On the tax side of things we should be open to reform," he said. "If you reduce stamp duty and had a broad-based land tax we would encourage the transfer of property, there's no doubt about that.

"You have retirees living in these five-bedroom homes by themselves while there are people with three children trying to buy into the property market"…

Stamp duty remains a major disincentive to property turnover. The stamp duty on the purchase of a $1m property is about $40,500…

The ACT plan to increase land tax steadily to ease stamp duty has been politically contentious. But the territory's Labor government won this month's election against a Liberal campaign focused on rates.
Shifting from stamp duties to land taxes makes sense on multiple levels.
First, the impost on buyers has been increasing as property prices have increased, which is inequitable and has made it harder for first home buyers to break into the property market.
Second, stamp duty discourages families from moving to more appropriate houses or employment, while penalising those who are forced to relocate. Arguably, it also adds to congestion and increases commuting times by dampening the number of house sales.
Third, NSW's Budget revenues are tied heavily to stamp duty receipts. These have boomed in recent times due to the property boom, but will similarly tank when the property market inevitably declines (below charts).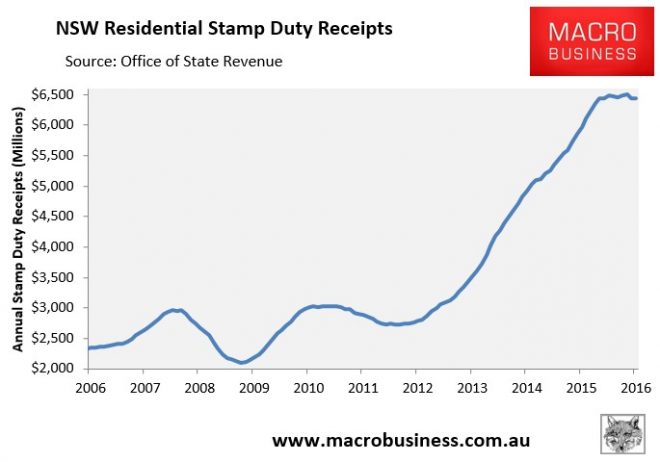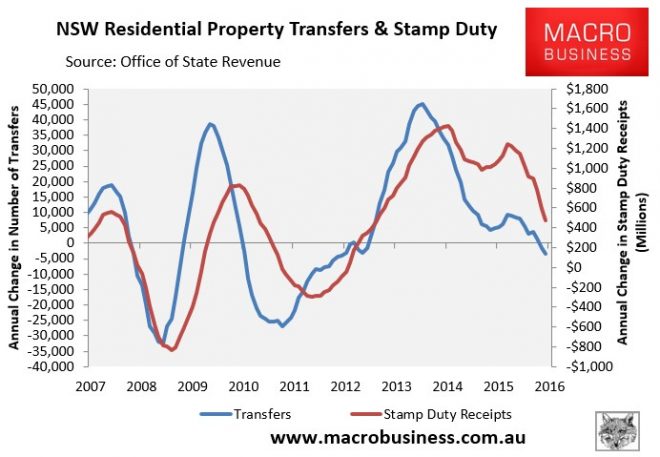 So there is a good reason to make the shift now to a tax base that is much more stable – i.e. land taxes.
Finally, land taxes are the most efficient source of tax available, actually creating positive welfare gains to the domestic population since non-resident home owners are also taxed (see below chart).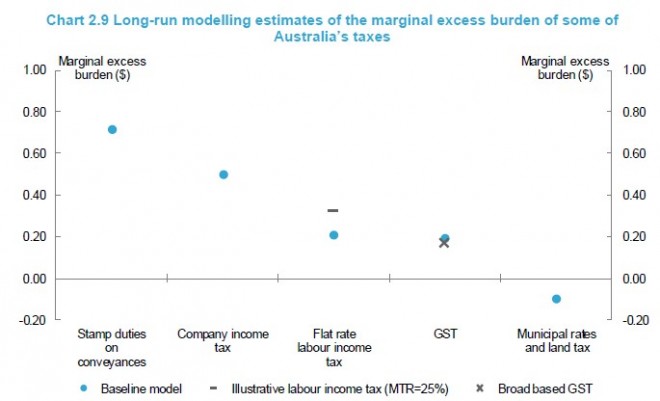 In order to facilitate the transition, the government could give home buyers a credit for the stamp duty paid, and then deduct the theoretical land tax that would have applied since the home was purchased.
For example, if someone purchased a home in August 2010 and paid $30,000 in stamp duty, and their annual land tax bill would have been $3,000 per year had the new regime been in effect, then their credit would be $15,000, which can be applied against future year's bills.
So far, only the ACT has shown the courage to shift its tax base towards land taxes. NSW and the other states should follow suit.