Back in August I penned an article entitled The great immigration subterfuge, which argued that Australia is running a dishonest immigration program that has cynically scapegoated the small number of refugees arriving into Australia by boat, while secretly opening the floodgates to economic migrants arriving into the country by plane:
…it was the sleight of hand by John Howard that originally mislead the Australian people on immigration. Howard effectively performed a 'bait-and-switch' on the Australian people whereby he slammed the door shut on the relatively small number of refugees arriving into Australia by boat all the while stealthily shoving open the door to economic migrants arriving here by plane.

Howard never explicitly mentioned that he was in favour of high immigration because he knew the electorate would be against it. Instead, he scapegoated refugees to give the impression that he was stemming the migrant inflow while proceeding in secret with his 'Big Australia' plan.

Rather than being honest with the electorate, the Rudd/Gillard Governments and the Abbott/Turnbull Governments continued the subterfuge. There has never been any community consultation, any national discussion, nor any mandate to proceed with turbo-charged levels of immigration.

This comes despite an Essential Research opinion poll released in May revealing that the overwhelming majority of Australians (59%) believed "the level of immigration into Australia over the last ten years has been too high",  more than double the 28% of Australians that disagreed with that statement…

Australia desperately needs a frank and honest national conversation about population policy, which focuses on whether or not large-scale immigration is benefiting the living standards of the existing population. Not the current 'smoke and mirrors' approach that conflates immigration with refugees, or the divisive "Hansonites vs progressives".
On Tuesday night, ABC's Lateline aired a fantastic interview with Shen Narayanasamy, founder of the No Business in Abuse campaign, who recently gave a speech at the Wheeler Centre entitled, the Great Immigration Con. In the interview, Ms Narayanasamy lambasts the hypocrisy of Australia's immigration policy against refugees, whilst calling for a national population debate.
Below are some key extracts from this interview:
… at the height of boat arrivals in 2013, while 25,000 people arrived by boat, we welcomed on average 2,300 people per day through our arrival terminals in our airports.

In total, nearly a million people arrived in Australia that year as they did the year before, and as they have in the years after.

So when we talk about people arriving by boat, they are a tiny proportion of our overall immigration program and we can handle them and handle them quite well without abusing them in offshore detention centres…

This is the reality at the heart of what the Government is trying to tell us. They are trying to concentrate our attention on a tiny proportion of people and distract us from the reality of what we have every day arriving in our airport terminals and coming to work here and joining this community…

I think you've got to ask the question of leadership. Right now and under John Howard in fact, it has been an enduring legacy.

We have the highest proportion of immigration per capita than we've ever had.

It was higher than the 1950s when both sides of politics thumped on about populate or perish, it's higher than when Malcolm Fraser took in scores of Vietnamese boat people arriving by boat and made the public case from the pulpit, from the leadership for doing so.

Now, if you create a situation where you try to concentrate the public's attention and you beat up fear about a tiny proportion of people coming by boat and you don't make the case for immigration, you don't make the case for a diverse nation, you end up in the situation that Philippe Legrain described which is seemingly inexplicable, and to some degree I would say that is not really the fault of the Australian public.

The immigration debate hasn't been had. Their attention has been diverted and it hasn't been made clear to us the extent to which over the last 15 to 20 years huge numbers of people have arrived in this country and we're all the better for it…

I think you've got to ask yourself, if you're lying to the Australian public, if you're not making the case for a diverse Australia, for a large Australia, for an immigrant population that's coming in every day through our airports, is it any surprise that somebody like Pauline Hanson can get away with the kinds of things she says to a population and win votes.

It's no surprise at all.
While I disagree strongly with Ms Narayanasamy's assertion that "we're all the better for" the "huge numbers of people [that] have arrived in this country" over the past 15 years – given the appalling housing affordability, worsening congestion, and declining amenity experienced in Australia's big cities – she is spot on in every other respect.
Australians are being conned on immigration by our major political parties: Australia's current annual permanent immigration program of around 200,000 people dwarfs our humanitarian intake of about 14,000 refugees, so why is all of the focus and effort put on "stopping the boats"? And why is any talk of "immigration" assumed to mean refugees?
Australia is projected to boost its population to 40 million by 2055, almost exclusively via net migration, and this will have profound impacts on our roads and public transport, in our hospitals and schools, on housing affordability, and the environment.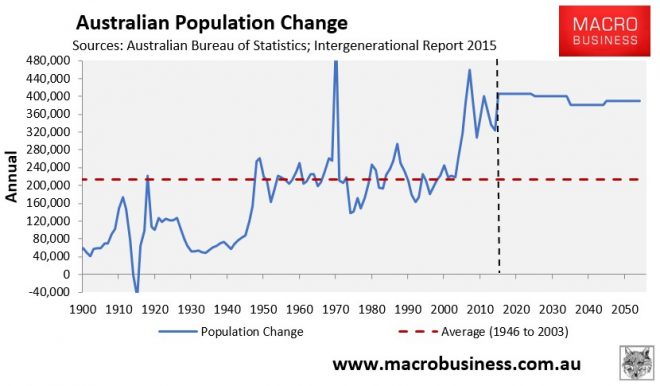 Australia could easily slash our overall immigration intake back to historical norms without lowering Australia's humanitarian intake (or even increasing it).
But we must have a national debate on the whole immigration issue – specifically whether it is wise to run an immigration program that is almost three times the size of the 20th century average and whether such a level is supported by the community.
Latest posts by Leith van Onselen (see all)