There was an interesting moment on Friday when Reuters released its interpretation of China's 70-city house price index for September and the numbers were a bizarre range of shocking price crashes. They were corrected 30 minutes later to show ripping growth.
The cause was not some anarchist loose on a Reuters terminal. It was actually the Chinese National Bureau of Statistics which confused all by taking the extraordinary step of also releasing the index for the first half of October prices (if you believe they could possibly be collected so swiftly).
They did so because the first half of October numbers showed a three-quarter reversal of the September gains after the mass prudential tightening at the beginning of the month: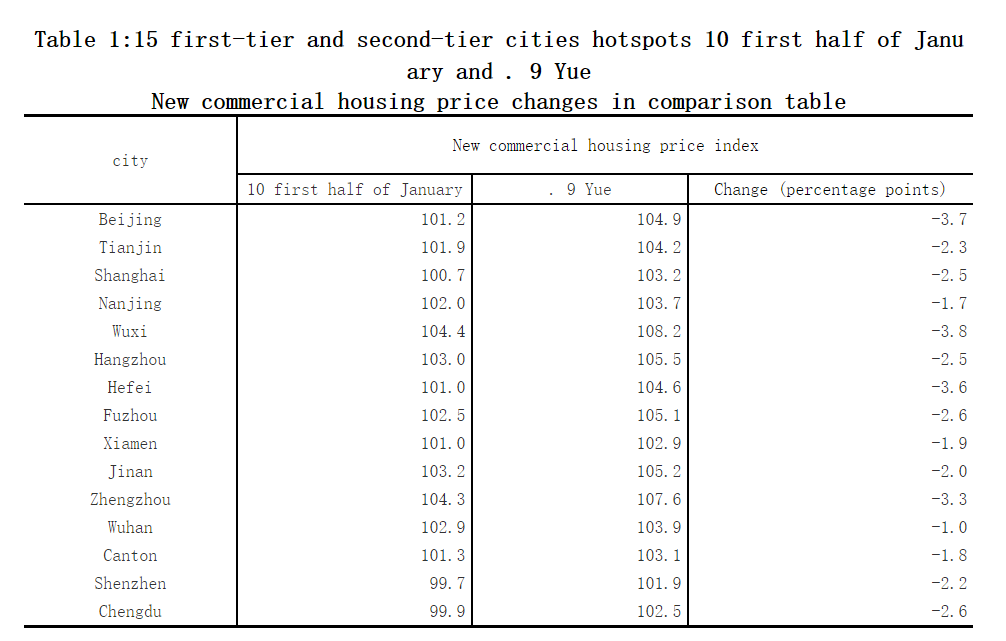 Thus, what were charts headed for the moon are all suddenly all pointing directly the other way for growth rates: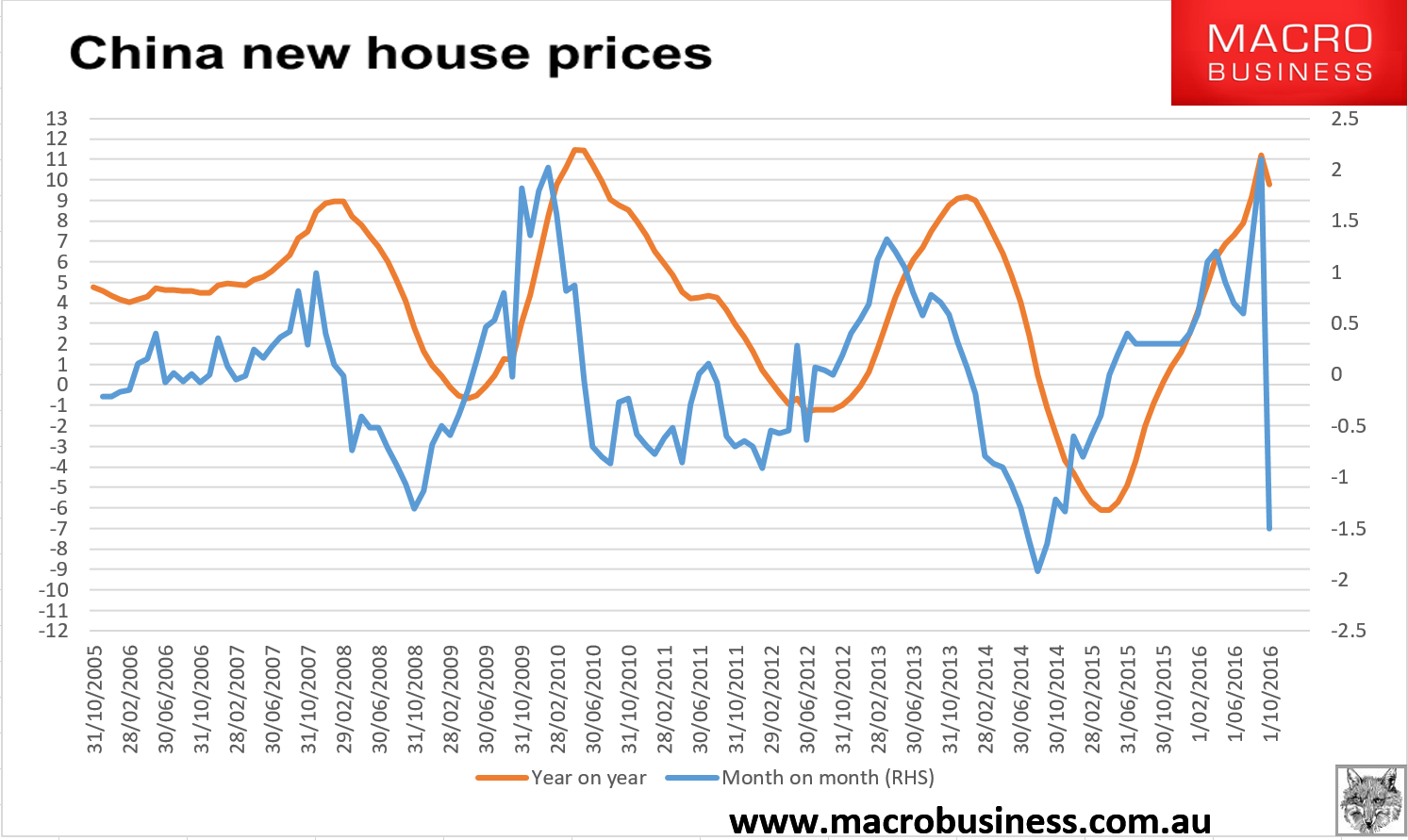 For distribution: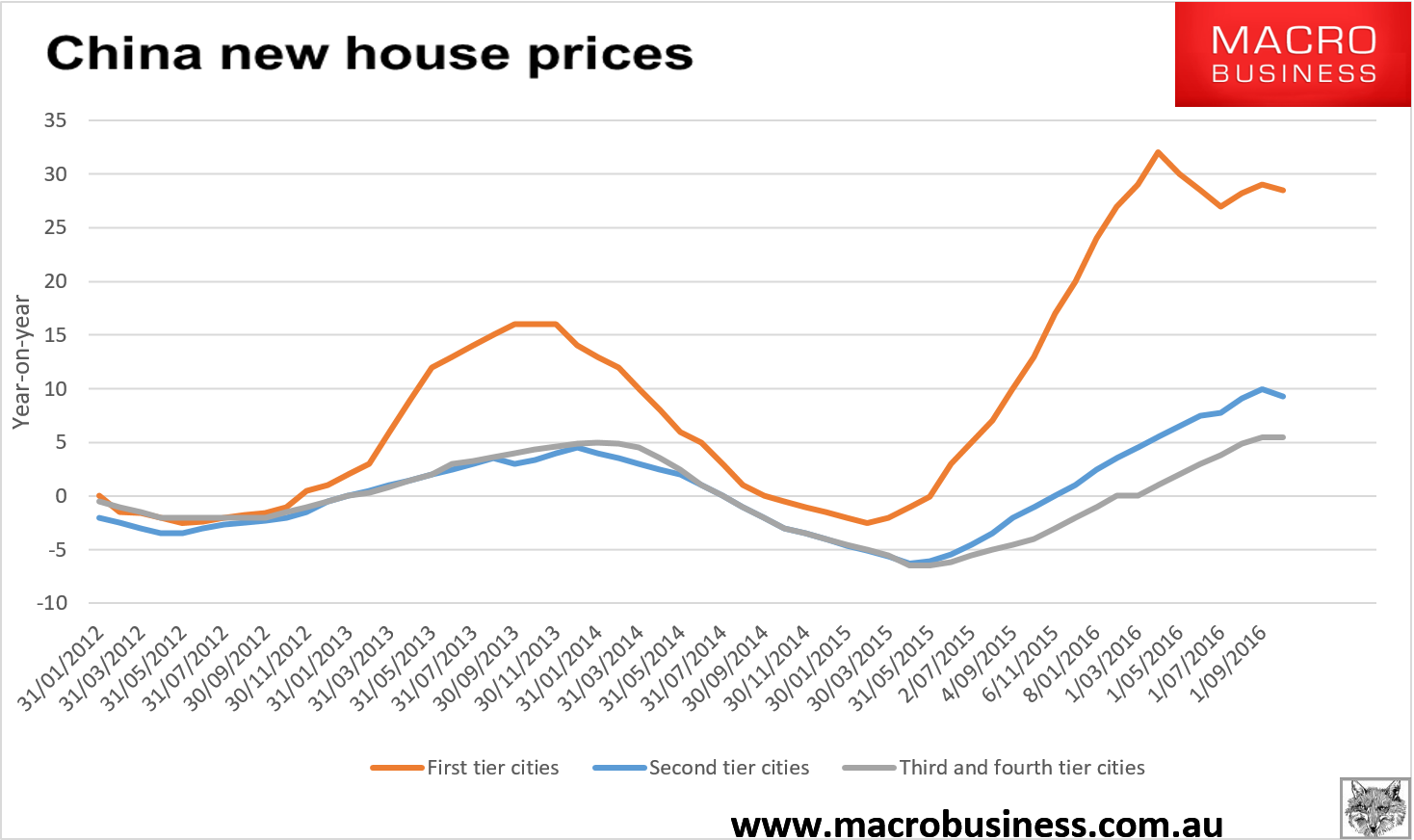 And for breadth: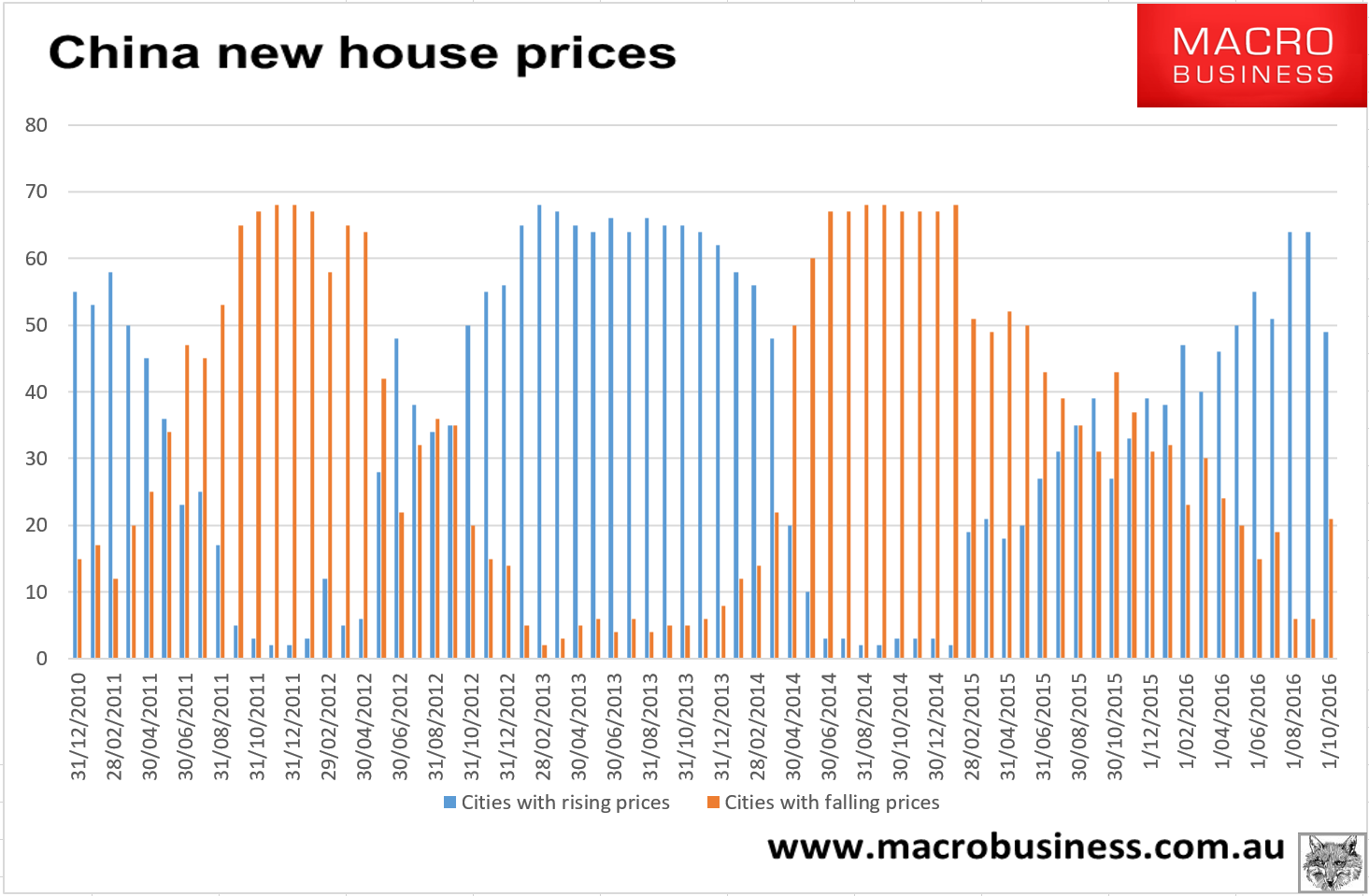 This was only the first half of October so logic would dictate that there will be more falls in the second.
One has to take these numbers with a grain of Chinese salt but they do suggest, one way or another, that the boom has peaked.
Under the price boom and bust the real problem persists, from Investing in Chinese Stocks:
Rural households are digesting housing inventory in some third- and fourth-tier cities, but they aren't changing their household registration. Top first- and second-tier cities remain the preferred destination for those switching from rural to urban hukous. The result is some cities are beginning to see de-urbanization as the rural population fails to supplement urban outflows.
iFeng: 三四线城市去库存背后:农民买房但不一定落户

21st Century Business Herald was informed that, to encourage farmers to respect the people of Hubei Xiangyang, Meishan, Sichuan and other four-tier cities has made great achievements, buy subsidies, farmers can fund loans, these regions housing inventory to digest quickly.

However, local farmers into urban household registration is not much. It is worth pondering, like Chengdu, Chongqing and some other large cities, large urban farmer households enthusiastically, just one year alone hundreds of thousands of households. Meishan and other places housing digest quickly, the total number of urban household registration was in decline. This policy and the State to encourage farmers to three or four lines, it seems that some divergences.One example from Meishan, Sichuan province:

However, these areas migrant workers to buy real home is not much. In Meishan, for example, at the end of 2014 registered a total population of 3.53 million, of which non-agricultural population of 1.0064 million. To the end of 2015 total household population of 3.49 million, of which non-agricultural population of 1.0035 million. This means that the total household population, and urban household population is declining.
And the fallout will spread:
Some real estate developers invented various fees and charges for home buyers that may have doubled profits. With the government now cracking down on housing violations, these developers could see their profits halved.
Recently, a series of media exposure of some of the alleged violations charged "buy rate", "electricity supplier charges" and other real estate funds.
According to the "Daily Economic News" reporter investigation, these additional fees for developers can save 3% to 5% of the marketing costs, but additional costs of such a violation is canceled, the developer or sales profits will shrink.
One example:
Housing prices listed in a Property located in Shanghai Sijing example. The real estate unit price of 40,000 yuan / square meter (decoration), 8% of the net profit margin is calculated, priced at 3200 yuan net profit. It broke the news to the media buyers, the real estate on the basis of first Fuwu Cheng additional 400,000 yuam renovation costs. According to a rough calculation of 100 square meters of housing, the developer sold a suite per square meter can be overcharged 4,000 yuan, deduct 10% tax per square meter can be little more 3600 yuan. Profit from the unit price visible, surcharges a close, the project profit nearly doubled.
iFeng: 房价真相:去了"苛捐杂费" 楼盘利润腰斩!
The boom is done. Bulk commodity prices next.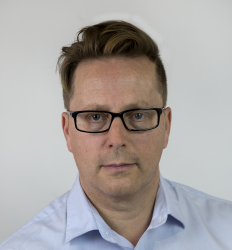 Latest posts by Houses and Holes
(see all)