Escalating home prices against sluggish wages growth has driven the deposit gap facing Sydney first home buyers (FHBs) to record highs, according to new research from Deutsche Bank. From ABC News:
Research by Deutsche Bank's chief Australian economist Adam Boyton shows it would take a 25 per cent drop in Sydney home prices to bring the size of deposit required back to average levels over the past 20 years…

With the size of a standard 20 per cent housing deposit relative to income now well above the previous peak seen at the top of Sydney's last big boom in 2002-2003, Mr Boyton said it would take a 25 per cent decline in prices just to get back to the 20-year average.

"The experience of other economies that have seen such a drop in house prices over a two-year horizon would suggest such an outcome would be highly undesirable [given the likely] impacts on the banking sector and the broader macro-economy," he added.
To give greater context to this issue, below are the latest median dwelling values as provided by CoreLogic: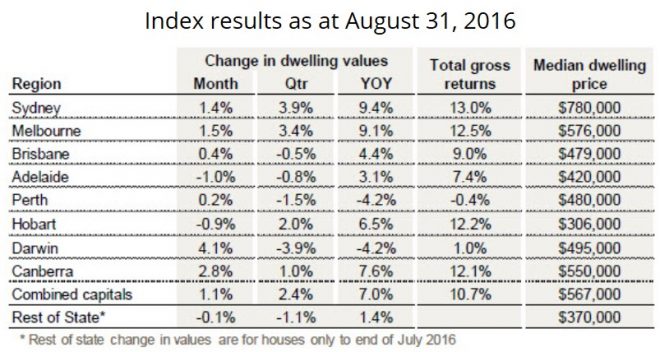 Let's ignore for the moment that the quality (size) of the median dwelling has been falling recently, thanks to the boom in apartments and shrinking lot sizes, and focus on these values.
Now, lets consider median capital city incomes, which can be estimated by combining the ABS' data on median household disposable income as at June 2014 with wages growth since that time:
National capital city: $81,151
Sydney: $84,735
Melbourne: $78,600
Brisbane: $77,640
Perth: $86,010
Adelaide: $65,411
Hobart: $69,118
Darwin: $100,148
ACT: $99,974
Which gives the following dwelling price-to-income ratios:
National capital city: 6.99
Sydney: 9.20
Melbourne: 7.32
Brisbane: 6.71
Perth: 5.56
Adelaide: 6.42
Hobart: 4.43
Darwin: 4.94
ACT: 5.50
Assuming 20% of disposable income is available for saving, it would take the following number of years to save a measly 10% deposit (assuming stagnant incomes and dwelling prices, and no transaction costs):
National capital city: 3.5 years
Sydney:  4.7 years
Melbourne: 3.7 years
Brisbane: 3.1 years
Perth: 2.8 years
Adelaide: 2.8 years
Hobart: 2.2 years
Darwin: 2.5 years
ACT:  2.8 years
Add in stamp duties, mortgage insurance, etc and the affordability picture obviously worsens.