Reports about rorting of Australia's private vocational educational training (VET) system seem to be never-ending.
Following in the footsteps of widespread reports last year (e.g. here, here, here and here) showing massive waste of taxpayer subsidies and the unconscionable targeting of poor areas with "free" laptops if they sign-up to expensive online courses, reports continue to emerge of unscrupulous practices and rorting within the private VET sector.
Last month, a whistle blower accused private VET provider Careers Australia of paying him $5,000 in hush money to keep quiet about rorting of the VET-FEE-HELP scheme.
And on Tuesday night, ABC's 7.30 Report ran an alarming segment (above) uncovering some of the unscrupulous tactics used by providers like Careers Australia and Acquire Learning to recruit unsuitable people into expensive VET courses:
ALEX, FORMER EMPLOYEE: They received calls from, like, four or five other companies because leads generation companies had sold their information to not just Careers Australia but other companies…

MICHAEL ATKIN: Twenty-three-year-old Alex worked in Careers Australia's Brisbane call centre until February. He claims competitions, like the one Violet entered, were a major source of sales leads.

ALEX: Ninety-five, 98 per cent of your calls are pretty much cold-calling, where you're calling people who don't know they're going to get a call from Careers Australia. When you're calling 200-plus people in the middle of the day in Australia, you're most likely going to get in contact with people who are unemployed, are stay-at-home mothers, single parents and stuff like that…

But online competitions are not the only source of personal information for companies offering vocational education.

PATRICK MAGUIRE, FORMER STUDENT: I certainly didn't consciously say, "You're free to pass on my information to an educational service provider.

MICHAEL ATKIN: Patrick Maguire is a former police officer with post-traumatic stress disorder. He registered his details with the employment website CareerOne, which is partly owned by education broker Acquire Learning. Acquire signs students up for various providers, including until recently Careers Australia.

PATRICK MAGUIRE: I got a call on my mobile: very pleasant, very upbeat, very positive.

MICHAEL ATKIN: But Acquire wasn't contacting him about a job. They encouraged him to sign up for a $20,000 diploma of business, with an Acquire-owned training provider.

PATRICK MAGUIRE: I remember saying to her, "Is there a catch to this? I get the feeling I'm going to have to sign up for something." And then she brought up the educational aspect and how important it was to re-educate yourself to get back in the workforce. This was going to be a golden ticket to getting a job.

MICHAEL ATKIN: Patrick Maguire was shocked to discover the ACCC is taking legal against Acquire Learning for allegedly using unfair telemarketing tactics to take advantage of vulnerable consumers.

PATRICK MAGUIRE: I felt abused. I felt I'd been assaulted…

GERARD BRODY, CEO, CONSUMER ACTION LAW CENTRE: We are concerned that Acquire seem to be flouting the concerns that have raised both by the ACCC and us and others…

MICHAEL ATKIN: The centre is calling on the Federal Government to ban the use of employment websites to recruit students.

GERARD BRODY: It should be prohibited, in fact, for a third party or a related company contacting someone who has applied for a job about something that's entirely different to a job.

MICHAEL ATKIN: Employment website Seek also wants the practice banned…

DEREK MILLER: Frankly, we think it's now time for the Federal Government to take a very hard line, whether it be shutting people down, whether it be prosecuting operators to the fullest extent of the law to recover funds that have been paid improperly to them.
A few months back, The ABC reported that the federal government was preparing to write-off billions of dollars of higher education loans on the back of a blow-out in bad debts relating to the scandal-ridden VET sector.
Fairfax also revealed that private VET courses are costing taxpayers seven times as much as publicly funded TAFEs, amid poor graduation rates:
Taxpayers forked out $73,200 per graduate from private colleges on average, but only $10,500 per graduate in TAFE courses in 2014…

In one case, the Sydney-based AIPE, a Senate committee heard the college received $111 million in Commonwealth funding after handing out just 117 diplomas in 2014…

NSW Greens MP David Shoebridge said the privatisation of vocational training "has been a comprehensive failure" that both major parties shared responsibility for…
In a similar vein, the Grattan Institute's recent report, entitled HELP for the future: Fairer Repayment of Student Debt, highlighted in all its hideous glory the escalation in HELP loans and doubtful debts: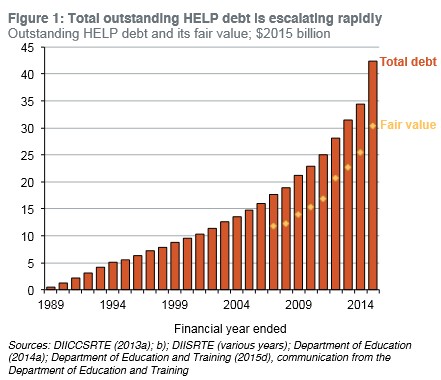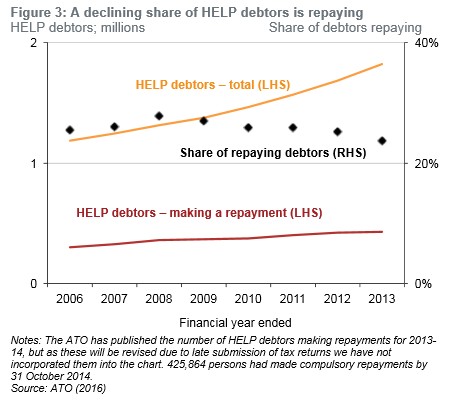 With much of the rise in bad debts coming from the private VET sector, which has been subject to widespread rorting.
The Turnbull Government simply must crack-down hard on the private VET sector, which is riddled with rorting and waste, has produced poor educational outcomes, and blown a huge hole in the Budget.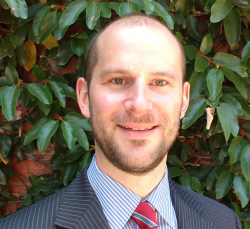 Latest posts by Unconventional Economist
(see all)