by Chris Becker
Last night, the Bank of England held its monthly meeting and made no surprises with the first rate cut – down 0.25% to 0.25% even – as part of a post Brexit referendum easing program. They also announced an expansion in their bond buying program (70 billion pounds) and in news that might upset the Australian Megabank oligopoly, the  introduction of its "Term Funding Scheme".
This program will lend funds directly to banks at rates close to the new 0.25% base rate and encourage them to pass on the lower interest rates to businesses and households, instead of taking a net interest margin.
All of this, according to the BOE Governor Mark Carney is to "cushion, rather than fully offset, the shock to UK growth".
Already the ratings agencies are out with their feelings on the matter. Fitch, according to ForexLive says:
With the bank already having "reduced the counter cyclical capital buffer for UK banks" Thursday's moves "forestall" the risk of a significant tightening in credit conditions. But they will not outweigh the capex investment impact, citing

Sharply higher uncertainty on international trading arrangements
Political uncertainty
Regulatory uncertainty

Fitch's forecasts:

UK investment to be 15% lower by 2018 (relative to the agency's May forecast)
Expect a "significant toll" on the economy
Even though the fall in GBP will potentially support exports
Growth forecasts 1.7% in 2016 (down from 1.9% in May)
0.9% in 2017 and 2018 (down from 2%) (these compare with the BoE forecasts of 0.8% GDP growth in 2017, down from 2.3% in May Inflation Report)
More on that lending scheme, which the RBA is unlikely to follow, where Mark Carney said the banks would have "no excuse" not to pass on the lower borrowing costs to customers and will be charged a penalty if they fail to do so.
More from the BBC:
The Bank also announced the biggest cut to its growth forecasts since it started making them in 1993.

It has reduced its growth prediction for 2017 from the 2.3% it was expecting in May to 0.8%.

Mark Carney said: "We took these steps because the economic outlook has changed markedly, with the largest revision to our GDP forecast since the MPC was formed almost two decades ago."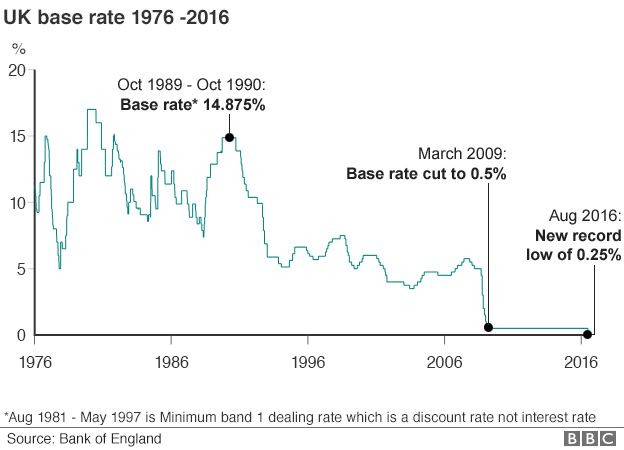 The West is turning Japanese.
Latest posts by Chris Becker (see all)