Following in the footsteps of ANZ bank a few months back, Westpac has sounded the alarm on New Zealand's rising household debt. From Interest.co.nz:
A Westpac Institutional Bank IQ Report on household debt prepared by Westpac senior economist Satish Ranchhod said a build up of household debt was one of the key issues confronting the New Zealand economy…

In his latest report Ranchhod said total household debt was equivalent to 163% of annual household disposable income, with much of the recent growth in lending secured against housing…

"Low interest rates have provided a powerful boost to asset prices, particularly for housing"…

"The net effect is an increase in both borrowing and spending," it said.

That did not mean the economy was about to topple over, because low interest rates meant households' debt servicing costs remained modest

"Nevertheless, the build up in household debt still raises important concerns for the longer term economic outlook," the report said…

That was because rising household debt couldn't boost growth indefinitely, because households would eventually need to repay their debt, which mean more of their income would go towards debt servicing at some stage.

And higher debt levels also made the economy more vulnerable to unfavourable changes in economic or financial conditions.

"In this respect, there are some red flags on the economic horizon," the report said.
Below is the chart of NZ household debt as a ratio to household disposable income, plotted against Australia's: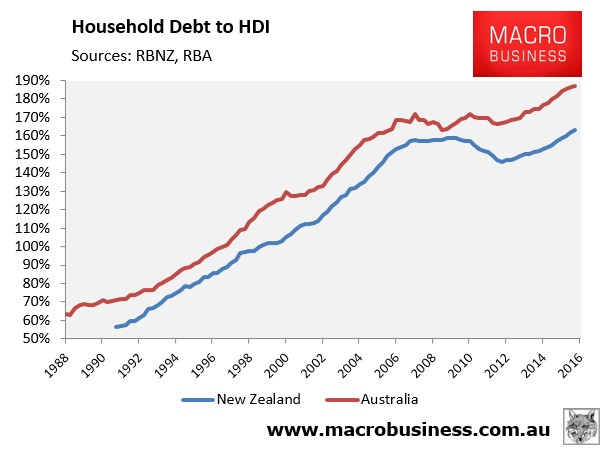 As you can see, Australia's household debt load – 187% of household disposable income – easily eclipses New Zealand's (163%). Both countries have also experienced a similar growth trajectory.
Worse, as noted last month, Australia has overtaken Switzerland and Denmark to claim gold as the most indebted household sector in the world:

I await to hear Westpac's concern about Australia's unprecedented household debt levels.
Yeah, I know. Things are different in Australia [sarc/].