Last month, Bernard Hickey published a great article at Interest.co.nz questioning whether the New Zealand economy has become too reliant on quantitative drivers of growth, such as immigration, instead of qualitative drivers that boost productivity and ultimately raise living standards:
How do New Zealanders get richer? It seems such an obvious question, but it's not one we think nearly deeply enough, and one we seem to be ignoring through our actions.

…the only sustainable path to increasing the wealth of New Zealanders is to increase the amount of goods and services we produce every hour. This is productivity and is what eventually increases real wages and supports the prices of assets we own. Asset prices can go up and down in the short term because of capital flows or supply shortages/surpluses or migration or more/less borrowing, but ultimately it's the ability to service a mortgage or a rent with an income that matters.

All this is showing through in New Zealand's real income per capita, which fell 0.4% in the 2015 year, despite a 2.5% rise in total GDP for the year. We added more people working longer hours and added plenty of natural resources with a bit more capital, but didn't actually produce much more per person per hour worked…

It's the same old story. New Zealand has avoided the tough decisions about taxation, investment and competition and has simply bought growth by adding more resources — more people, more hours, more land and more water. We're not working much smarter or using technology to make us richer.

…the student and working holiday maker numbers have surged by nearly 50,000 to over 250,000 a year, including 4,137 successful visa applications for tour guides in the eight months to February 2016.

The economy is getting bigger, but productivity has stalled. That is not a recipe to make everyone richer in the long run.
There's no getting around the fact that New Zealand has become the new population ponzi king, taking the mantle from Australia. In the year to December 2015, New Zealand added a record 95,100 people, 68% of whom were via net migration: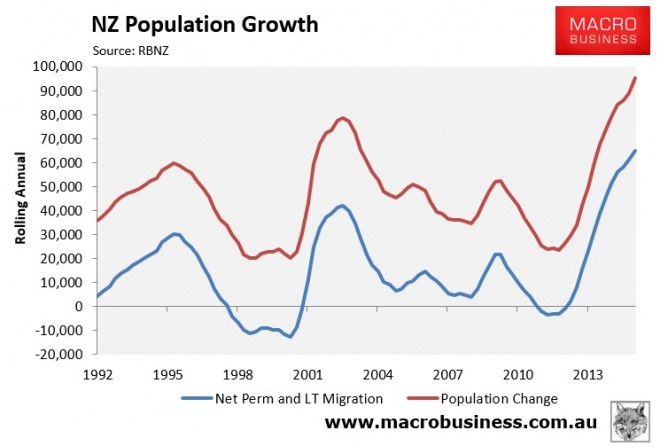 The rate of population growth in New Zealand – 2.1% in the 2015 calendar year – is also the highest since at least the 1970s: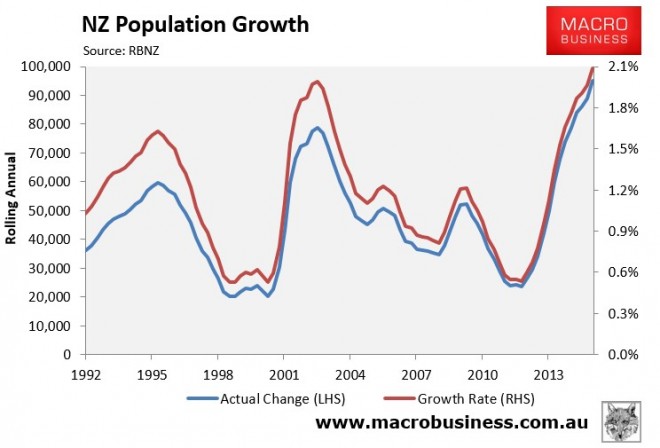 With the Auckland housing market surging to another record high, and many New Zealanders 'locked-out' of home ownership, many within New Zealand are questioning whether the high immigration and the rising congestion and reduced housing affordability that has come with it is such a good idea. But not the New Zealand National Government, who continues to talk-up its benefits while ignoring the costs. From Interest.co.nz:
Housing and Building Minister Nick Smith has denied New Zealand faces a housing crisis, describing media reports of a crisis as a beatup and instead insisting the situation was a "challenge" where a supply response was needed to meet strong demand, which was a "sign of success."

Prime Minister John Key later also told a business audience on Thursday that Auckland's house prices and congestion issues were a "sign of success".

Smith was asked in Parliament by Labour Housing Spokesman Phil Twyford if he stood by previous statements that reports of a crisis were a "media beat up."

"The Government's position is that it is not a crisis, but that there is a challenge. New Zealand is doing so well that it is attracting New Zealanders home and an increasing number of people want to live in New Zealand, and as a consequence of that good-news story, we need to make sure that we build more houses," Smith said…

Key told an Employers and Manufacturers Association event that Auckland's problems were a good problem to have.

"If you look at the challenges Auckland has at the moment – and you know, they're well documented from housing to transport – they are in a funny kind of way a quality problem to have because what they reflect is that Auckland is doing well," Key said, as seen in this NZ Herald video.

"You've got net migration not just strong from India, China and Australia but actually net migration from around the country," Key said…

"And the truth is we would rather be having to deal with the challenges of growth and say 'OK we've got to deal with those issues but gosh they're signs that as a city we're doing incredibly well and actually as a country we're doing incredibly well'."
Only in Bizarro World would endemic traffic jams and unaffordable housing, not to mention falling per capita income, be a "sign of success" and economic progress.
Expect the push-back over high immigration into New Zealand to get louder. Quantitative ponzi growth might be good for the aggregate economy and big business (i.e. more inputs equals more outputs and more customers for business), but it can represent a step backwards in living standards for the average Kiwi.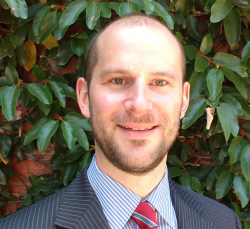 Latest posts by Unconventional Economist
(see all)