I don't want to write about Bozo Turnbull again today but I have no choice. From Ross Gittins:
Labor claims its "reforms" to "negative gearing" would do wonders to make home ownership more affordable for our kids. But Malcolm Turnbull says vote for high-taxing Labor and the value of your home will crash, while rents soar.

Many voters have strong views for or against negative gearing. But when rival politicians fall to arguing about their policies, most of us find we don't know enough to decide who's right.

We need someone we can trust to act as a kind of umpire, pronouncing on who has the better case. So we're fortunate to have John Daley and Danielle Wood, of the independent Grattan Institute, issuing a report on the topic.

For defenders of negative gearing, it's bad news. The pair explain that there's a good case for acting against the practice, dismissing alarmist claims it would disrupt the property market.
For opponents of negative gearing, however, the news isn't as good as it seems. Since the resulting reduction in house prices isn't likely to be great, acting against the practice wouldn't do much to make home ownership more affordable.
Well done, Ross, quite right.
Meanwhile, Turnbull's defense is sinking into the absurd, from 7.30 Report:
LEIGH SALES: Let's move on to negative gearing. On the weekend, you said that Labor's negative gearing and capital gains policies would take a sledgehammer to property prices. Where's your modelling for that?

MALCOLM TURNBULL: Well it is – well, there has been modelling published earlier in the – well actually, it was given to the Labor Party last year in fact by BIS Shrapnel, but – which demonstrated …

LEIGH SALES: And is that the modelling you're relying on when you say that?

MALCOLM TURNBULL: But let me – Leigh, let me just – this is a matter of common sense. Around a third of the buyers for residential property currently are investors. What Labor is proposing will take all or almost all of them out of the market. Now if you take – if the market – the residential property market is soft now and it is declining in many cities and in Perth, for example, it's been declining for several years. If you take a third of the buyers out of the market, prices, values will fall. That's common sense.
LEIGH SALES: But you're saying – I'll come back to the common sense point in a moment, but you're saying it would take almost all of them out of the market. If you look at what's happened around the world or what happens around the world in countries that have far less generous capital gains tax policies than in Australia, far less generous negative gearing policies, they have vibrant property investment markets.

MALCOLM TURNBULL: Well, that's not – that's not actually entirely accurate, Leigh, if I can just pick you up on a couple of things. Firstly, what Labor is proposing to do is to jack up capital gains tax by 50 per cent and that would make it the second highest in the comparable developed – among comparable developed countries. Now, let me say to you, capital gains tax is a tax on investment. If you want people to do less of something, you jack up the tax. So what Labor clearly wants is less investment. Less investment means less jobs. We want to see more investment. Now, as far as property investors are concerned, in a market like the United States where negative gearing is generally not allowed, what you see is rents being much higher, rental properties being owned by big companies and big investors. You don't have what we have in Australia, which is mum and dad investors, people on average incomes buying a flat, buying a house. I mean, 70 per cent of the people who negative gear in Australia own one property and another 20 per cent own two. Most of these people, most of these Australians are hard-working Australians trying to get ahead. Most of them are on average earnings or less …

LEIGH SALES: Well actually, the statistics …

MALCOLM TURNBULL: … and the Labor Party wants to take them out of the market.

LEIGH SALES: The statistics are that the top 10 per cent of income earners receiving three quarters of taxable – sorry, it's the top 10 per cent of income earners who are receiving three quarters of taxable capital gains.

MALCOLM TURNBULL: Well Leigh, that is – that's beside the point. Of course – of course people on the highest incomes will make the highest gains because they tend to have more property. But Leigh, …

LEIGH SALES: So therefore these policies – the policies favour most people who are on the highest incomes.

MALCOLM TURNBULL: Leigh, there are well over a million Australians, most of whom are on average earnings, who have an investment property and they are negative gearing it. These are policemen …

LEIGH SALES: And how many Australians does that leave who don't have that, what, 22, 23 million?

MALCOLM TURNBULL: I'm sorry, Leigh, I couldn't hear that question.

LEIGH SALES: I said how many Australians does that leave who aren't involved with negative gearing? I don't know what the population is – another 21, 22 million?

MALCOLM TURNBULL: Well there are obviously many Australians that don't invest in property, but does that mean that you should ban all Australians from being able to do it? And let me just go on, Leigh. Let me give you a very good business example. Labor wants to ban negative gearing on any asset except new dwellings. So that includes commercial property, that includes shares, that includes business assets. Now, why – what possible point is there in preventing you from investing in a shop and negative gearing that? That is simply a Labor tax grab. It's got nothing to do with housing affordability.

LEIGH SALES: On housing affordability, on the weekend when you announced that you wouldn't change negative gearing, you were there with a family with a young baby. The subtext of what you were saying was that, "OK, sure, maybe you can't afford to buy your own house to live in, but here's what you can aspire to: you can keep living with mum and dad and buy an investment property and maybe one day your children might be able to afford to buy a property of their own." Is that the sort of country that you see Australia becoming?

MALCOLM TURNBULL: Australia is a sort of country where people should be able to exercise their economic freedom and invest where they wish. Negative gearing, the ability to offset interest expenses from an income-earning investment against your personal income, that has been part of our tax law since 1915. It's 101 years old. It is not a tax break; it is a standard concession.

Now let me give you an example, however, of how unjust and ill-thought-out and reckless Labor's plan is. Under Labor's plan, a plumber who's earning $100,000 a year would not be able to negative gear an investment property or shares, for that matter, against his income as a plumber. However, a wealthy person with investment income – dividends, rents, interest of $100,000 a year – would be able to negative gear against their investment income. So under Labor's plan, workers, people who live, whose income comes from their personal exertion, will not be able to negative gear, but people whose income comes from investments will. Now, how is that fair?

LEIGH SALES: When we started this section, I asked you if you could give me the modelling for your assessment that it would take a sledgehammer to property prices and you said it's a matter of common sense. So, is what you are saying to voters, "I don't actually have hard evidence here. It's my common sense and so you have to trust my analysis on this"?

MALCOLM TURNBULL: Well Leigh, you know, your viewers tonight understand the laws of supply and demand. If you take a third of the buyers out of a market, prices will come down.

LEIGH SALES: But what I'm asking is how do you know you're taking out a third?

MALCOLM TURNBULL: Pardon?

LEIGH SALES: Where's your modelling for the fact that you're taking out a third?

MALCOLM TURNBULL: Well – well Leigh, again, it's a fact we know …

LEIGH SALES: But you've said a third. That's very specific. what are you relying on for that?

MALCOLM TURNBULL: Well, if you'll – if you'll let me finish, I'll give you the answer. We know from the statistics, the banking statistics and the ATO statistics, that around a third of the people who borrow – who borrow money to invest in property are investors and most of them will be negative gearing, and, I might say, even if they were positively geared, even if the rent of the property they were buying was higher than their interest, if – under Labor's plan, they would run the risk if for whatever reason they incurred a net rental loss – perhaps the tenant stopped paying rent or the property was vacant or it needed expensive repairs – if for whatever reason they suffered a net rental loss, they'd have to cover it out of their after-tax income. So that is a very big risk. So – so we can say very confidently that under Labor's plan all or almost all of those investors, personal investors who are borrowing money to buy investment property, would not take that risk because – because the consequence, obviously, the expense of having to offset your net rental loss against your own income is very high. Now if you believe – if you believe, Leigh, that you can take a third of the buyers out of the market or up to a third of the buyers out of the market and not affect prices, well, then, you know, that's – that would be a fairytale.
"Common sense" and the discredited BIS report is the basis of the policy, then, not Treasury nor a policy process with a beginning (conception), middle (research and planning) and end (execution).
Meanwhile Labor's policy does have independent modelling support, as well as the endorsement of just about every credible economist in the country including the fifty corralled by the Australian Institute, Saul Eslake, Warwick McKibbin and Ross Garnaut (who can't agree on anything else), as well as other prominent economic leaders in Kouk, Kochie and Kennett.
MB agrees with Bozo that property prices will fall versus baseline (whether they actually fall will depend on the wider context but in 2017 it's a very good chance). During the mid-eighties removal period, prices fell 6% in real terms but because inflation was very high they did not fall at all in nominal terms.
Property prices will also grow less strongly into the future when negative gearing is removed but not because there will be less buyers. All negative gearing does is shift home ownership from first home buyers to investors (usually older and richer) via a public subsidy that allows the latter to pay more than the former. So once you remove negative gearing that premium comes out of prices and as affordability returns the number of buyers is roughly the same as renters become home owners.
It's the same reason that rents won't rise.
As for the 'removing negative gearing favours the rich' argument, you tell me if they'll be pleased: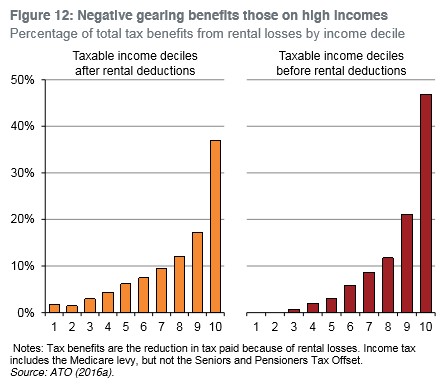 It's true that they have more investment income to claim against but, hey, that's why being rich is kind of fun, it's not a reason to make first home buyers more poor.
But I've used reason and basic economics to reach that conclusion so you should probably disregard it, run around screaming, and vote for the Bozo Turnbull!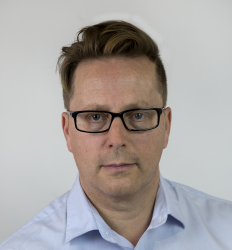 Latest posts by Houses and Holes
(see all)