The 7.30 Report ran a great segment last night disclosing a "secret" report from the Australian Prudential Regulatory Authority (APRA) showing that the regulator was deeply concerned about mortgage risks in the lead-up to the GFC, but took few actions, leaving the Australian banking system in a riskier position today.
Below are the key exerpts from the transcript:
…the regulator's own secret research obtained by 7.30 shows just how shaky the banks were looking before the Global Financial Crisis. Lending standards were so lax, the banks faced the risk of a massive and unprecedented rise in the number of people defaulting on their loans.

Experts say it could have caused an economic meltdown, and yet instead of that being a wake-up call, as Stephen Long reports, today, the problem is far worse.

STEPHEN LONG, REPORTER: In 2006, property was booming and lending was free and easy…

But in these heady days before the Global Financial Crisis, the banking regulator was worried, especially about a shift to lower lending standards that was letting the banks lend so much money that after repayments, people were living somewhere near the bread line. The ABC has obtained research that the banking regulator, APRA, carried out back then. Its conclusions are alarming.

A home-grown recession from lax bank lending standards.

GRAHAM ANDERSEN, MORGIJ ANALYTICS: Yes, that would be the conclusion from the APRA paper. There's probably no doubt that Australia would have had a recession, increased mortgage defaults, increased unemployment, borrowing costs going up and real pressure on the economy.

STEPHEN LONG: The banking regulator never made public the extent of its concerns, but its secret report found that by lowering lending standards, the banks had been able to issue nearly three-and-a-half times as many loans as they otherwise could have. But under the law lending standards, about 14 per cent of the loans weren't serviceable when they were approved. APRA forecast a massive and unprecedented rise in the number of people who couldn't make their home loan repayments with a 7.5 per cent home loan delinquency rate in September, 2009 if the economic environment remains unchanged.

As it turns, dodgy lending overseas caused a global meltdown, the Reserve Bank slashed interest rates, the Government threw money at households and a home-grown banking crisis caused by lax lending was averted.

The irony is that the GFC actually saved us in Australia in some senses.

GRAHAM ANDERSEN: In some senses, you could say that. Or were we actually just delaying the problem and not fixing it?

STEPHEN LONG: The GFC may be behind us, but there are many who fear Australia's banks haven't learnt the lesson from that crisis. While incomes stagnate, household debt has soared to new records. Household debt in Australia is now bigger than the entire annual output of the economy, the highest level in the world.

GRAHAM ANDERSEN: Mortgage debt has almost doubled since that report was written, therefore the problem is much, much bigger…

BRIAN JOHNSON, CLSA: There's no doubt about it all: Australian households are massively indebted.

STEPHEN LONG: Veteran bank analyst Brian Johnson is not predicting a crisis, but he is very concerned by recent research from the banking regulator which says that if there was a house price crash, Australia's biggest banks wouldn't have enough capital to cover losses on mortgages.

BRIAN JOHNSON: As I actually read the speech that APRA actually made, I've got to say it was probably one of the most disturbing things I've ever read. What they said was that the standardised banks, which is basically the regional banks, just passed. They said that the advanced banks, which is basically the major banks, that they said that they did not pass. They …

STEPHEN LONG: They failed the stress tests…

STEPHEN LONG: APRA chairman Wayne Byers admitted at a Senate committee last year that a further erosion of bank lending standards in recent years had caught the regulator unawares.

WAYNE BYERS, APRA CHAIRMAN: We were a bit surprised by how much the competitive pressures in the industry and the competitive dynamic in the industry had led people to do things that were, you know, really, in our view, lacking in common sense.

STEPHEN LONG: The banking watchdog is now fighting a rearguard action to reign the banks in, demanding that banks raise more capital, curb investor housing loans and tighten lending standards.

The banking regulator declined our request for an interview, but a senior official said today that it was a significant concern that the big four banks were so exposed to home lending.

What happens to all the people who've taken on huge mortgages when interest rates are at historic lows if interest rates go back to normal?

GRAHAM ANDERSEN: They won't be able to service them. There will be wholesale defaults.
Let's do a quick comparison between 2006 and today.
In 2006, mortgage debt-to-disposable income was 168%, today it is a record 186%: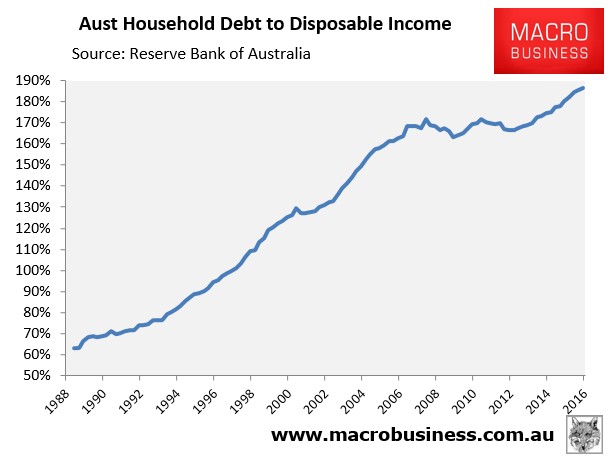 In 2006, Australia's banks' offshore borrowings equated to around 37% of GDP versus 54% of GDP currently: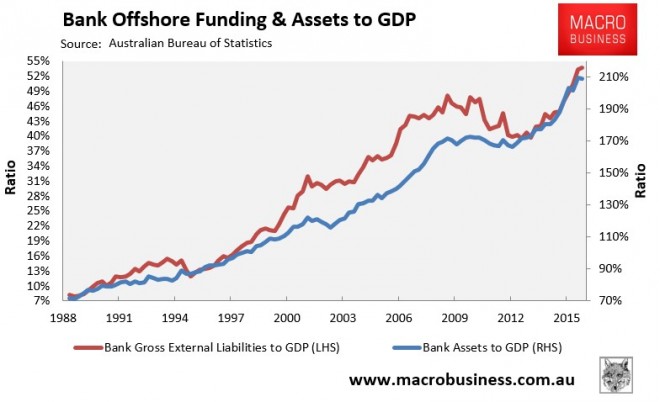 Thanks to APRA's blind oversight, the Big Four banks have managed to drop their average risk-weights on their mortgage books to an average of just 17%: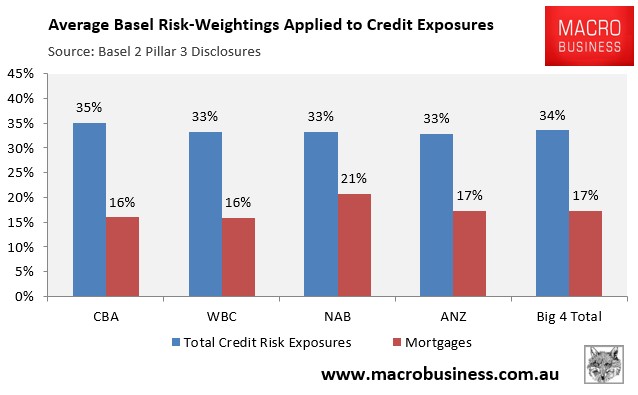 And their average capital charge against their mortgage books to just 1.4% (or $1,40 per $100 lent):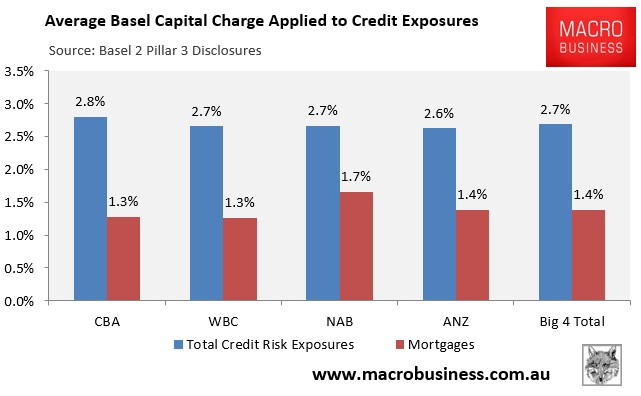 Meaning Australia's big four banks are currently leveraged an astonishing 72 times against their mortgage books: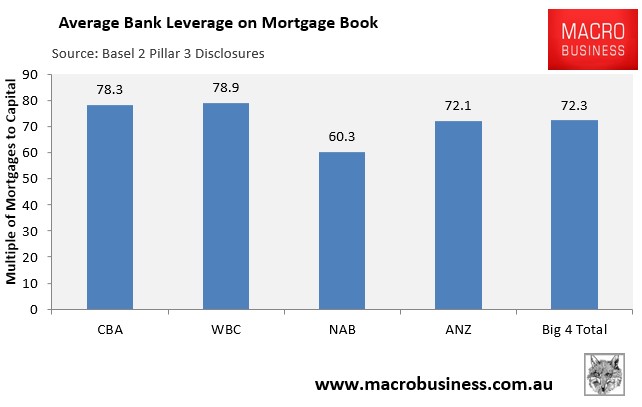 Meanwhile, all of this risk/debt build-up has occured against the backdrop of nearly the lowest income growth on record: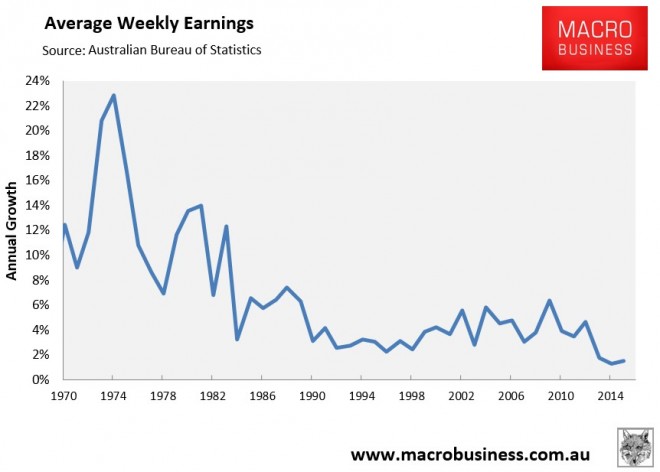 And an economy facing stiff structural headwinds on multiple fronts.
If APRA saw deep mortgage risks then it should have acted a decade ago. Not ignored the problem in the hope that it went away.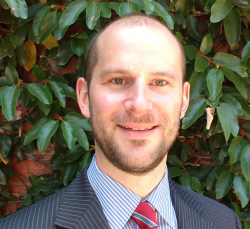 Latest posts by Unconventional Economist
(see all)