Fairfax's Michael Pascoe posted a triumphant piece yesterday on the "spectacular" jump in non-mining exports, which are offsetting falls in exports of Australia's major commodities:
One of the problems with our attention-deficient, spoilt-brat markets and general economic commentariat is that punters demand immediate results from fundamental shifts. The real world doesn't operate like that.

For example, "everyone" knows the story of Australian exports: we'll all be ruined because iron ore and coal prices have crashed and LNG isn't far behind. And it would be a big leap of faith to think this week's commodities spike is changing that.

But there's much more happening than the headlines suggest.

Services export growth has been quite spectacular…

Agricultural exports are also picking up nicely as the weaker dollar does what it's supposed to do and our growers take advantage of new free-trade agreements…

And now Efic, the government's trade finance body, believes manufacturing exports are about to follow suit…

It takes time for the fundamentals to work when given a chance.

The unheralded good news – the stuff that doesn't make good clickbait – is that it's steadily happening.
Funny. Most commentators that I know of (MB included) have for years been calling for a lower Australian dollar to create exactly what Pascoe hails – a rebound in the non-mining, trade exposed economy.
The problem is that the downward adjustment in the Australian dollar has not been great enough because Australia's authorities have blown a big housing bubble, which has: 1) made interest rates higher than otherwise would have been the case; 2) sucked-in foreign capital (including via bank offshore borrowings to fund mortgages), thus inflating the currency; and 3) destroyed productivity by massive malinvestment in non-productive houses.
Accordingly, the rebound in non-mining exports has been weak, and nowhere near enough to offset declining commodity exports (see below charts).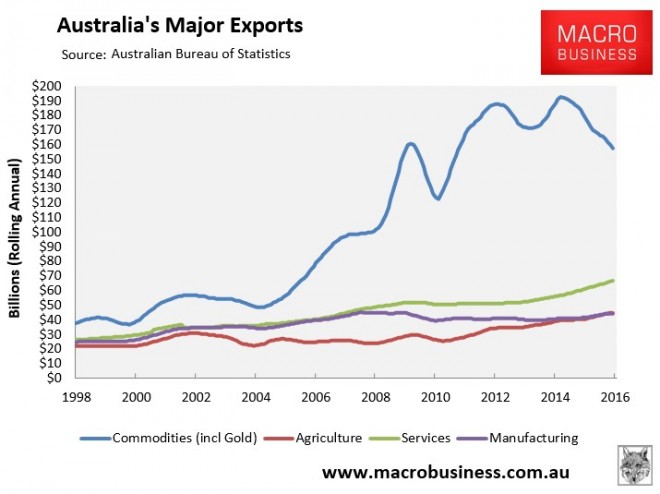 Despite so-called "spectacular" growth, non-mining exports have risen by just $18.5 billion since April 2014, versus a $35 billion decline in commodity exports. On a profit basis, rather than a revenue basis, the story is likely much worse.
Pascoe has also taken hypocrisy to a whole new level. In the video attached to his article, he accuses the "doomsday brigade" of talking down the Aussie economy in order to sell books and newsletters:
"It remains much more likely that the Australian economy will continue to grow over the forseeable future, rather than having the recession the alarmists trying to sell books and newsletters prefer to predict"…
Before admitting that he had taken a paid gig to spruik Australia's manufacturing exporters:
"I have been doing a roadshow for EFIC, the federal government's export finance mob, interviewing exporters predominantly from the small to medium enterprise sector. With the exchange rate in the 70s rather than parity, the success stories of SMEs taking on the world continue to grow…"
Not for the first time MB wonders why commentators don't spontaneously implode in a puff of irony.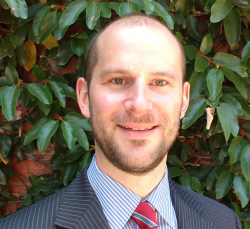 Latest posts by Leith van Onselen
(see all)