The Australian Bureau of Statistics (ABS) today released trade data for the month of December, with Australia's trade deficit deteriorating to $3,535 million from $2,727 million in November (revised down from $2,906 million). The result badly missed analyst's expectations of a narrowing in the trade deficit to $2.450 million.
Over the December quarter, the trade deficit deteriorated badly to $9,515 million, a $2,041 million downgrade from the September quarter, which represented the seventh consecutive quarterly deficit and one of the worst quarterly results on record: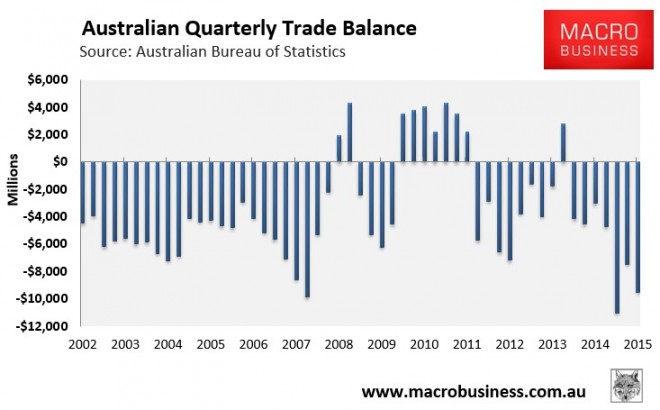 In seasonally adjusted terms, exports fell $1,243 million (5%) to $25,247 million, whereas imports fell by $434 million (1%) to $28,782 million, driven mostly by intermediate and other merchandise goods consumption goods (-$399 million).
Australia's biggest export commodity – iron ore (15.8% share) – fell by another $332 million in December in raw terms to $3,331 million, as did Australia's second biggest export commodity, coal (14.8% share), which fell by $11 million over the month. By contrast, Australia's third and fourth biggest export commodities – gas (7.5% share) and gold (5.8% share) – rose by $93 million and $167 million respectively over the month (see next chart).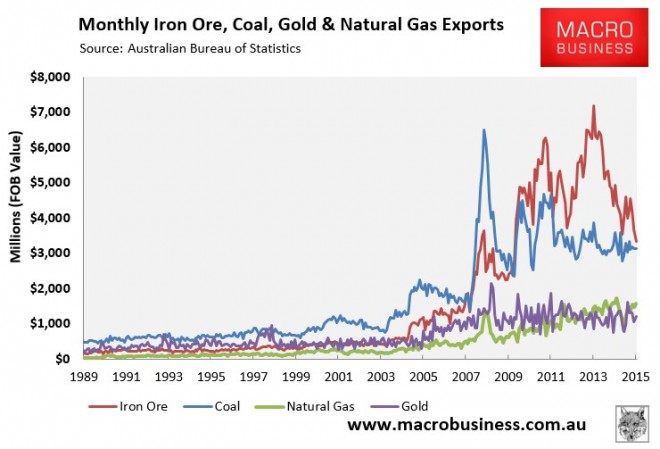 Merchandise exports to China – Australia's biggest market – fell by $397 million in December in raw terms, with its share of total exports falling to 30.9%. By contrast, merchandise exports to our second and third biggest markets – Japan (16.4% share) and Korea (8.2% share) – rose by $327 million and $386 million respectively, whereas exports to India (4.9% share) – our fourth biggest export market – were basically flat over the month (-$2 million):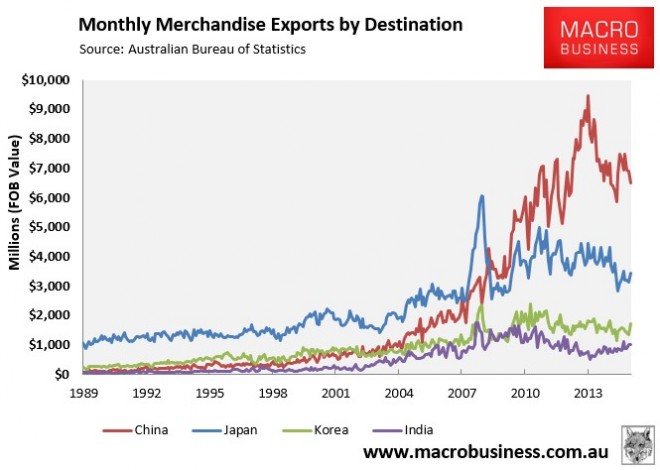 Western Australia continued to dominate the nation's merchandise exports, although they fell by $136 million (-2%) to $7,891 million in December, with its share of total merchandise exports also falling to 38% (see below chart).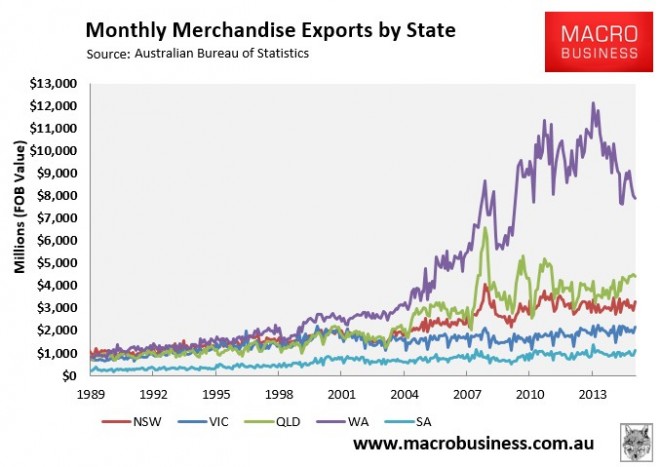 Western Australia's trade surplus also deteriorated slightly to $4,998 million (-2%) in December, whereas Queensland's jumped markedly to $1,507 million (+20%) on falling imports (see next chart).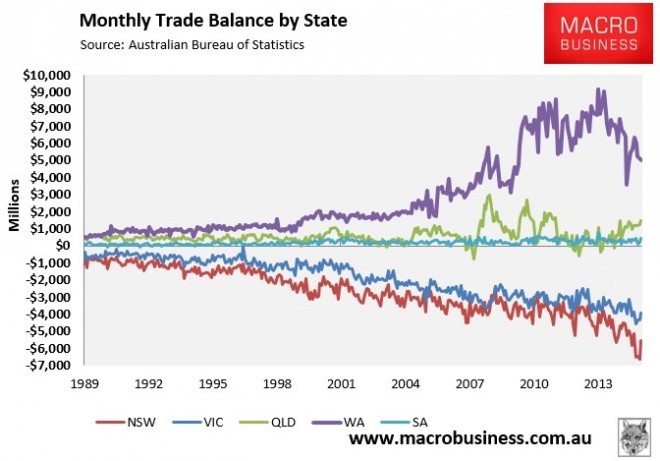 Australia's services trade deficit improved in December – down $19 million to $337 million in seasonally-adjusted terms – driven by improving net tourism exports (+$67 million):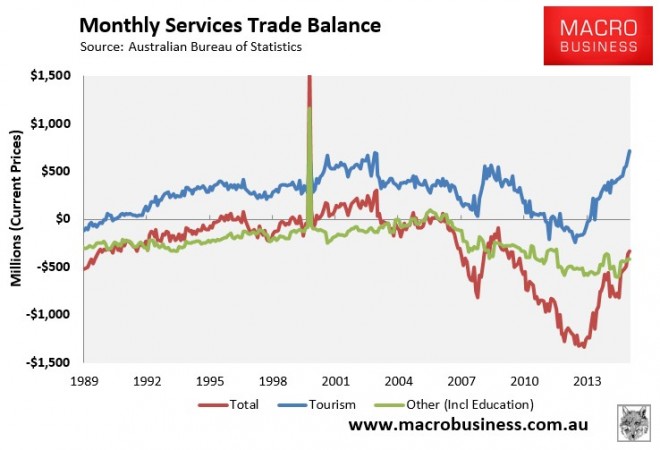 The $2,041 million deterioration in the trade deficit over the December quarter will detract from the Q4 national accounts, which are due for release early next month.
This adjustment will occur via some combination of falling net exports (in quantity terms) and falling national income, given we know that commodity prices tanked over the December quarter.
We should also expect the current account deficit to continue to deteriorate.