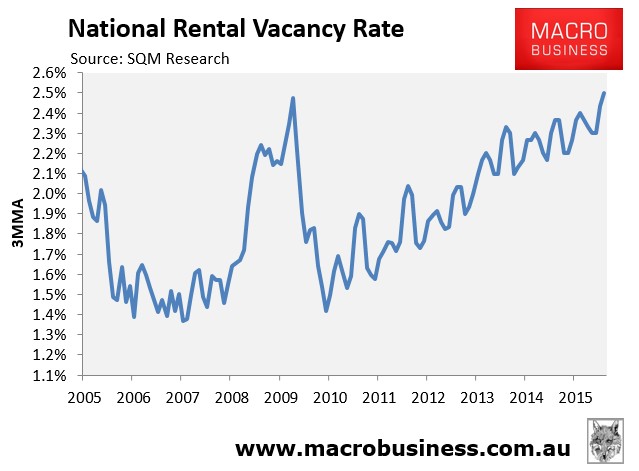 As shown above, the commodities bust continues to weigh heavily on both Perth and Darwin, with vacancy rates jumping by 1.4% and 0.5% respectively over the year. Brisbane, too, is experiencing rising rental vacancies (up 0.3% YoY to 2.7%).
By contrast, the bubble epicentres of Sydney (1.8% – no change YoY) and Melbourne (2.5% – down 0.3% YoY) remain relatively tight, as do Adelaide (2.0% – up 0.2% YoY), Canberra (1.8% – down 0.2% YoY), and Hobart (0.9% – down 0.4% YoY).
SQM Research also released its asking rents data for the week ended 12 February 2016, which again recorded steep annual falls in rents in Darwin and Perth, which have held down asking rents nationally: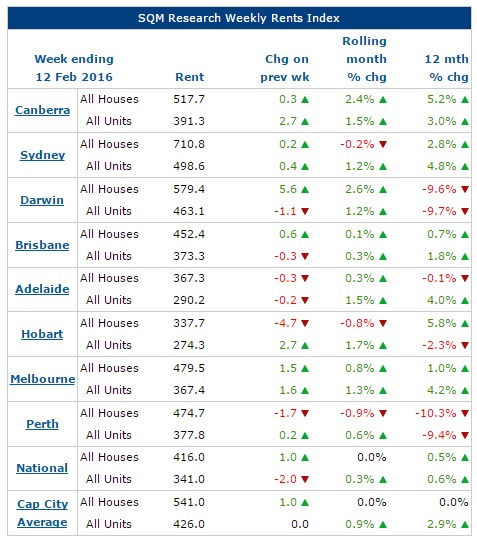 According to SQM Research's managing director, Louis Christopher:
"Overall, vacancies for January fell in line with the seasonal trends associated for this time of year. We believe the seasonality observed has much to do with the end and start of tertiary studies which normally see a significant movement of students. Another trend observed in the data is the recovery of the Canberra rental market, which for about four years was in a slump. I would suggest that on the back of falling vacancy rates and rising asking rents that the rental slump is now over for the ACT."
With ongoing strong dwelling construction in the face of falling population growth, it's only a matter of time before the rental vacancy rate breaks above the GFC high. In turn, actual rental growth – which was zero in the year to January, according to RP Data – should remain under intense pressure.