The Housing Industry Association (HIA) has released its land sales report for the September quarter of 2015, which revealed a widening divergence between vacant land prices, which continue to climb to record highs, and the number of land sales, which fell again in the latest quarter and have tanked over the past two years (see next chart).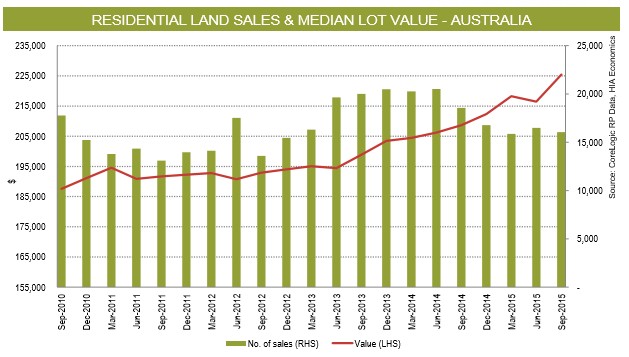 According to the HIA release:
During the September 2015 quarter, the number of residential lot sales fell by 2.7 per cent while median lot prices rose by 4.2 per cent. The tightening of market conditions was concentrated in the capital cities, where prices increased by 5.4 per cent but the number of lots transacted actually fell by 4.5 per cent.

"At about 12:50am yesterday morning, Australia's population broke the 24 million barrier for the first time," remarked HIA Senior Economist, Shane Garrett. "Today's report provides a sobering indictment of how land supply policy is not keeping pace with the housing needs of our growing population," Shane Garrett added.

"The combination of strong land price growth yet declining transaction volumes are hallmarks of a market constrained by supply bottlenecks," Shane Garrett pointed out.
"Ineffective land supply policy will limit Australia's long term growth potential and erode competitiveness by forcing costs up," warned Shane Garrett.

"The key supply side issues like planning delays, efficient infrastructure provision and the mammoth taxation burden on new housing need urgent attention. Otherwise, living standards for Australia's 24 million residents will never reach their full potential," concluded Shane Garrett…

According to CoreLogic RP Data research director Tim Lawless, the number of vacant land sales has been trending lower since reaching a recent peak over the June quarter of 2014, with the median land price continuing to push higher despite lower volumes. "Buyer demand across the vacant land market has remained strong, which is why prices are rising on lower sales, however, as land prices rise it is likely block sizes will have to reduce in order to maintain an affordable price point for buyers."
I have said it before and I will say it again: Australia's land supply system is clearly busted. In a period of ultra cheap credit, strong immigration, and strongly rising house prices, land sales should be increasing, not decreasing.
Sadly, Australia is fast becoming a nation where housing choice is limited to an expensive shoebox apartment, or an expensive tiny lot on the fringe.
A country with such an immense land mass with a land shortage is the hallmark of idiotic housing policy.